The Man Bag is here to stay, see the latest options in celebrity and personal style. This is practical!
The man bag is SUPER practical for urban living, and now FINALLY becoming fashionable in the USA.
What we will go over in this review for 2013 is:  
1. Trends (ready-made) BLA BLAAA BLAAZE
2. Celeb couture in the man bag.  
3. Developing your custom couture personal style.
1. Latest Trends :(


See this man's clutch! These have been huge on the runways as a formal option for the fashionable male.

See this clip from the London Evening Standard.

All around this has been "The Year of the Clutch."  

  In couture living we don't like to follow, but we do like to add options when they suit us, and this is not the exception.




  I have said before, that with as many "must-have" gadgets we now "need" this is SO Practical for a formal event!  




There is nothing so distasteful than having a tailored suit with BULGING pockets! UGGGGGG!  




Where in the world do we store all this stuff? In the man-clutch! Lovin it!

2. Male Celebs sporting "THE MAN BAG"


For all of you guys out there lacking courage to sport the man bag to avoid the inevitable "murse" comments, take courage from two of Hollywoods "manliest" Men!  

1. David Beckham

2. Hugh Jackman




If you check the photo feeds for David you will find he is more than often seen out and about with at least one or two large manbags!  

Hey, when your a dedicated  Dad you have got to carry stuff with you!   He favors Cinnamon leather large man-bags! They work so great with his rugged look and complexion!  

You can bet they are custom NOT ready-made!

Also, Hugh Jackman is often seen with a The Man Bag, not just the one he wore as Wolverine in X-men 2, but a custom bag in a casual look around town.

What other male celebrities have you seen rocking the man bag?

Special Announcement:
Cal is looking for new benefactors, he gifts his benefactors with a yearly package of custom couture fashions for each season, personal styling, personal shopping, and tailoring services, that are all done remote as a FREE gift of appreciation.
It's a cool process using today's 3D printing technology. You scan yourself, have yourself printed out as a mannequin (no cloning necessary!), and send yourself to Cal hahahaa! Then Cal uses your 3D print-out to fit, design, and tailor your seasonal wardrobe. Packages include all essentials including accessories, and a few frivolous pieces just for fun!
Ask yourself if you have any products, services, resources, properties, or assets that can benefit Cal as he expands to Europe? 
Book a video chat with Cal and start a conversation of possibilities.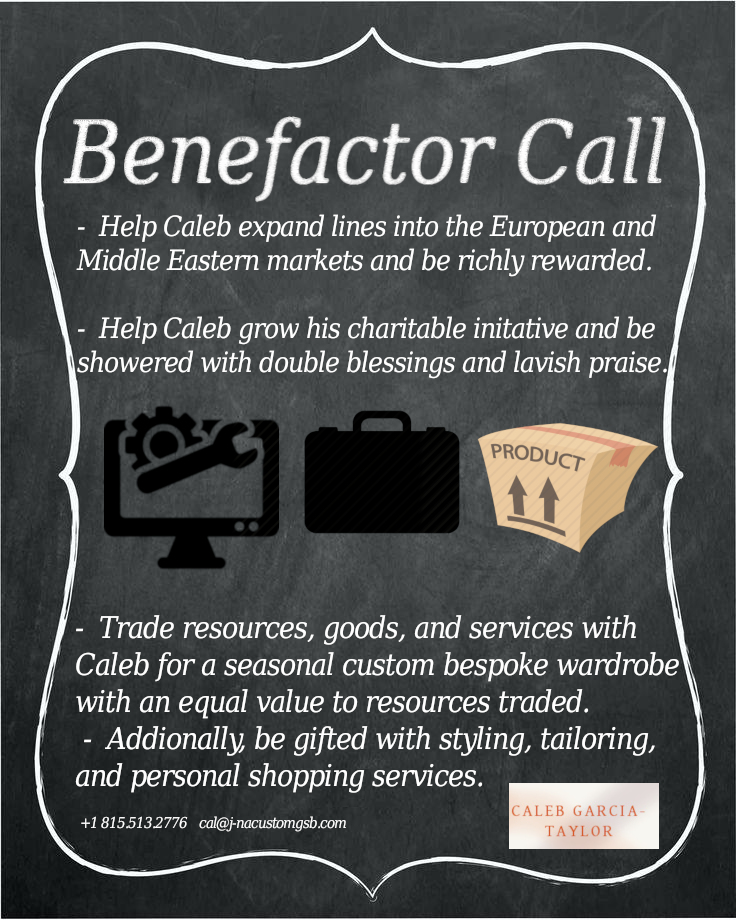 3. Developing your own personal style that is practical and makes the statement  that is authentically you!

Here is a professional styling TIP:

Don't focus just on what is trendy or HIP, focus on what is really you, your best concept and personal style, because when you are authentically YOU, well that is HIP!
The best thing about a the Couture or Custom man bag is that it is designed and hand-made to be practical, unique, and authentically YOU!
What do I mean by this?

Here is the bag I designed for myself, and you will see what I mean!
Top Ten Things I find myself carrying around in the man bag made for Cal!:
Wallet
Tablet
Cell Phone
Shades
Flask (LOL because when I go out they rarely have organic red wine and GOOD imported Tequila!)

LED task flashlight/Bottle Opener
Keys
Swiss Army Knife
Business Cards (to give to the people always asking about my couture bag)
Custom Hardwood Headphones designed for my fav type of music.
What essentials can you think of?

Oh and there's more! LOL I don't know what I did before I embraced this custom concept!




I made the manbag with a lot of outside pockets, because I hate having to rummage through my bag to find what I need!




The outside pockets, straps, and netting is made from recycled fine leather.




The inside has custom pockets fit for tablet and phone, a hook for my keys, and pen holders.




The pockets have real compassionate fur alpaca inners for padding, cleaning, and keeping of devices. It's a kind of wool from the South American mountain goat! 




We Really promote texture as an option for personal style. Life is in 3D, so is fashion! It adds such a richness to your message when done in fine materials!





I take it on my longboard as I am riding to get to the connecting train downtown Chicago!

I take it when I am traveling and sightseeing!




I made this design to be practical, fashion forward, functional, and versatile for business, pleasure, social, and casual uses!




If THE MAN BAG is ringing true as authentically you, you can have it custom made hold everything you need to carry around! Click here!




Tell me about what the man bag made for (YOUR NAME HERE) would be like!




Practical, Functional, hand-made-to measure to fit what you need to take around and your personality and personal style as well! It's a couture manbag!







See what the 2012 Design Styling looked like, and get a hippy chic inspiration, if that is your rugged style. It also has a nautical change-over.

Just 4 FUN! See the adventures of Cal and his Man for local Chicago culture and International appeal!

Go to the men's accessories main page!
See the latest trends that the GSb Men's Couture revolution is creating!

J-na Couture runway collections and magazine editorials.
---
Press play and then click on the bottom right of the slideshow to enlarge to full screen.
GSb Wearables and Jior Couture Menswear Caleb Garcia Taylor collections.
---
---
To set up a




private runway showing of the




J-na haute couture collections

click here.



Inquiries Contact: cal@j-nacustomgsb.com
Latest Press Release contact: info@j-nacustomgsb.com
815.513.2776
Chicago Based Fashion Designer also serving National and International Clients as well as local in the Gold Coast, Streeterville, River North, the Loop, Linclon Park, Winnetka, Lake Forest, Oak Park, and Highland Park for Couture Fashion Custom Clothier Womenswear, Menswear, and Accessories.
Exclusive Eco-Spa Couture Fashion Smart-Gown Experience and Treatment. Wearables and wearable-tech for a charitable cause.
By appointment only Showrooms available, and at home or business service. Mailing Address 1200 W 35th St Suite #5345
Chicago, IL 60609