Settimana di 

Couture 

Chicago era totalmente ispirazione!


La "nostra Bella Universo" arte couture runway era incredibile! "

La settimana di couture Chicago era ancora a vedere qualcosa che assomigliava il stile artistico e Fusion Couture in questa passerella, la della house music canzone Axwell "lasciare questo mondo alle spalle", ha fatto da sfondo udibile di questo imponente presentazione dal titolo "Il nostro universo bellissimo ".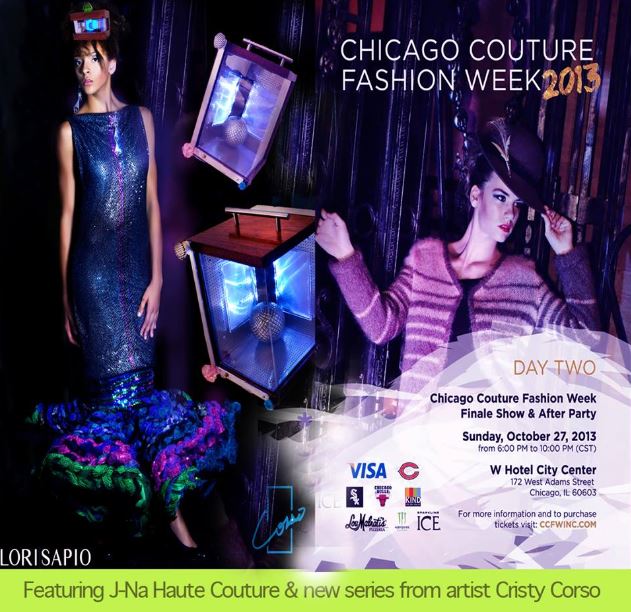 Artista Christy Corso di Corso di Studio di stato così ispirato dal fuori-di-questo-mondo originalità del suo abito couture j-na e la collezione 2013, che questa energia creativa è stata incanalata in una serie di arte lanterne scolpite e testa-pezzi che avrebbe evidenziare l'unicità della collezione e lo splendore del nostro universo prezioso in passerella!
Ha detto: "I ​​Deep ricche tonalità del viola, rossi, ori, argenti, e il blues veramente portato l'idea dell'universo alla vita! Qualcosa che mettesse in risalto e complimentarmi con la raccolta e portare l'attenzione l'Arte della Couture. Mi hai preso indietro nella lavorazione del legno e motivati ​​per insegnare ai ragazzi della Fondazione Heritage Youth sulle arti! "
Ecco alcune delle foto runway presentati in uno storyboard potenziamento:
Sentitevi liberi di ascoltare canzone house mentre leggete questa fantasia Storia.
Fare clic sulla canzone da youtube.
Vedere la "nostra preziosa Universo" Couture Art Production in ATL Città Fashion Week, insieme ad altri Art Passerella Couture Ispirazioni da Versace 14, Dior 07 e Più!
L'Alien Principessa Emissaria con al Lanterna di pace e prosperità .....


E ricevuta dal Classic Chicagoan con i piedi per terra nel W Hotel City Center nel tetto prima che lo spettacolo inizia 
La settimana di couture Chicago

  e procede a illuminare la donna elegante imparata a conoscere le meraviglie della creazione lontano di quello che lei chiama casa!
Poi, improvvisamente, l'Emissaria di un destino terreno più esotico arriva e dice: ....... "Sono in forma per esplorare le meraviglie del nostro universo bellissimo, in effetti, ho prenotato un posto sul viaggio inaugurale del primo volo spaziale per i turisti che gettano in questa stagione. Rispetto il miei colori preferiti che sembrano meglio su di me ricordano il cielo di notte! "
Poi l'Emissaria dal nostro Universo Precious dice (Axwell Song):
"La gente, mi senti, c'è un messaggio che sto inviando! Una soluzione a tutti i vostri problemi, e stasera sarò a cantare it Loud! .... Basta abbandonarsi al ritmo, mettere le mani su nel cielo, .... sentire il profondo all'interno del vostro sistema energetico .... e lasciare questo mondo alle spalle!


Lasciare il mondo dietro di te!
Guarda come la storia continua a svilupparsi ad una conclusione drammatica di Chicago settimana di couture!
Torna alla pagina principale.
J-na Couture runway collections and magazine editorials.
---
Press play and then click on the bottom right of the slideshow to enlarge to full screen.
GSb Wearables and Jior Couture Menswear Caleb Garcia Taylor collections.
---
---
To set up a




private runway showing of the




J-na haute couture collections

click here.



Inquiries Contact: cal@j-nacustomgsb.com
Latest Press Release contact: info@j-nacustomgsb.com
815.513.2776
Chicago Based Fashion Designer also serving National and International Clients as well as local in the Gold Coast, Streeterville, River North, the Loop, Linclon Park, Winnetka, Lake Forest, Oak Park, and Highland Park for Couture Fashion Custom Clothier Womenswear, Menswear, and Accessories.
Exclusive Eco-Spa Couture Fashion Smart-Gown Experience and Treatment. Wearables and wearable-tech for a charitable cause.
By appointment only Showrooms available, and at home or business service. Mailing Address 1200 W 35th St Suite #5345
Chicago, IL 60609