Top couture fashion reviews from J-na,
"the original fiber snob!"
The fashion reviews on this page are dedicated exclusively to the couture models that utterly inspired me!

Click here to share your review on the couture model that was done for you, or couture that simply inspired you, and win a j-na couture accessory!
The first of our designer 2011 top couture fashion review is of a couture designer that, in my opinion, is one of the most talented for classic Middle Eastern couture mixed with the best classic Western overtones. Ladies and gentlemen, we are talking about Amal Sarieddine.
She comes from the best of couture influences, her mother Nawal Sarieddine, who founded an acclaimed and established Middle Eastern couture house.
This was very beautiful to me, because my son Cal, who I am very proud of, also works alongside me in our family couture house as the designer of GSB, our Men's Couture!
Amal truly understands attention to detail, all of her models are extremely detailed, that is my favorite part of her designs!
They are so exotic, yet classic, and they have hand-made blaring from the intricate beading, and sequined patterns that blend light and color beautifully.
Amal truly understands the use of the finest luxuriant materials. See the model dress below and the richness of the sequined fabric, so plush that it looks like a rich velvet with brilliant light reflection, and the touch of purple sequins blends so well it looks like reflected light, the detail!
These dresses are dripping in crystals, a favorite medium of mine as well. From my favorite collection she has done yet, The Golden Sun Collection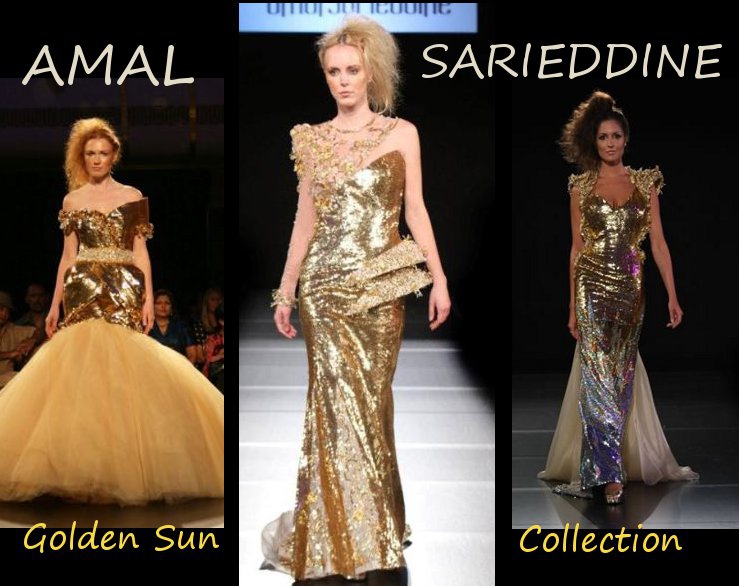 You have one of these couture models done for you, and everyone that turns their heads to gaze knows that this did NOT come off the rack of a department store!
This color combination and the Middle Eastern styling gave me an inspiration for the Royal Princess headdress in mohair, brandishing citrine and amethyst gems in 14 karat settings!

The wrap is made with Turkish lace netting in mohair and silk, with pearl and gold adornments.

Imagine walking down the red carpet in the wrap and headdress to unveil that dress! Wow! What a freeing and royal couture premonition!



---
The second couture 2011 top couture fashion review on Amal Sarieddine is on the gown also from the Golden Sun collection.
See the detail in the embroidery and pearl beading, just countless hours invested in completing this couture model.
She did a beautiful job in the shaping of this warrior inspired gown while keeping the curve enhancing appeal of the feminine figure.
| | |
| --- | --- |
| This model brings so much attention to the upper body, and I would like to see that brought up to face and head as well, through a head-piece equally regal, like the Persian princess gem couture j-na head-wrap above. | |
All-in-all, I am just inspired and liberated by this groundbreaking display of new and exciting concepts with old world appeal.
Amal has brought these concepts together while keeping true to the historical cultural values in this timeless collection.
For a conclusive review of the couture legendary house Givenchy, Click Here!
---
The next of our designers in the  top couture fashion review is of couturier Anne Valerie Hash.
She really holds such a special place in my heart because:
Haute couture is primarily all about precision in fitting, and she is so precise in fitting the right places of the body that she can drape and flow the fabric in almost impossible unconventional ways.
This is my faaaaaavorite from Anne, the bridal gown on the left, it just flows so well it takes me to another era, and I experience the best romance of the French Renaissance.
| | |
| --- | --- |
| | This is the type romance that inspired my latest fantasy bridal accessories, see the royal tiara and the lace stitch mohair and silk bridal shawl. What a fantastic combination of old world royal couture with the Anne Valerie Hash Dress! |
Click here for the j-na top review for Anne Vallerie Hash fall winter 2011/12 collection! See and share what you think!
---
The next of our favorites under 2011 top couture fashion review is by couturier Frank Sorbier.
As the original fiber snob, I love couture that has a rich and interesting texture.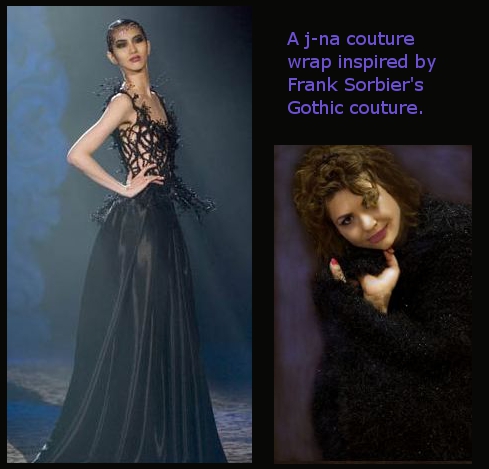 The separates make a dramatic gothic ensemble that is outright show-stopping, again it yells out, one-of-it's-kind!
I would like to see draping from her forearms a dramatic large wrap like the j-na model from the midnight collection with a subtle adorned dark-princess tiara. That would bring this whole couture look to even greater extravagance.
The Top couture fashion reviews! Armani Prive has brought us into the 21st century and beyond with a futuristic collection of grandeur! Click here for top couture review!
Truth be revealed, as well as everything else in Valentino's see-through sheer 2011 Collection....See the top couture review...Click Here!
Ready to REALLY be INSPIRED? Set yourself free to achieve your very best in couture living by: Return for Couture 101 history and your development, The newest all original j-na couture accessories collections,
Or the full 2012 j-na haute couture clothing collection! For the big baller Divas!
What couture models have you had done for you, or have simply inspired you?
Share your top couture fashion review and and earn a chance to win a custom j-na couture accessory!
Have you had a haute couture garment or accessory made for you? Share your review of the liberating experience with us!
What beautiful haute couture design inspired you? Share your top couture review!

I will pick through all the submissions, and the review that inspires me the most, full of liberating couture passion will be posted to it's own special page on the j-na site, and I will make a complimentary j-na couture frill/head-wrap for that passionate couture connoisseur!

All submissions must contain at least one photo, not just a link to a photo. Scroll down to share!

LET THE CREATIVE FLARES FLY!

What Other Couture Connoisseurs Have Said!
Click below to see review from other Fashionistas and Connoisseurs...

Great Design Not rated yet
J-Na, Love the mohair and silk wrap in the Treasures fashion accessories collection! You have a great eye for design.
Andres Aquino Not rated yet
I really think that Andres Aquino understands what a woman wants, and how she feels about fashion. We see all these media images of glamour and elegance, …
J-na Couture runway collections and magazine editorials.
---
Press play and then click on the bottom right of the slideshow to enlarge to full screen.
GSb Wearables and Jior Couture Menswear Caleb Garcia Taylor collections.
---
---
To set up a




private runway showing of the




J-na haute couture collections

click here.



Inquiries Contact: cal@j-nacustomgsb.com
Latest Press Release contact: info@j-nacustomgsb.com
815.513.2776
Chicago Based Fashion Designer also serving National and International Clients as well as local in the Gold Coast, Streeterville, River North, the Loop, Linclon Park, Winnetka, Lake Forest, Oak Park, and Highland Park for Couture Fashion Custom Clothier Womenswear, Menswear, and Accessories.
Exclusive Eco-Spa Couture Fashion Smart-Gown Experience and Treatment. Wearables and wearable-tech for a charitable cause.
By appointment only Showrooms available, and at home or business service. Mailing Address 1200 W 35th St Suite #5345
Chicago, IL 60609