Celeb Couture is tantalizing!
See the latest Celebs in j-na couture and GSb Men's Couture.
Celeb Couture is where trends start or stop, where all eyes go to see the Heroes and Heroines of the red carpet look their finest and very best. That is because couture is really about bringing out the best in people.
It's the only time that they really can show the world who they really are. The red carpets are where we can really connect with them when they are at their best! That is what makes it so intriguing. You know that in the movies they wear only what the wardrobe director decides on, but on rare occasions are they really seen and dressed being themselves.
See the latest MEGA celebs in the best couture gowns of the season in our celebrity fashion magazine page!

---
This page is dedicated to the latest Celebrities wearing j-na couture and GSb Men's Couture.

One of the celebs that we are most proud of to have grace our designs is Marisa Buchheit, a renowned Opera Singer here in our hometown of Chicago, but also was named Miss Chicago 2012.

A strict fellow vegan buddy and animal rights activist that made us reassure her that no animals were harmed in the making of our couture! We just had so much fun working with her on her gown and the gowns of the other singers in the production.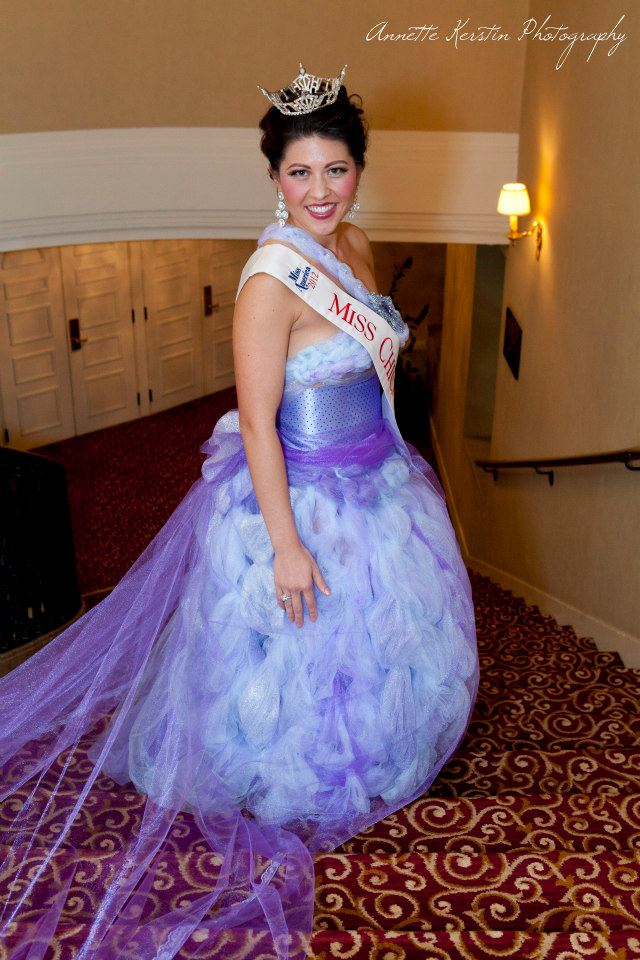 | | |
| --- | --- |
| Big shout out of Thanks to Marisa and Annette Kirsten Photography for accompanying us that night! | This turned out to be a rush order with less than two weeks of time to turn out! With handmade couture the standard is usually from 4-6 weeks per garment! Nevertheless we did manage to pull it off despite the dark circles and exhausted demeanor we had the night of the Fashion of the Opera production featuring the most talented performers (See the other Opera Singers in j-na couture!) and a fantastic Italian styled runway show featuring our accessories. See the runway photos here! |
---
One of the recent Celebs seen in his celeb couture GSb vest is none other than the male supermodel LGBT human rights activist turned actor and director known as the "King of Heart" , a Chicago Native, Ronnie Kroell. Doesn't he look Regal in his Couture Men's Fur Vest?

| | |
| --- | --- |
| | The vest is a couture model from our GSb Men's Couture Fall Winter Collection. Of Course no two garments are ever made the same. |
To really capture the best concept and personality of Ronnie we did a brief personality analysis and design consultation. We found that Ronnie likes bright blues and greens mostly and the blues work the best with his complexion and eyes.
Although he at times likes to make a bold statement on the Hollywood scene, he primarily feels comfortable in a more conservative look. So we opted to design the vest to be reversible, on one side a supple navy leather, that he can wear to his event and then half way through when the timing is right, flip that thing around and BAM! He has a look that makes the scene POP in bright teal silk crushed velvet as seen in his photo! This was such a fun design for such a special person with a down-to-earth spirit and of course a BIG Heart!
Being that his logo and sur-name is "The King of Heart" we also added extra fur to the high shoulder Kingly Medieval Royal look.
Was he happy with the celeb couture? Well I was worried if he didn't like it he wouldn't say so because I know he is such a nice guy. He laid all my doubts to rest through his endorsement he posted to his facebook and fan page:
"Loving my J-na Haute Couture and fashion accessories one of a kind design! Thank you so so so much Gsb Men's Couture."
---
Just For Fun!

If you are wondering what real fur is used in our Design for Ronnie as is our signature in all designs, here is a cute excerpt from Facebook minutes after he released the photo on his profile.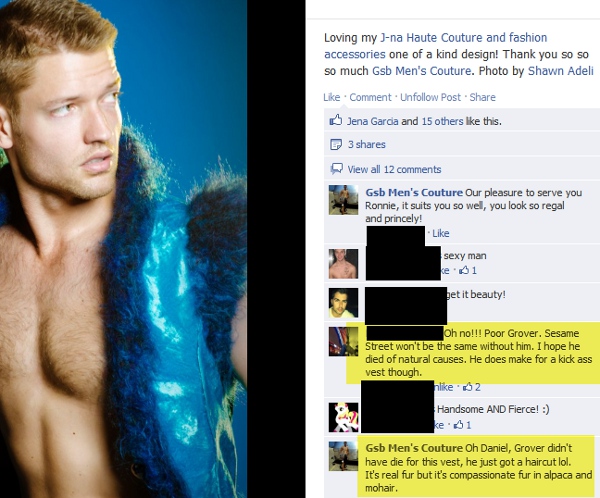 We use compassionate real fur on our designs as a signature in Mohair and Alpaca.

---
See the j-na couture Mystery of Oprah and her custom couture Wrap!
See the latest Celeb Couture Ladies walk the red Carpets!
See the History of Haute Couture and the Ladies that it made Iconic!
Return to Homepage.

J-na Couture runway collections and magazine editorials.
---
Press play and then click on the bottom right of the slideshow to enlarge to full screen.
GSb Wearables and Jior Couture Menswear Caleb Garcia Taylor collections.
---
---
To set up a




private runway showing of the




J-na haute couture collections

click here.



Inquiries Contact: cal@j-nacustomgsb.com
Latest Press Release contact: info@j-nacustomgsb.com
815.513.2776
Chicago Based Fashion Designer also serving National and International Clients as well as local in the Gold Coast, Streeterville, River North, the Loop, Linclon Park, Winnetka, Lake Forest, Oak Park, and Highland Park for Couture Fashion Custom Clothier Womenswear, Menswear, and Accessories.
Exclusive Eco-Spa Couture Fashion Smart-Gown Experience and Treatment. Wearables and wearable-tech for a charitable cause.
By appointment only Showrooms available, and at home or business service. Mailing Address 1200 W 35th St Suite #5345
Chicago, IL 60609