Plus size couture taking main stage in beauty!
---
Plus size couture fashion originated in Europe in the 18th century, where again Paris became the hub for the wealthy to purchase artistic and original couture. These dresses were ultra-high-quality and of course, very costly!
Even more exquisite and expensive than ordinary than this was Haute Couture in plus sizes. With every effort made to please their wealthy clients, many pains and hands were needed to hand-make these extravagant outfits, with extreme attention to detail, embellishment and exact measurements. Ooh-la-la! The silks, the beads, feathers and flounces!
Today there are more excellent Plus size haute couture designers and even the famous couture houses are catching on...Emannual Ungaro...Balenciaga, Pierre Cardin, Yves Saint Laurent, and Dior!
There are many popular brands of Plus size ready-to-wear in affordable quality garments. However, it is still my opinion, that for extra-special occasions, bridal and otherwise, the Plus size client is wise to indulge in a custom-fit and custom-made true Couture garment!
See Kate Winslet's bad celebrity fashion mistake and learn how to style yourself "SPOT ON!"

Most retailers consider anything over 14 to be a plus size, but BEWARE!!! Sizing can be deceptive, brands keep shifting the sizes, so that a size 8 in 1970 would be a size 0 today!!! Hmm...
Today most Plus size couture clients want well made clothing that really flatters. So, my dear friends, there are some tricks of the trade you should know about!
SEE the j-na celebrity fashion secrets in plus beauty #'s 2-5 here!

J-na's Tips for Full-Sized Flattery
To visually elongate the body and create an hourglass shape, look for these fashions:
Details along the base of a dress hemline to draw the eye downward.( slightly longer hemlines help, and matching hose to dress also) See the interest in along the hemline on this full length j-na couture gown.

2. Interesting embellishments like beads (my fav) or patterns or ruffles at the neckline or shoulder will draw the eye upward.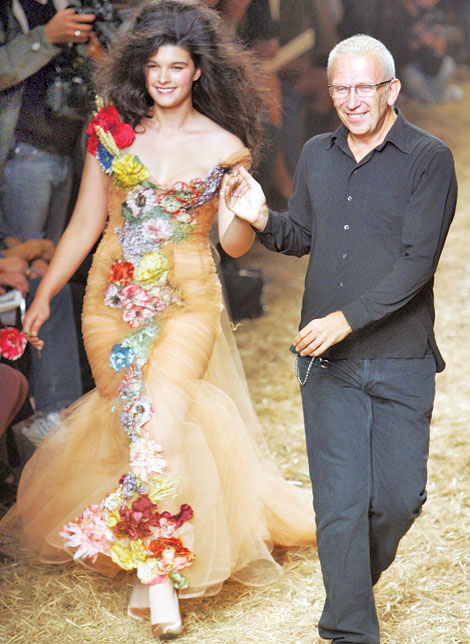 3. Empire waistline are flattering. See Photo of Jill Scott live in concert in her fab couture dress and cape!
See the Celebrity Fashion Mistake that Olivia Spencer made and how she learned and made it RIGHT!

4. NEVER buy anything too snug, always allow for a sexy "drape" of fabric close to body but never too tight...even if you must buy a bigger size! Do not let seller's psychology of wanting a smaller size, "trick" you! I feel that tight clothes add 20 pounds or more visually, and a looser "flow" will subtract weight!
Check out these Plus size couture designers:
Anna Scholz (U.K.)
Melissa Masse (Saks Fifth Avenue)
Alfred Angelo
Angela Zampell
Peggy Lutz
Jena Garcia-Taylor (Myself)
There are no more excuses ladies! It is so easy to cruise the net for neat plus size couture, and it is so much fun!
---
Of course, we here at J-na Couture have always known ANOTHER BIG SECRET!!!
ACCESSORIES AND BLING are the real answer!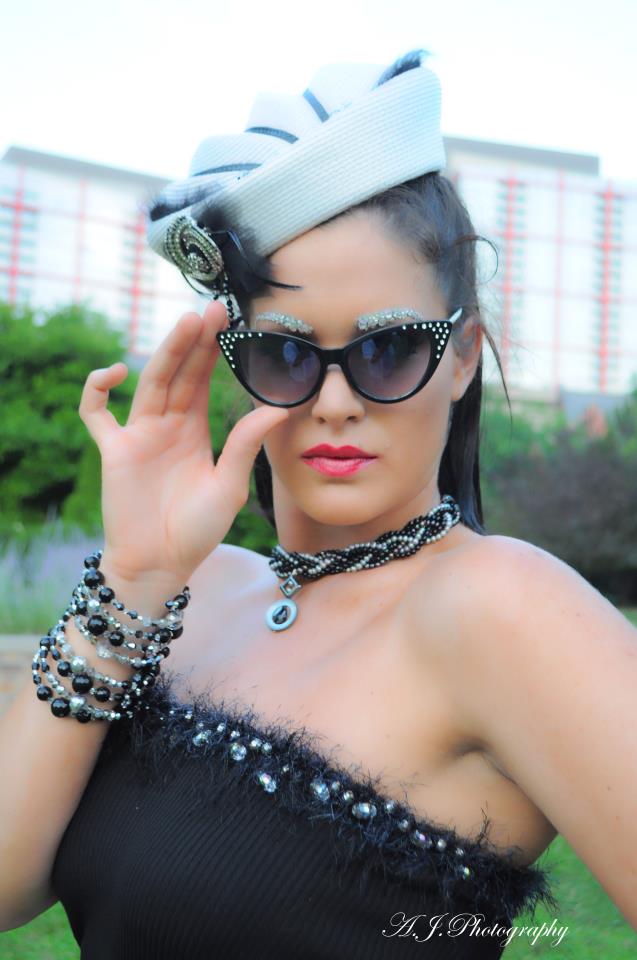 J-na Couture bling crystal stretch knit top. High attention in the most flattering places. 
The J-na Couture 20s inspired head pieces are a thrill to flaunt. Making us look taller and hold our heads higher. 
The gemstones are crystals that when charged and placed on the crown chakra report all kinds of health benefits and extra clarity, clarity to see ourselves as we really are!
The magnificent hyper-sentient divine beings that manifest our reality, as we form and care for our universe because we are the Universe.  Of course we care for our physical self in the best ways we know how. 
Asking ourselves what are we? We are everything, and everything is everything. We are diverse, we are multifaceted just like the gem stones we wear. We are magical.  
SEE J-NA's other insider secrets for
plus size couture styling, CLICK HERE
! What can we learn from Celebrity inspired fashion!
Scarves and Wraps are a wonderful way to bring the eyes upward and frame your beautiful face! No one does custom couture wraps better than we do here at j-na couture!
See our gallery collection for all the wonderful ways you can do plus size couture with accessories!
---
I have enjoyed showcasing exquisite plus size couture accessories for the Thyke Troupe of Chicago with founder, actress, singer and model Tressa Thomas (The Five Heartbeats)
Check out my tribute to Chicago's Fashion Heyday...the Roaring 20's, the Glamorous 30's, and the Hollywood era 40's and 50's.....in this runway production!
This text will be replaced
Special Thanks to all our loyal Fans and Curvy Girls, and the men that Love and Support and Empower us all!!!!!
Return To Homepage for more empowerment!
Contact me! I would love to chat with you girl, for the best and most confident YOU!

Have A Great Story About This Topic?
Do you have a great opinion, insight, or inspiration about this? Share it!
What Other Visitors Have Said
Click below to see contributions from other visitors to this page...

J-na Couture runway collections and magazine editorials.
---
Press play and then click on the bottom right of the slideshow to enlarge to full screen.
GSb Wearables and Jior Couture Menswear Caleb Garcia Taylor collections.
---
---
To set up a




private runway showing of the




J-na haute couture collections

click here.



Inquiries Contact: cal@j-nacustomgsb.com
Latest Press Release contact: info@j-nacustomgsb.com
815.513.2776
Chicago Based Fashion Designer also serving National and International Clients as well as local in the Gold Coast, Streeterville, River North, the Loop, Linclon Park, Winnetka, Lake Forest, Oak Park, and Highland Park for Couture Fashion Custom Clothier Womenswear, Menswear, and Accessories.
Exclusive Eco-Spa Couture Fashion Smart-Gown Experience and Treatment. Wearables and wearable-tech for a charitable cause.
By appointment only Showrooms available, and at home or business service. Mailing Address 1200 W 35th St Suite #5345
Chicago, IL 60609