Gioielli Accessorio di moda bellisimo che riflettere il nostro gusto personale y e sicuro di fare una dichiarazione.
Con tutte le opzioni a nostra disposizione ora, donnas, decidendo solo gioielli accessorio di moda per completare un abito da sera bellissimo o abito da cocktail chic, può sembrare un po 'intimidatorio! Dopo tutto, il nostro gusto personale in gioielleria moda accessorio può essere classico ed elegante, o grande, audace e sicuro di fare una dichiarazione.
Scegli gioielli accessorio di moda dopo l'acquisto il vestito, e poi riflettere su ciò che funziona meglio in scegli di gioielli? Oppure si fa a fare ricerca di gioielli favolosi dal loro punto di partenza, e sono ispirati da questo pezzo importante e poi piano per soddisfare complimetarla o il vestito?
Confesso! Molte volte ho disegnato un abito da sera e scialle intero di complimenti unica pietra impressionanti o una collana di perle che abbiamo creato. Per esempio, nel caso delle perline ciondolo in argento di Sterling ed un torsione di rubini, perle e cristalli Swarovski .... Sono stato ispirato a fare il "look" per intero a causa di questa collana di rubini e perle!
Clicca qui per i migliori consigli J-na tra cui scegliere e abbinare i gioielli per ogni look!
Molti di noi hanno collezioni di gioielli molto ampia, ma non si stancano mai di "safari" ricerca di nuove reclute ancora più luminoso!
Una domanda mi piace mettermi prima di progettare un accessorio moda gioielli, cioè Sarà più luminoso e bello negli anni 10, 20 o 30 da oggi? Avrebbe fatto un'impressione durevole? È solo una moda passeggera ... una moda che presto caduta dalla grazia? E 'realizzato con materiali di lusso? Dopo tutto, le donne sono orgogliosi delle nostre collezioni di gioielli!
Una gemma che ha tutto il mondo"verde d'invidia" è questo gigante del Monte St. Helens in pietra è stata creata dalla furia dell'esplosione della famosa eruzione del vulcano è ormai famoso.
Minerali scatenato dalle profondità della terra che sono state raccolte per creare questa bellissima pietra verde, che mi piaceva la combinazione di perle, smeraldi e perle, yeah, yeah, yeah ... più cristalli Swarovski!
Si tratta di un accessorio di moda, gioielli con una storia antica ... chissà quanti milioni di anni, i minerali sono stati? Chi avrebbe mai immaginato che furia distruttrice del fuoco che potrebbe forniscono un pietra verde calmo e sereno?
Quali colori e dei materiali fanno gravitare verso la ricerca di gioielli che accessorio moda perfetto? Un modo per raccontare è l'analisi della sua propria collezione di gioielli. Si può notare un tema. E 'tempo di avventurarsi in una nuova direzione? O è che ami quello che ami?
Per le serate speciali, preferisco l'eleganza di brillanti cristalli Swarovski mescolato con perle originali e pietre preziose, gioielli di moda anche se un accessorio non ha bisogno che essere il più costoso o squisito. Lasciate che la vostra immaginazione vi guida per selezionare quel pezzo perfetto per completare il vostro look. Ma sembra che la preferenza personale dovrebbe essere la vostra "regola aurea" per la selezione di accessori di moda gioielli perfettamente!
Alcuni di noi hanno una particolare predilezione e gioielli creativi. Dico che è una cosa di celebrità bling! I luoghi più e modi per fare gioielli e il oro meglio! Amo decorare, abbellire, o incorporare gioielli reali all'interno del mio abbigliamento e accessori di moda!
Vedere la vera principessa toccato / scialle stillicidio gemme ametista e citrino in castoni d'oro 14k! Immaginate di andare ad una cerimonia di gala di premiazione a questo, solo per scoprire una grande collana e bracciale di corrispondenza! WOW! Uno spettacolo impressionante, che è di buon gusto e non immodesta, no! Come molti degli abiti couture sono ora realizzati in pura seta trasparente, insegnare a tutte, senza lasciare nulla da immaginare, ora, è mia opinione che questa strategia estremamente sgradevole e poco saggio per attirare l'attenzione! QUESTO! Ho detto!
Clicca qui per il tocco finale couture, la borsa di gioielli da sera couture!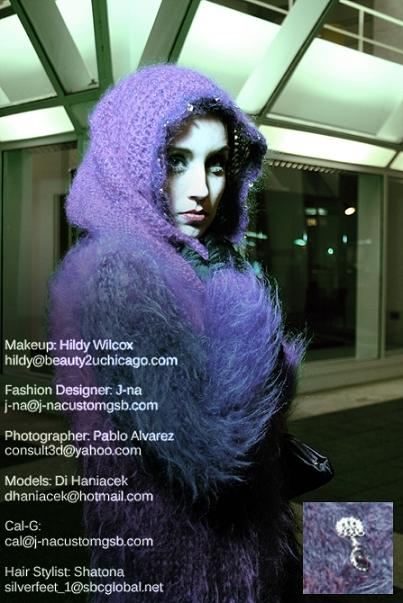 Io sono un dei tifosi i piedini, e possono essere separati per amore di varietà, è sia divertente e creativo per inventare nuovi modi di utilizzare i vostri tesori preferito. Solo se risponde realmente la vostra personale bellezza interiore ed esteriore!
Torna alla j-na collezioni couture per comlete ispirazione nello sviluppo delle loro migliori concetto di haute couture di moda.
Clicca qui per contattare J-na a fare i loro sogni di gioielli accessorio di moda.
j-na couture runway collections and magazine editorials.
Press play and then click on the bottom right of the slideshow to enlarge to full screen.
---
---
To set up your




private runway showing of the




j-na haute couture collections

click here.



Inquiries Contact: cal@j-nacustomgsb.com
Latest Press Release contact: info@j-nacustomgsb.com
815.513.2776
Chicago Based Fashion Designer also serving National and International Clients as well as local in the Gold Coast, Streeterville, River North, the Loop, Linclon Park, Winnetka, Lake Forest, Oak Park, and Highland Park for Couture Fashion Custom Clothier Womenswear, Menswear, and Accessories.
Exclusive Eco-Spa Couture Fashion Smart-Gown Experience and Treatment. Wearables and wearable-tech for a charitable cause.
By appointment only Showrooms available, and at home or business service. Mailing Address 1200 W 35th St Suite #5345
Chicago, IL 60609