La semana de alta costura Chicago fue totalmente inspirador!


La"Nuestro Precioso Universo" couture arte pasarela era asombrosa!"

La Semana de alta costura Chicago aún estaba por cosa parecia  al estilo de este arte y Couture Fusión en la pasarela, la canción house de Axwell "dejar este mundo atrás" fue el telón de fondo audible a esta impresionante presentación titulada "Nuestro Universo precioso".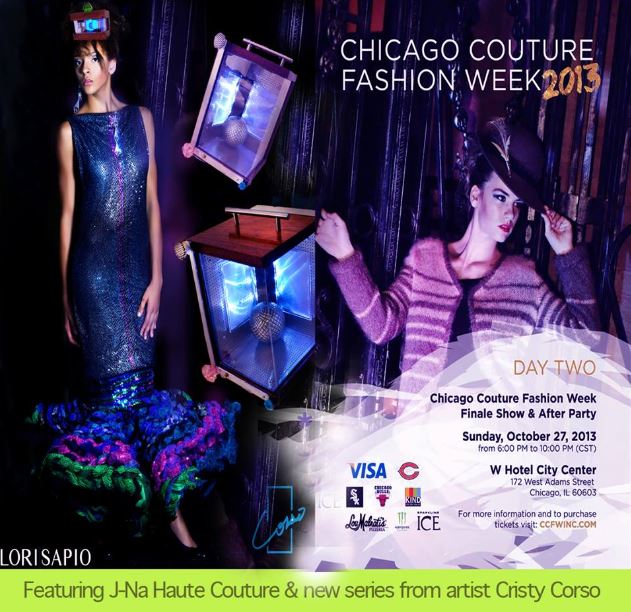 Artista Christy Corso o Corso Studio se sintió tan inspirada por la originalidad fuera-de-este-mundo de su vestido de alta costura j-na y de la colección 2013, que esta energía creativa se canalizó en una serie de arte linternas esculpidas y lapiezas de cabeza-que destacaron la singularidad de la colección y el esplendor de nuestro universo preciosa en la pasarela!
Ella dijo: "Los ricos matices profundos de púrpuras, rojos, dorados, plateados y azules realmente trajo la idea del universo a la vida! Algo que resaltaba y complementaba y llamaba la atención sobre el arte de la alta costura. Me volviste a la carpintería y motivado para enseñar a los niños de la Fundación Heritage Youth acerca de los artes "
Aquí están algunas de las fotos de la pasarela presentadas en de un guión gráfico de  empoderamiento:

Siéntese libre de escuchar ala cancion house mientras que lea a esta historia de fantasía.

Haga clic al cancion de youtube.
Consulte la sección "Nuestra preciosa Universo Couture Art Production en ATL City Fashion Week junto con otros en la pista de Arte Couture Inspiraciones Versace 14, Dior 07 y más
The Alien Princesa Emisaria con la Linterna de la Paz y la Prosperidad, .....


Es recibida por la Clásica chicagoense con los pies en la tierra en el W Hotel City Center en la azotea antes de que empiece el espectáculo Semana de alta costura Chicago, y se procede a iluminar a la mujer elegante y docta sobre las maravillas de la creación lejos de lo que ella llama su hogar!
Entonces, de repente la Emisaria de un destino terrenal más exótico llega y dice, ....... "Estoy en forma para explorar las maravillas de nuestro universo precioso, de hecho, he reservado un asiento en el viaje inaugural del primer viaje espacial para turistas lanzando esta temporada. Vea que mis colores favoritos que se ven mejor en mí son una reminiscencia de la cielo de la noche! "
A continuación, la Emisaria de nuestro Universo precioso dice (Axwell Song):
"La gente, ¿puedes oírme, hay un mensaje que estoy enviando! Una solución a todos sus problemas, y esta noche voy a cantarlo fuerte! .... Sólo entrégate al ritmo, poner las manos en alto en el cielo, .... sentir la energía en el interior del sistema .... y dejar este mundo atrás!


Deja el mundo atrás!
Vea como la historia continúa desarrollándose a una conclusión dramática en Chicago Semana de alta costura parte 2!!
J-na Couture runway collections and magazine editorials.
---
Press play and then click on the bottom right of the slideshow to enlarge to full screen.
GSb Wearables and Jior Couture Menswear Caleb Garcia Taylor collections.
---
---
To set up a




private runway showing of the




J-na haute couture collections

click here.



Inquiries Contact: cal@j-nacustomgsb.com
Latest Press Release contact: info@j-nacustomgsb.com
815.513.2776
Chicago Based Fashion Designer also serving National and International Clients as well as local in the Gold Coast, Streeterville, River North, the Loop, Linclon Park, Winnetka, Lake Forest, Oak Park, and Highland Park for Couture Fashion Custom Clothier Womenswear, Menswear, and Accessories.
Exclusive Eco-Spa Couture Fashion Smart-Gown Experience and Treatment. Wearables and wearable-tech for a charitable cause.
By appointment only Showrooms available, and at home or business service. Mailing Address 1200 W 35th St Suite #5345
Chicago, IL 60609