The Green Gala Non-Gmo and Red Carpet Farmers Market:
Bon Voyage to the Bloat!
The green gala that has non-GMO theme, making the non-GMO movement fun and fashionable! If you are familiar with my story you know that at a young age I survived a deadly fire accident and I was severley scared and disfigured through the lower half of by body. I know what it is like to fight for your life knocking on deaths door.
See the Event Fashion-On-Demand June 18th 2015. The Launch of a Wearable Tech line of Smart-Ties for a Charitable Global Initiative!
I had to decide that I was to live, and I had to not only regenerate my severely damaged cells, but my fragile self esteem and self image, because that fire also scarred my heart and left me with a wrong image of myself, that I was repulsive. It was also at that young age that I discovered that my life had tremendous value, I discovered fashion, sewing, design. This helped my to get past the distorted view of myself and accept myself as beautiful. I also enrolled in modeling school at the age of fourteen, this also helped me realize that my scared body adorned in my couture cloths was indeed beautiful.
See the info on the latest Model Development Seminar for up-and-coming couture models.
I also discovered health, and became a very studious learner in natural and alternative medicine and  prevention. I was a true hippy in the 70's because, I didn't see any point in drugs and negative things that would harm my body.
Today I want to pass that same drive  and determination that I learned at an early age, because your cells are being damaged from the proliferation of GMO foods, but the difference is that, your cells,although damaged are not beyond repair. To rid ourselves of the un-labeled GMO foods it is an authentic fight and challenge, but like the decision I faced and made at the age of 6 as a fragile girl, you can make it now, but what you need is knowledge, education, and encouragement! 
Here is my Son Cal's personal invite to you!
So make the plans to be present at the Glamorous Non-GMO Green Gala and celebrate fashion, education, and choices!  
During the Green Gala there will be a special summit for models, agencies and industry professionals as well. This will address the specific way the GMO foods are damaging the Fashion and Modeling Industries. My son Cal and I are witnessing this first hand as we see that the models we are working with are always having issues with bloating and inflammation around the mid-section abdominal areas. These models are industry standard sizes everywhere but their waists and hips because of the inflammation and bloating. We are also seeing signs of rapid and pre-mature aging and allergic reactions that lead to skin problems. All of these issues are causing less models to qualify for agency work, the agencies are using even younger girls because they are the ones that are not bloated. The agency girls are also aging out earlier. 
We shot an amazing editorial shoot that illustrates this hazardous reality, while making a statement!
Below are a preview of some shots from this statement Editorial that will soon be printed in several publications.
Non-GMO Statement Editorial for the Green Gala: Bon Voyage to the Bloat.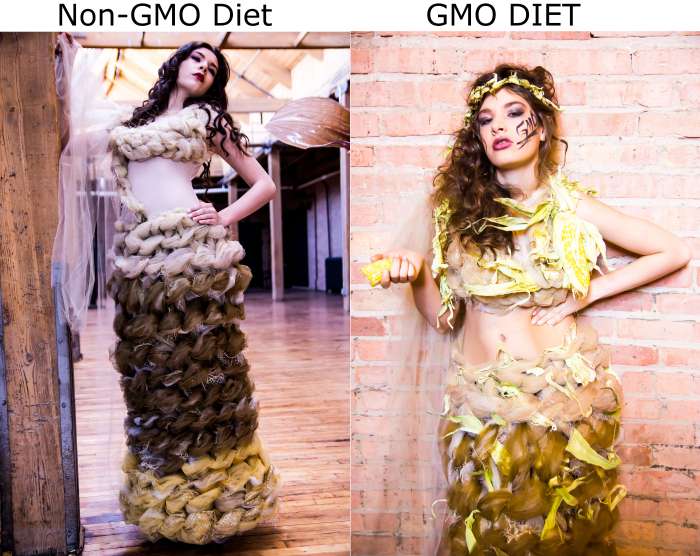 Here are some details on the event and where you can register:
Red Carpet Organic Farmers Market:
Purchase your Organic Produce on the Red Carpet, a glamorous way to celebrate the right food choices, including red carpet professional Photographs of purchasing Farmers Market Produce.
7AM-12PM
Bridgeport Art Center Parking Lot and Sculpture Garden.
1200 W 35th St Chicago IL 60609
12:30-3PM Non-GMO Statement Fashion Showcase installations
(10:30-2:30 Salon and Spa services available for Pre-Gala Prep)
5th Floor Couture Fashion Loft Bridgeport Art Center
1200 W 35th St Chicago, IL 60609
3PM-6PM
Non-GMO Fashion Gala: Bon Voyage to the Bloat
Industry Speakers Summit
Curated Art Gallery Depicting Original Art Work inspired by the Documentary "Genetic Roulette."
Silent Auction of Art
Entertainment
VIP Lounge
Must RSVP
Get Updates for the Green Gala here: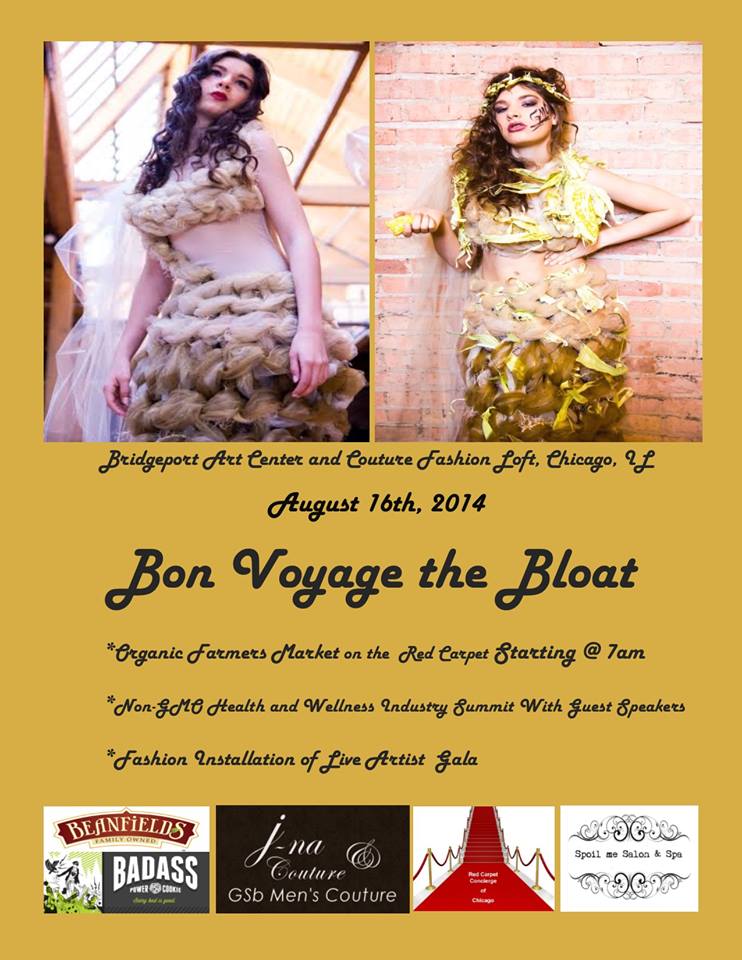 J-na Couture runway collections and magazine editorials.
---
Press play and then click on the bottom right of the slideshow to enlarge to full screen.
GSb Wearables and Jior Couture Menswear Caleb Garcia Taylor collections.
---
---
To set up a




private runway showing of the




J-na haute couture collections

click here.



Inquiries Contact: cal@j-nacustomgsb.com
Latest Press Release contact: info@j-nacustomgsb.com
815.513.2776
Chicago Based Fashion Designer also serving National and International Clients as well as local in the Gold Coast, Streeterville, River North, the Loop, Linclon Park, Winnetka, Lake Forest, Oak Park, and Highland Park for Couture Fashion Custom Clothier Womenswear, Menswear, and Accessories.
Exclusive Eco-Spa Couture Fashion Smart-Gown Experience and Treatment. Wearables and wearable-tech for a charitable cause.
By appointment only Showrooms available, and at home or business service. Mailing Address 1200 W 35th St Suite #5345
Chicago, IL 60609