Couture mens clothing is rightly so starting to become prominent as an emerging market in high-end clothing design.
IT'S ABOUT TIME!
Couture mens clothing? "What are they talking about?" You might be asking yourself.
While true that bespoke and custom men's clothing goes back for centuries, and for many centuries it was the only clothing available before the advent of the modern textile revolution and ready-made clothing as we know it. However except among the royalty, couture men's clothing was never given much attention.
Custom tailored suits and shirts have always remained popular because every man that has owned one knows there is nothing like the feel and fit of a bespoke tailored suit, but in themselves do not constitute men's haute couture because the designs are not exclusive, high-fashion, and extravagant.
But now we are experiencing a revolution in this emerging market as Haute Couture Mens Clothing is the emerging trend in Couture!
The easiest way to start merging your wardrobe toward custom couture is to start with couture accessories. They will make your clothes look custom and distinct.

They are a GREAT investment in your personal style, because you can wear them in different ways EVERY DAY!
Did you know that in our online couture accessories shop you can now fully customize unique rich designs to your: size, best colors, and most importantly PERSONALITY?
See the latest Celebrity Fashion UK from 1D and David Beckham here!
The modern day pioneer of this trend I give the credit to Jean Paul Gaultier, a renowned couturier that has put a special emphasis on Men's Couture, in Paris haute couture runways he even combines male and female models all together, a bold concept that has never been done before.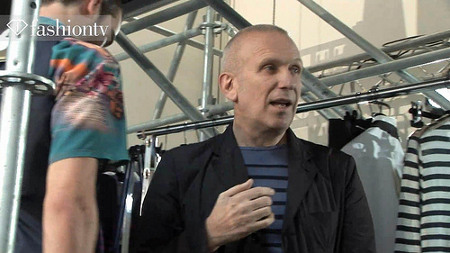 Photo arbitration compliments of "fashion tv" via flickr commons. Click for fashiontv.
Although, I am not crazy for all of his designs like the pinstripe suit/dress that we saw in his last collection, he is my hero as far pushing forward and pioneering the men's fashion revolution. I love his nautical 2011 collection, and his use of bold colors like orange, my personal favorite!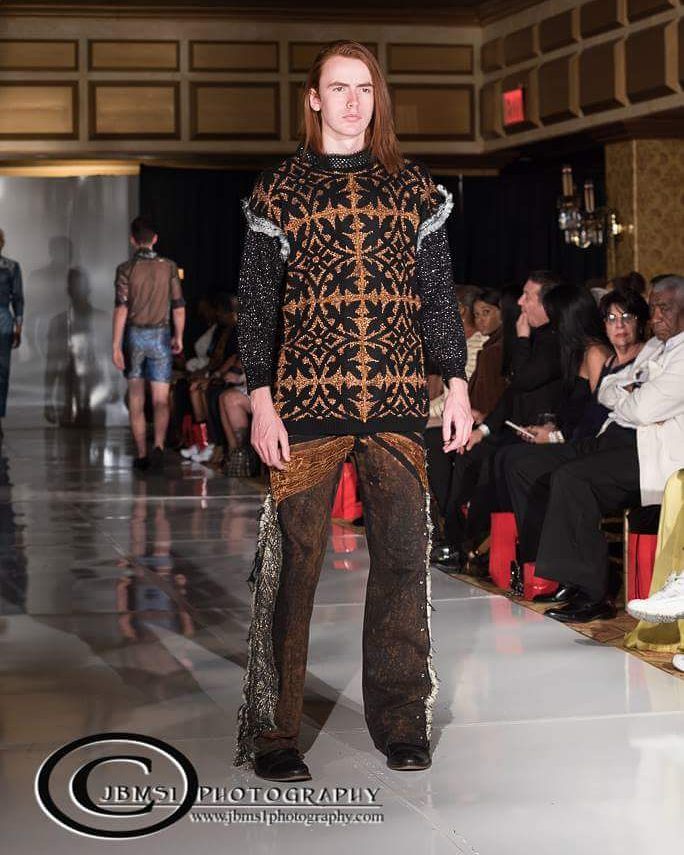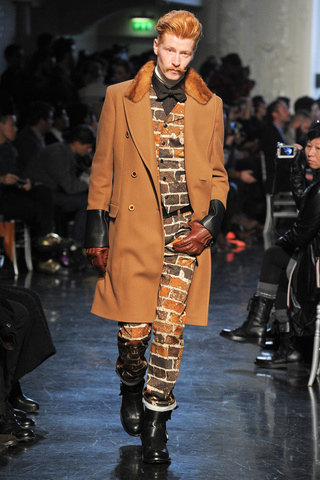 This inspired me to make this look for my 2016 collection with a boho couture rocker vibe, so authentically the style of my son Cal everything 90s.
It was a smash hit on the runway, and we made many adaptations of this looks for our individual clients. 
---
Cal and I have a vision for Couture Mens wear everywhere! Here it is.
Our men's line GSB is in keeping with the concepts of true Haute Couture in that all of our men's garment design models are bold and break barriers, handmade with an emphasis on knits, there are not two garments made the same totally exclusive and unique mixing wearable tech and handmade and custome fabrics. Using 3D printing to accomplish modern miracles
These are the kind of concepts that men deserve, choices to the ready-made mentality that reflect an independent mentality and vitality. A way for a man to define his strength and masculinity in a way that is individual and different from those around him. Choices are and options are the two words that modern men like best in fashion. The modern man is more fashion aware and forward than any other period in all history.
A couture mens editorial we shot in the San Diego bay.
Although there have never been more choices in textiles there are very few that are exclusive and truly different, not just different like everybody else. Couture mens is a spiritual philosophy based on Sovereignty manifest on the physical plane.
Here is a photo from our 2012 ad campaign for GSb couture mens vests and sweaters along with the latest in GSb accessories. See how each vest is not only hand-knit and sewn but it differs from the lines of most major designers because each vest and look portrays a completely different persona and presence, not just different variations of the same thing.
At GSb couture mens, as a client you are not told who you are or who you should be, you do the telling on who you are and then you we make a completely exclusive testament to you that is unique to you alone! That is the concept that should be celebrated in couture men's clothing!
Handmade leather vest with alpaca fringe and edging and crushed velvet interior. For a rugged rich yet refined look for a bold man, designed by Cal for that robust type of style personality. The Game of Thrones Fashion is huge right now! 
| | |
| --- | --- |
| | A hand-knit fine wool sweater vest in 9 yarns for the sophisticated tech savvy man that doesn't want to be mistaken for just another IP address. |
Modeling this and many other GSb couture designs is myself, Cal G! I am not only the head designer for the GSb couture men's line, but I always want to be on the forefront of the line's representation modeling and directing our photo shoots! I want to share the vision and my dedication to all original men's couture concepts and inspire more men to just BE THEMSELVES.

This photo shoot in launching our fall 2012 line of couture was so fun! It was just incredible to work with California's top desert photographer Joe Stemmer, and all the models were amazing and such a pleasure to work with!
A whimsical fun loving classy vest and tie combination for the man that is a music lover and doesn't want to be mixed up with all that jazz from the latest ready-made mass-produced collection.
A hand-knit vest in all natural wools, mohairs, and silks. For a rugged mountain personality that is all about going green and favors the outdoors with a hippy natural sway to his personality.
What kind of personality do you have? Think about dressing outwardly to enhance and develop who you are inwardly, instead of hiding who you are behind a ready-made label.
Click for the latest in handmade men's haute couture scarves
Click here for the best in the men's accessories revolution! Something different and new for a change!
Click here for the latest in GSb couture mens trends and inspirations!
Click here for the latest on the emerging trend called steampunk, and the options it is brining to the world of men's haute couture
J-na Couture runway collections and magazine editorials.
---
Press play and then click on the bottom right of the slideshow to enlarge to full screen.
GSb Wearables and Jior Couture Menswear Caleb Garcia Taylor collections.
---
---
To set up a




private runway showing of the




J-na haute couture collections

click here.



Inquiries Contact: cal@j-nacustomgsb.com
Latest Press Release contact: info@j-nacustomgsb.com
815.513.2776
Chicago Based Fashion Designer also serving National and International Clients as well as local in the Gold Coast, Streeterville, River North, the Loop, Linclon Park, Winnetka, Lake Forest, Oak Park, and Highland Park for Couture Fashion Custom Clothier Womenswear, Menswear, and Accessories.
Exclusive Eco-Spa Couture Fashion Smart-Gown Experience and Treatment. Wearables and wearable-tech for a charitable cause.
By appointment only Showrooms available, and at home or business service. Mailing Address 1200 W 35th St Suite #5345
Chicago, IL 60609