Trendy Street Fashion Men, how they become fluent in the language of style.
Street Fashion Men are all over the place in Italy, Spain, Paris, and London. Let's catch some highlights from Cal's last trip from Europe. He came back raving about the street fashion and coming across so many "on fleek" gents.
What can we deduce about their personality by the way they choose to dress? We can learn A LOT! So let's become fluent in the language of style and level up on our non verbal communications in the process!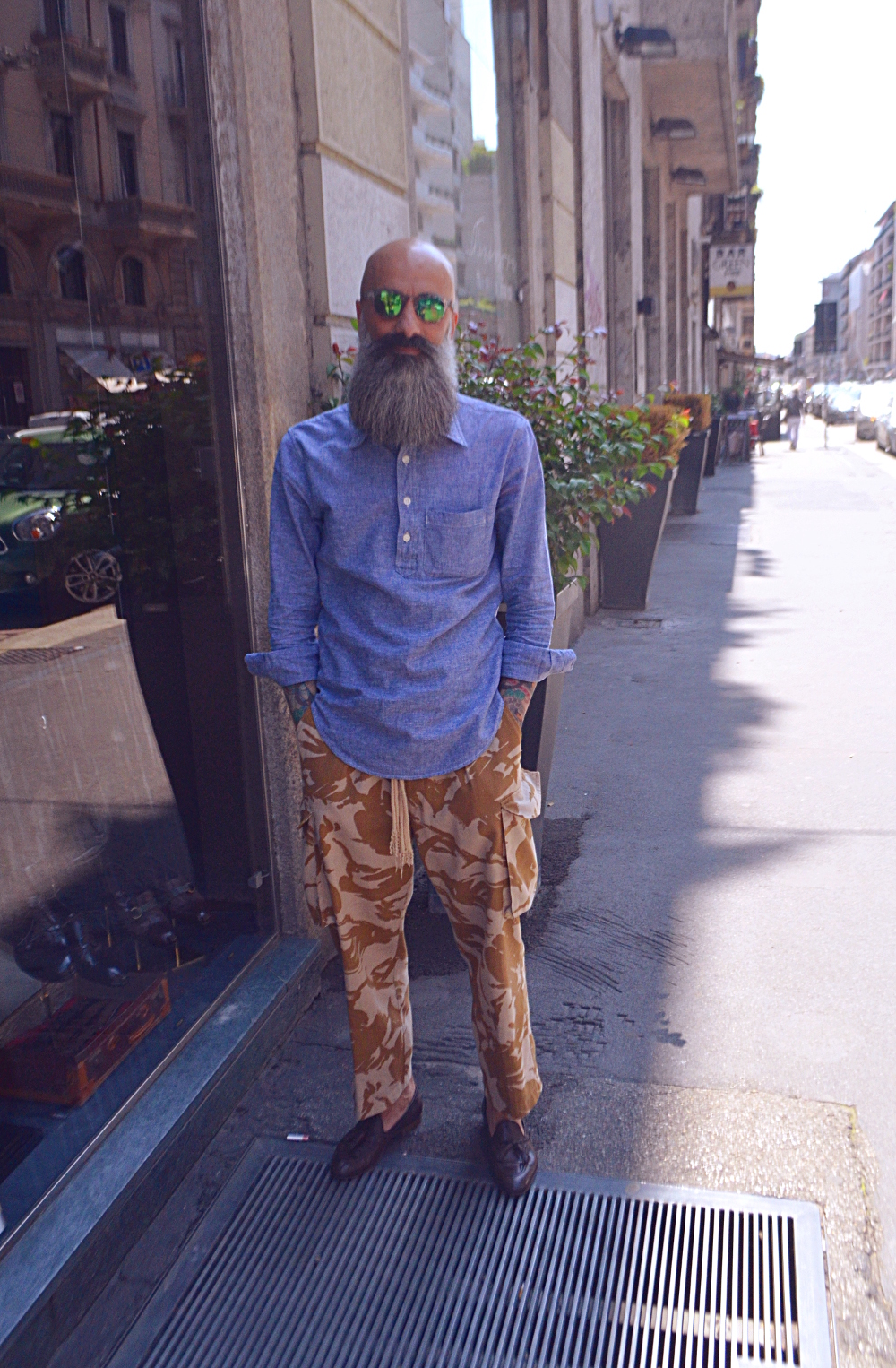 First up in our street fashion men analysis. Relaxed denim, oversized cargo camo print, and juxta accessories.
You see some of the best street fashion in the world in Milano, not always the most innovative, but extremely well thought out and put together. This uomo is the prime example.
1. He owns the fact that he is bald, and is bent on showing us what a bountiful Maine he is still capable of. This shows me from a block away that he is confident, ambitious, and has a glass half full approach to life.
2. Oversized is what is trending in Europe and rapidly catching steam in NYC. He is down with it showing his relaxed side, but we are seeing this intentional use of a trend not as a staple of his personality but an extension. He still is hanging on to that Italian extreme attention to detail and refinement, by the use of the penny loafers and that 60's style shades.
3. Creative thinker, because he found balance in the beautiful juxtaposition between relaxed and casual denim, oversized urban cargo pants, penny loafers, and 60's shades. Pulls it together beautifully. He must work in fashion.
Cal said he saw this guy one other time in an amazing three-piece red plad suit, fitted not oversized. He missed the photo opp.
What say you on this guy's look? Leave me a message.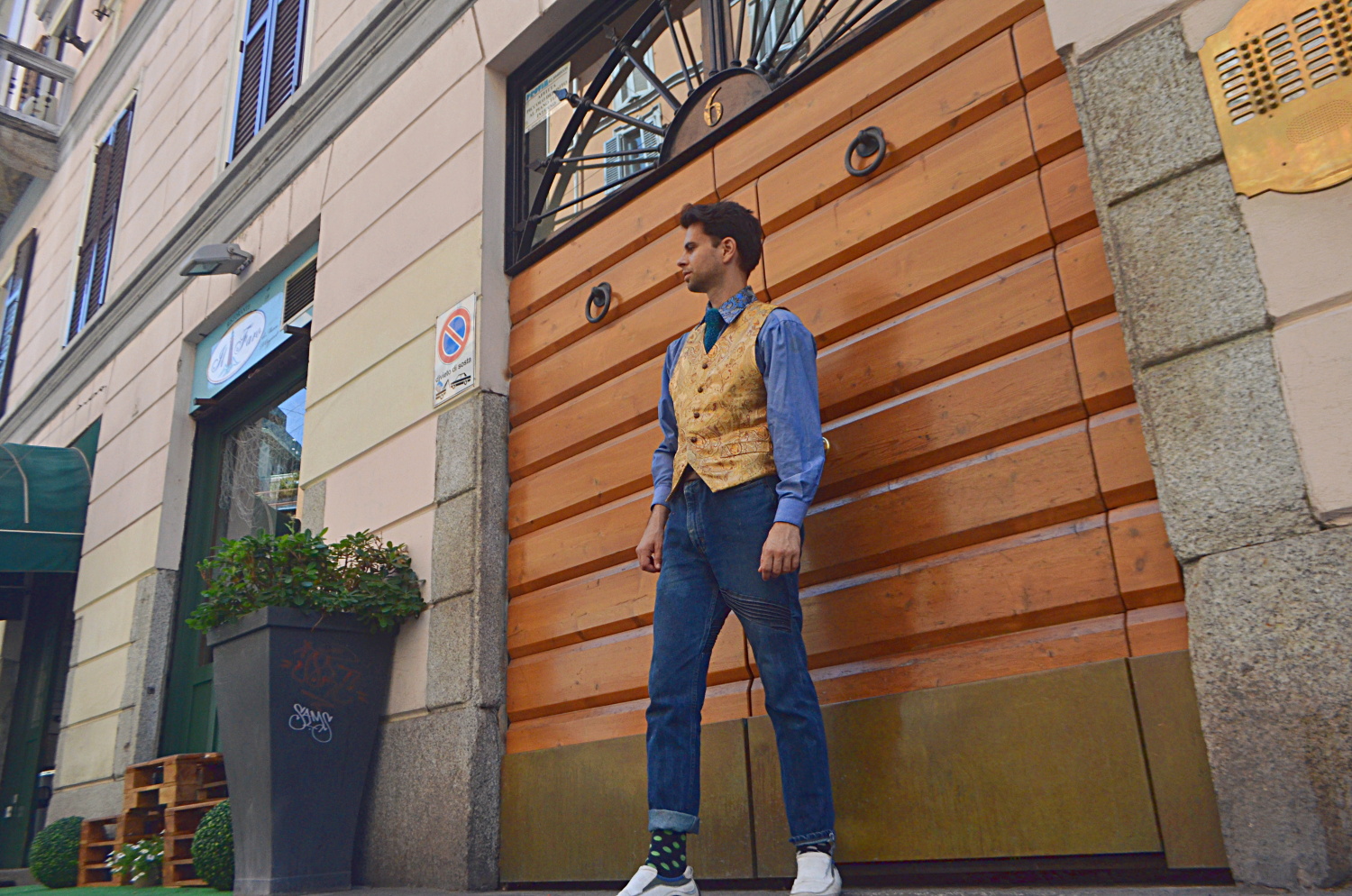 Next up: Cal's Dapper Casual look with renegade details.
So Cal was running out the door for a few business meetings and decided to style a few pieces from his GSb Designer Wearables collection for a spiffy casual fashion look. Street fashion men know how to combine, and Cal gives lessons.
Super dressy brocade vest sets the mood against the blue background, taking main stay setting the professional tone, the colors contrast so well in a royal way that it is refreshing and conveys confidence. Cal likes to take control and keep in control with his fiery creative energy. He also likes to put people at ease with his refreshing demeanor and manners. So yes, he intentionally sends the message he wants to call out by what he wears by the language of street style men.
You can see that he has attention to detail to say, "Yes I am aware, and I just don't care what you think. I'm doing this my way." Notice that his pokedot socks, match but don't match, with conflicting color dots! Too cute. He also has the distressed jeans psyop with the super dapper shirt and vest, and the jeans are only rolled on one side! He claims that this again was intentional.
See more Street Fashion Men on Cal's Instagram Feed. With daily look updates, show a little love for creative expression, and get inspired.
Click here for London street style fashion or go around the world's fashion hubs with the latest on fleek urban fashions of the week.
What say you on Cal's look?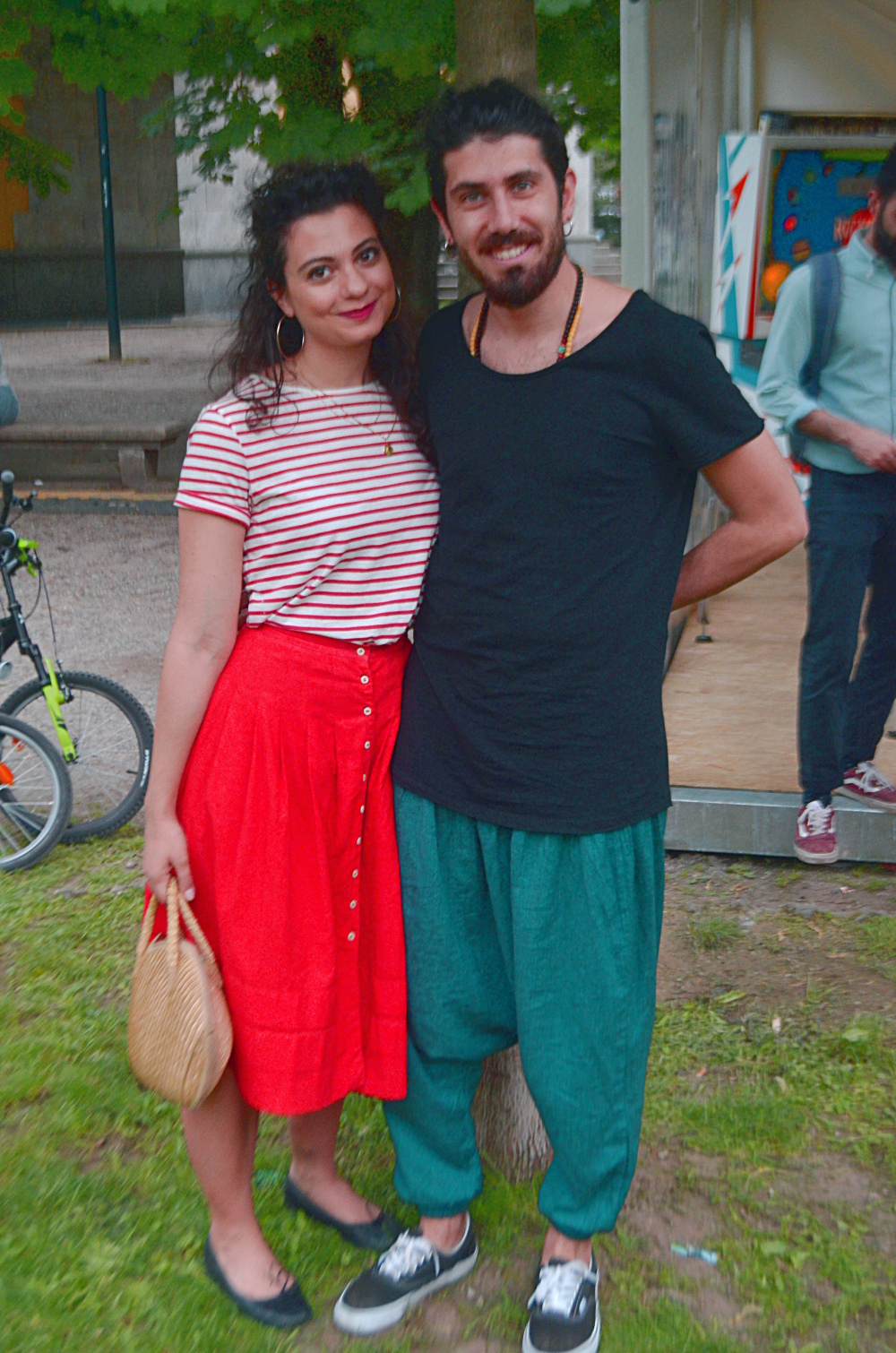 Up Next: Music Festival Milano Uomo.
This man, just look at that smile, says it all, and his clothes just confirm everything. Relaxed, down-to-earth, mild, and cool. He knows how to play his style strengths, and work fashion to his advantage for his body type, it works. Look at how cut his french girlfriend is!
If our body type is not tall and muscular, but shorter and slender, oversized is the way to go all day! Ironically if for our plus sized body types, oversized is also the way to go! Ok so the extreme drop crotch pant may be too much for many, but this guy is such a great example of how you can pull it off an not have to have a super loud and bold personality. It is relaxed.
Cal says this guy was super nice and friendly, he wanted his girl in the photo with him. What a cool couple.
What say you on this guy's look?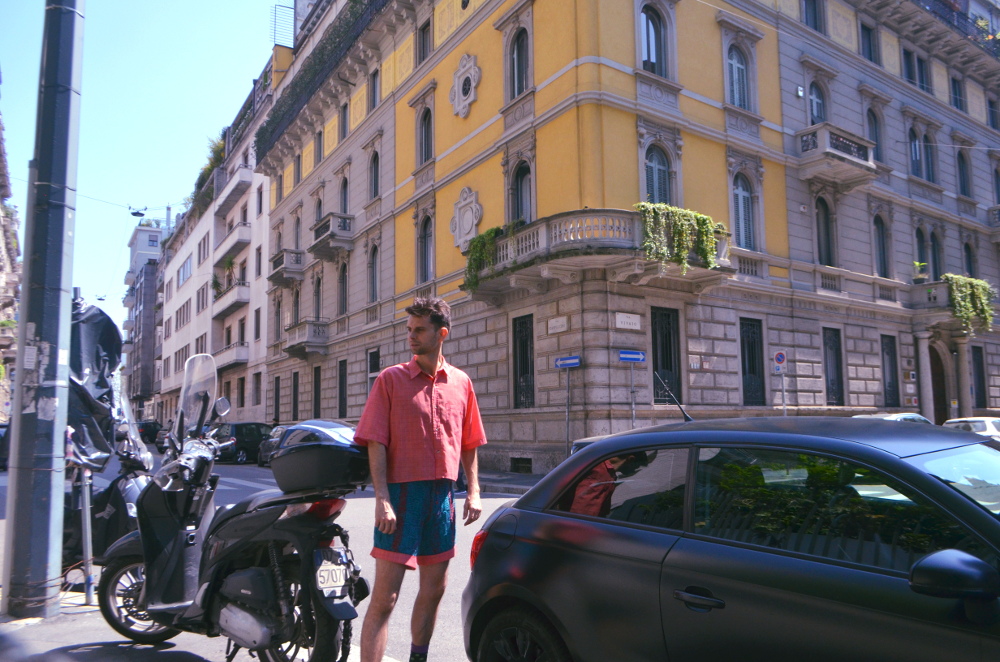 Up next Cal's GSb Designer Wearables Knitwear shorts!
Oversized, but not exaggerated. Few things say custom and couture like knitwear. It is just so unique, and it refuses to be dismissed as ready-made off-the-rack. Cal's use of spring summer bold color really offset his skin tone, hair, and eyes. In a place like Milan where color is vibrant and celebrated in the architecture, design, and fashion, he made a great style choice.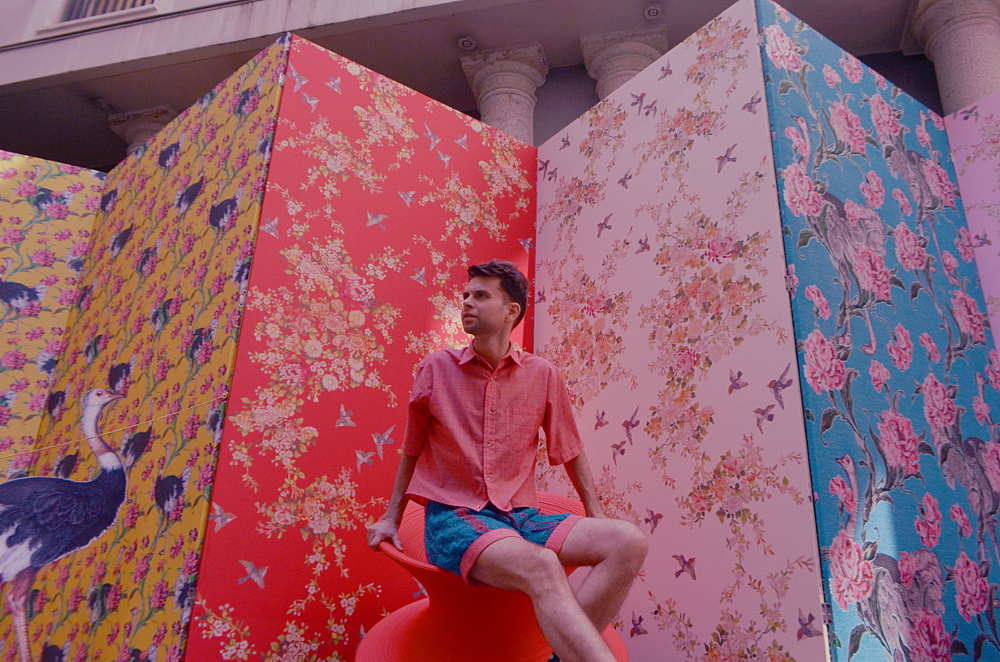 When we knit custom wears for our clients, we always take these factors into the design meeting to determine the right design elements. For Cal this is a bold look, but he takes pride in the impact that his runway pieces make when seen on street fashion men.
The client version of this look is very edited, until we come across a fashion personality that is as bold and daring in their style choice as Cal. That is where we really have fun!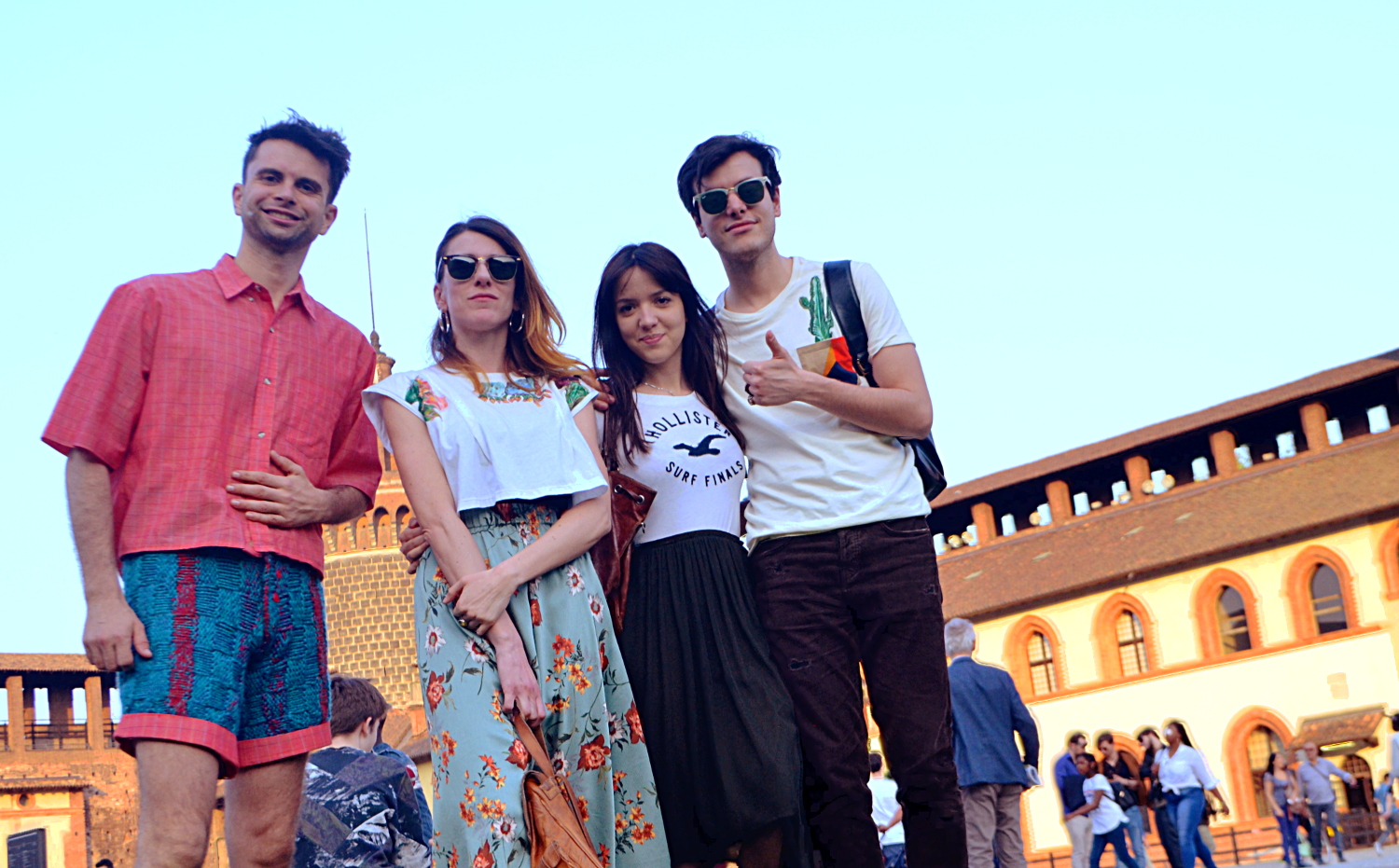 Cal's friends in Milano love doing hand-painted prints in foliage and plants. Cal being a Vegan, just loved the technique, and will soon make available the custom hand painted print T-shirts and Dresses from Pam, she is the artist pictured next to Cal.
You can enlarge the photo to see a little more detail. They are really great hand painted effects.
See our next street fashion men page, because we could not fit all of it on this page with full personality profiles.

See highlights from the latest Street Style London Fashion Week Men's.
J-na Couture runway collections and magazine editorials.
---
Press play and then click on the bottom right of the slideshow to enlarge to full screen.
GSb Wearables and Jior Couture Menswear Caleb Garcia Taylor collections.
---
---
To set up a




private runway showing of the




J-na haute couture collections

click here.



Inquiries Contact: cal@j-nacustomgsb.com
Latest Press Release contact: info@j-nacustomgsb.com
815.513.2776
Chicago Based Fashion Designer also serving National and International Clients as well as local in the Gold Coast, Streeterville, River North, the Loop, Linclon Park, Winnetka, Lake Forest, Oak Park, and Highland Park for Couture Fashion Custom Clothier Womenswear, Menswear, and Accessories.
Exclusive Eco-Spa Couture Fashion Smart-Gown Experience and Treatment. Wearables and wearable-tech for a charitable cause.
By appointment only Showrooms available, and at home or business service. Mailing Address 1200 W 35th St Suite #5345
Chicago, IL 60609