London street style fashion has always been raw, edgy, and exciting!
Will LFWM be the defining moment we have all been waiting for?
In London street style fashion we see some of the most polished of all put-together men bubbling fourth from the cities "be-spoke then speak" heritage, but the city is not satisfied with excellent tailoring.
It wants more. It wants everything!  What I prize the city's fashion for the most are the defining moments seen from the iconic punk style of Vivian Westwood to the riveting recent manipulations of Craig Green. Menswear is the new high-fashion goldmine and LFWM is the platform that we see being the best-in-class all-terrain vehicle driving the new men's fashion industry with London as the capital.
On-Fleek
---
The new "bespoke" has spoken.
Hot Pants!
---
HeSpoke and he said, "More of this please."
London Street Style Fashion has never been this glorious! Truly the most progressive of all Fashion Hubs that is ready to take the men's fashion market and claim it's permanent home. How exciting to see the high-fashion impact on the London traditional bespoke tailor. What else is possible in this realm of bespoke? See some of the creative ideas that Cal has been developing. He hopes to show his collection in #LWFM. 
Cal's latest tribute to the bespoke london street style fashion suit Design.
Cal is taking on a couple new benefactors and gifting a years worth of custom clothing, personal shopping, and styling services as a corresponding trade for resources, and services donated. Cal wishes to accomplish two main objectives through this collaboration:
Bring more visibility and support to our charitable initiative for training and employing work-from-home artisan moms in Latin America.
Expand our lines into Milan and Dubai.
Set-up a time today to skype with Cal and check out the range of Packages he is Gifting.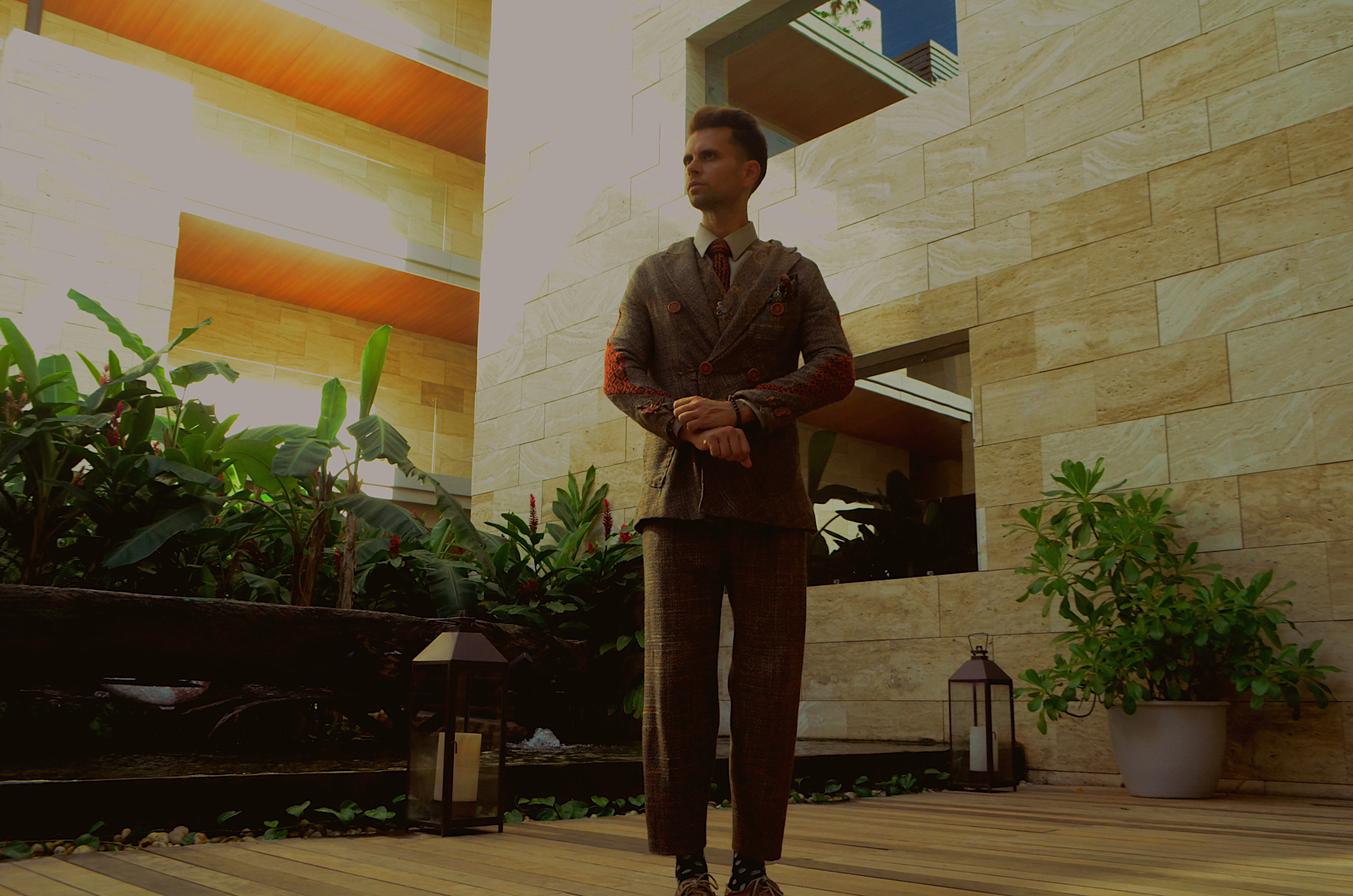 GSb Couture BEspoke suit. No shoulder seams, artistic 3D cut, double-sided, sterling silver buckles, tropical wood buttons in wool and silk.
London Street Style Fashion
J-na Couture runway collections and magazine editorials.
---
Press play and then click on the bottom right of the slideshow to enlarge to full screen.
GSb Wearables and Jior Couture Menswear Caleb Garcia Taylor collections.
---
---
To set up a




private runway showing of the




J-na haute couture collections

click here.



Inquiries Contact: cal@j-nacustomgsb.com
Latest Press Release contact: info@j-nacustomgsb.com
815.513.2776
Chicago Based Fashion Designer also serving National and International Clients as well as local in the Gold Coast, Streeterville, River North, the Loop, Linclon Park, Winnetka, Lake Forest, Oak Park, and Highland Park for Couture Fashion Custom Clothier Womenswear, Menswear, and Accessories.
Exclusive Eco-Spa Couture Fashion Smart-Gown Experience and Treatment. Wearables and wearable-tech for a charitable cause.
By appointment only Showrooms available, and at home or business service. Mailing Address 1200 W 35th St Suite #5345
Chicago, IL 60609