How does French street fashion compare to other fashion hubs like Milan?
So we are addressing this interesting question. Is French street fashion still the best? Or has it been steeped in tradition for so long by the houses having full reign over the industry that the norm lacks luster and innovation? 

This is what we are seeing as trending in Milan right now. They embrace the super flattering trend toward oversize in a quirky, fun, colorful, creative way that combines so many juxta elements together while at the same time coming across polished and hip.
I love it, Cal took these photos from the last trip he just got back from.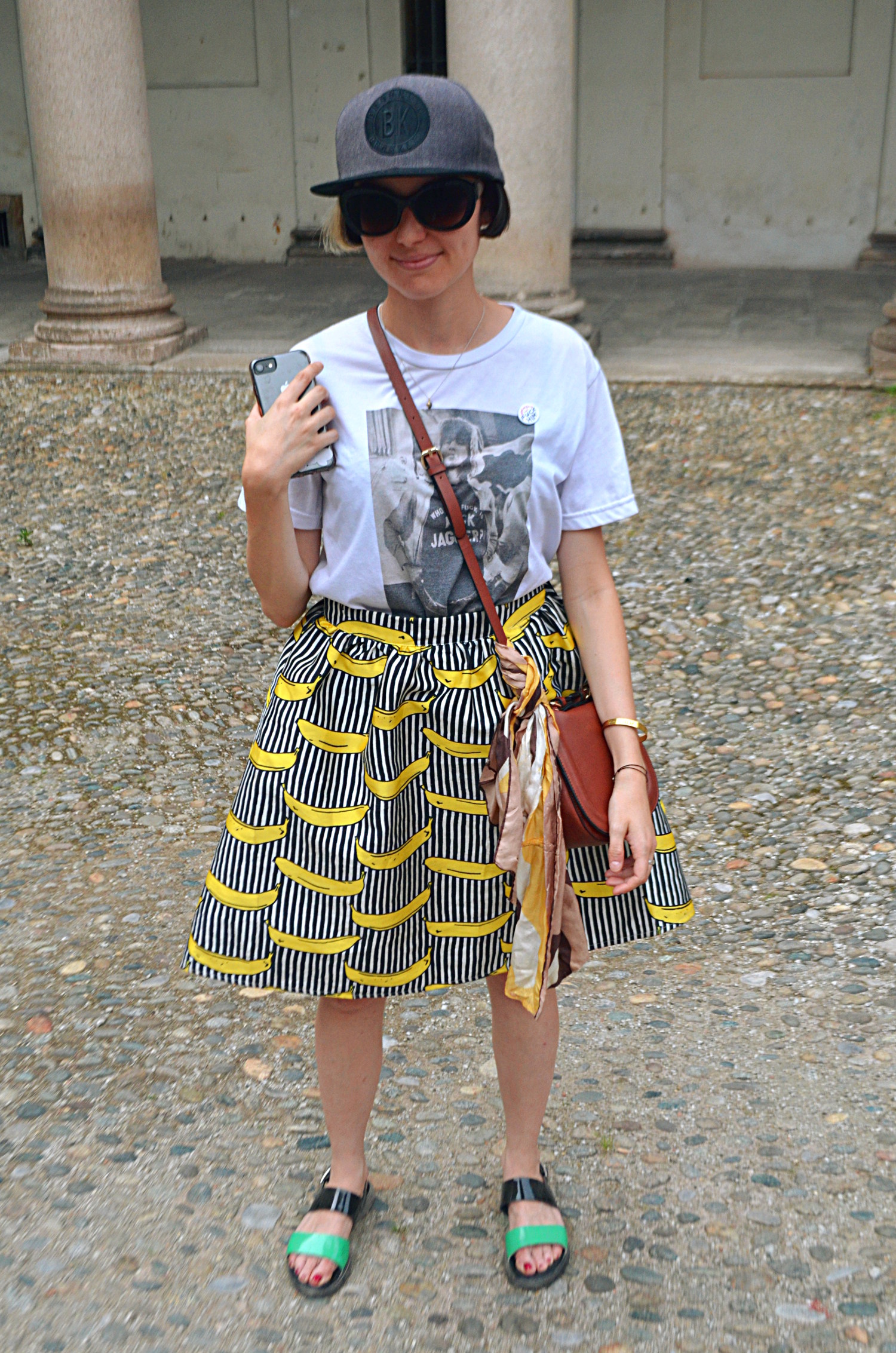 Disclamer:
These photos Cal took are real women like you and I in authentic street fashion, they are FAR from the fake staged and styled IG photos of paid models posing as everyday women to sell us their products.
Let's keep it real people.
We are really seeing the trend toward French street fashion following the patterns of the mainstream french couture houses that have the market-share and control by and large over the fashion cult that all of the hopeless sun-worshiping addicts follow Hahaha, if you will kindly excuse my "almost" French!
There is still no doubt in my mind that for the fashionista that looks for beautiful, well thought-out, cleverly placed luxury smart design elements, there is always a seasonal trip to Paris in the agenda to experience the latest in french street fashion.
What this kind of fashionista has to realize is that, yes the name brand, and the luxury are worth their weight in gold, but could it be that we are stuck in the mundane, following black on black collections of monotonous comfort over true expression, and innovation?

Look at the way they take the latest "trend" in a denim oversize dress, and embellish it with cool elements and accessories to stay in step but claim their unique fashion sense and POV!
What do you think do far? French street fashion or Italian street fashion?
We all cling to sameness, security, sense of belonging, and comfort in this chaotic world scene, this often translates into the way we long to dress. That is wonderful for everyday wears, but what place does it have in high-fashion? High-fashion afford us the chance to let loose, to enjoy the joy of color, shape, and texture in innovative bold and daring ways!

We say that for high-fashion, go to Milan for a cut above Paris in colors and joy, for feel good high-fashion that is still in the realm of flawless precision and classic styling.
When we really feel wacky, we do a group trip to London where I prize Vivian Westwood as the design that brought in the, "Weird is Wonderful" culture in high-fashion.

If you cannot make Europe for the French street fashion than I guess we are left with NYC, whose individual aspiring designers have been capable of creating some of the most progressive design and culture to date. That American culture of sink or swim, production at the speed of light and construct and cut or bust 24/7/365 really pushes the creativity level. In the states we always do better with undiscovered talent, as long we know who we are and what we want.
Of course if this year we are just feeling super-lazy and still want your design innovation and personality based approach to high-fashion, fill out my form for a consultation via video chat. We rarely even do in person anymore, its all video, then we have our customers scanned and printed out into mannequins with 3-D printing tech. Once our designs are approved, they are cut out, contracted, embedded with wearable-tech and organic holistic spa treatment properties, and sent to your residence for a perfect fit. No fittings needed and backed by a 100% satisfaction guarantee.

I am so glad that my son Cal got be up to speed with these new tech processes, this is one area that American designers can excel, because in Europe the fashion rules supreme, but they are decades behind in their use of technology, since the mainstream fashion cartel is so huge and steeped in tradition, that overhaul happens almost in slow motion.
Read up on the Milan Fashion Week Wiki page and see why all the French street fashion is not always the hottest on the block.
How does New York Street Fashion stack up? Can the city that never sleeps compete?
Want to know the newest hottest place in North East Asia for killer street Fashion? It is not Tokyo or Hong Kong anymore! Click here.
J-na Couture runway collections and magazine editorials.
---
Press play and then click on the bottom right of the slideshow to enlarge to full screen.
GSb Wearables and Jior Couture Menswear Caleb Garcia Taylor collections.
---
---
To set up a




private runway showing of the




J-na haute couture collections

click here.



Inquiries Contact: cal@j-nacustomgsb.com
Latest Press Release contact: info@j-nacustomgsb.com
815.513.2776
Chicago Based Fashion Designer also serving National and International Clients as well as local in the Gold Coast, Streeterville, River North, the Loop, Linclon Park, Winnetka, Lake Forest, Oak Park, and Highland Park for Couture Fashion Custom Clothier Womenswear, Menswear, and Accessories.
Exclusive Eco-Spa Couture Fashion Smart-Gown Experience and Treatment. Wearables and wearable-tech for a charitable cause.
By appointment only Showrooms available, and at home or business service. Mailing Address 1200 W 35th St Suite #5345
Chicago, IL 60609