Celebrity Inspired Fashion: Do's and Don'ts for Plus Size Dressing
When it comes to celebrity inspired fashion, I always imagined that each celebrity Diva has her own personal Stylist, who may or may not give input into each day's choice of couture fashion. However, it must be obvious that even Superstars get bad advice at times!

We dream of celebrity inspired fashion, and millions are following the trends of the elite. So, I feel it is best to realize that even celebs can have a bad day, and we should love them all the more for it!
We can learn and benefit from two celebs in the realm of Plus Size dressing, Mo'Nique and Jennifer Hudson. Here are two separate dresses that illustrate our tips and tricks of the trade for celebrity quality couture styling!
First we see this elegant pale pink gown side by side with a lovely flowing gold gown. She is radiant in both. However, which gown makes her look taller and more regal? Which gown appears to slim her silhouette better? What do you think? (Isn't it so much fun to get to judge the superstars of celebrity fashion?)
Also, I would have put a bit more height on her updo, perhaps with some J-na Jewels for hair, adding even more interest! (Isn't it wierd that Nicole Kidman appears to be benefiting from these celebrity inspired fashion tips in this photo?) Just to prove that no matter what size we are....the tricks of the trade really do work!!!
Plus Size Dressing Tip #1:
Visually lengthen and slenderize by keeping the eye moving up and down.
Notice the vertical lengthening line created by the pink gown, moving our eyes up to her face and back down to her feet, giving the illusion of more height. The beading on the shorter sleeves adds visual impact also for plus size dressing, again drawing the eye upwards! V-necklines are also very flattering and aid the vertical movement of the eye. I love to design gowns with shoulder impact and hemline interest too!
However, although the gold gown is flattering in the smooth, drapey, not-too-tight aspect,(we just have to complement that!), if Mo'Nique's stylists could have added some shoulder interest (like a huge silk flower or beaded one-shoulder strap,...or....a J-na Couture Swarovski Shoulder Wrap), the eye would be drawn upwards in a vertical motion, giving the beautiful Mo'Nique more stature and impact.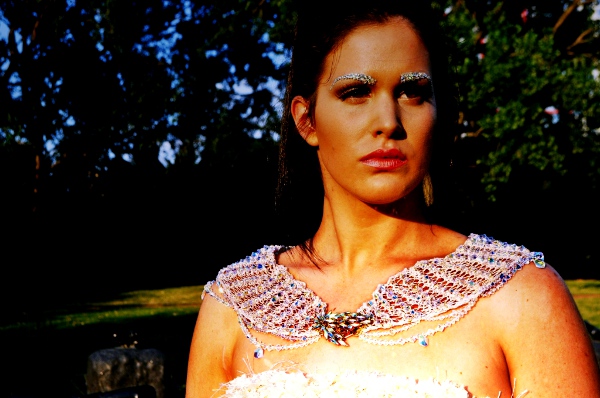 ---
Insight in your development!
Expressing your point of view is so essential to developing and defining your personal style and best couture concept which is kind of the point of this whole thing........
Plus size dressing tips for Jennifer Hudson......and the rest of us!
Here we see two photos of our darling Jennifer.......Also, see the tips in celebrity inspired fashion #'s 2-4 on the next page!

J-na Couture runway collections and magazine editorials.
---
Press play and then click on the bottom right of the slideshow to enlarge to full screen.
GSb Wearables and Jior Couture Menswear Caleb Garcia Taylor collections.
---
---
To set up a




private runway showing of the




J-na haute couture collections

click here.



Inquiries Contact: cal@j-nacustomgsb.com
Latest Press Release contact: info@j-nacustomgsb.com
815.513.2776
Chicago Based Fashion Designer also serving National and International Clients as well as local in the Gold Coast, Streeterville, River North, the Loop, Linclon Park, Winnetka, Lake Forest, Oak Park, and Highland Park for Couture Fashion Custom Clothier Womenswear, Menswear, and Accessories.
Exclusive Eco-Spa Couture Fashion Smart-Gown Experience and Treatment. Wearables and wearable-tech for a charitable cause.
By appointment only Showrooms available, and at home or business service. Mailing Address 1200 W 35th St Suite #5345
Chicago, IL 60609