Who made a Celebrity Fashion Mistake, and what can we learn from it?
Learn how to style yourself successfully!
Our famous super-stars who inevitably commit "the Celebrity Fashion Mistake" at the risk of being a Negative Nelly or Critical Crony, I feel we can learn so much from them! 
These "bloopers" really do illustrate much about fashion, and we can educate ourselves and thereby avoid costly wardrobe blunders!

I feel it is only fair to balance our criticism with other flattering photos of our celebs looking smashing and adhering to the correct styling tips for their shape.
So I will contrast the good with the not-so-good, and we will learn much from each celebrity fashion blooper!

Since I really enjoyed her feisty, unstoppable character in the movie The Help, I have chosen Octavia Spencer for our first two celebrity fashion woes , hoping that she will be feisty enough to forgive me!

Which of these two dresses elongates her silhouette?  Which dress flatters best?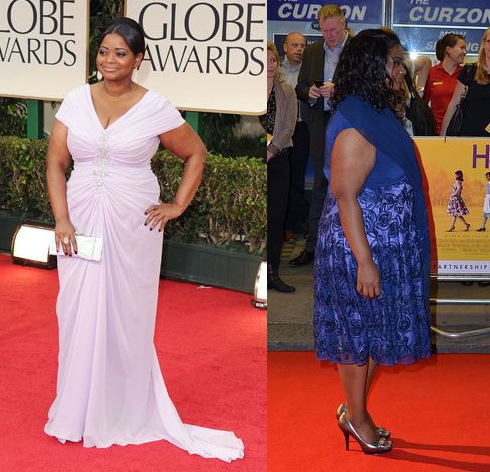 Notice that the pale Tadashi Shoji gown has a flattering V-neck and also a unified lovely color flowing vertically from top to bottom, thereby slenderizing Octavia's appearance. 
J-na Reflection!
Our personal style in dressing reveals much about our personality!
What does your style reveal?

However, the shorter blue dress has two contrasting patterns that divide Octavia at the mid-line, a definite celebrity fashion mistake!
Also, many curvy gals find that too much gathering and pleating around the hips or waist can visually widen and shorten a person!
I would opt for a flowing A-line skirt with no gathers or pleats! A little shoulder interest would also help!

---
For Octavia's next two examples,
which of these dresses flatters the most?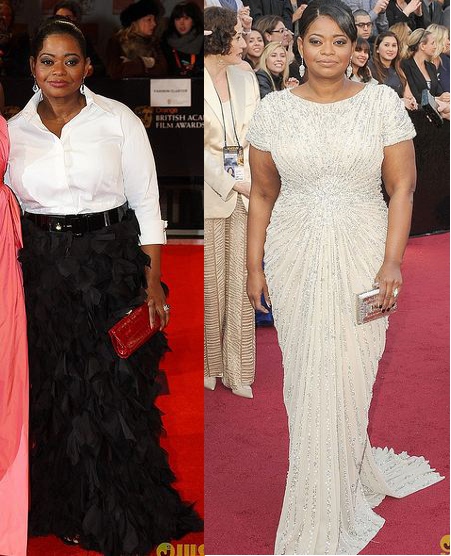 Although Octavia chose a very elegant white blouse and black skirt,... for her curvy figure, I would suggest two colors in the same tones to "Unify" and lengthen and slenderize. 
| | |
| --- | --- |
| | See these plus size styling principles put into action in the j-na couture gown I did for Mary Lutz the renowned  Chicago Opera Singer on the right in the silk and Swarovski Crystal seafoam and navy gown. |
  Couture

INSIGHT!



"Fashions Fade,.......style is eternal." -Yves Saint Laurent

Thus we avoid "cutting in half" the figure with too much contrast.  Notice how this works to Ocatvia's favor with the elegant white gown and its sleek draping. 
It vertically lengthens Octavia and has a "WOW factor" that is OH-so-flattering!
Return to the Plus Size Couture Styling Secrets Page!
Return to the homepage!
Return to the Celeb Couture Page!
See another celebrity fashion mistake that Kate Winslet made and learn more secrets in couture styling.

J-na Couture runway collections and magazine editorials.
---
Press play and then click on the bottom right of the slideshow to enlarge to full screen.
GSb Wearables and Jior Couture Menswear Caleb Garcia Taylor collections.
---
---
To set up a




private runway showing of the




J-na haute couture collections

click here.



Inquiries Contact: cal@j-nacustomgsb.com
Latest Press Release contact: info@j-nacustomgsb.com
815.513.2776
Chicago Based Fashion Designer also serving National and International Clients as well as local in the Gold Coast, Streeterville, River North, the Loop, Linclon Park, Winnetka, Lake Forest, Oak Park, and Highland Park for Couture Fashion Custom Clothier Womenswear, Menswear, and Accessories.
Exclusive Eco-Spa Couture Fashion Smart-Gown Experience and Treatment. Wearables and wearable-tech for a charitable cause.
By appointment only Showrooms available, and at home or business service. Mailing Address 1200 W 35th St Suite #5345
Chicago, IL 60609