Haute Couture Italy Opera meets high-fashion production:
Fashion of the Opera
A Haute Couture Italy styled Opera and Runway show "Fashion of the Opera" benefiting Merit School of Music was just the most extravagant production of Fashion Week Chicago, it could have just as easily been produced in Milan, the best of high-fashion combined with live Opera performances from the Traditional Italian to the modern hip-hop fusion.
The combination was just riveting, the beauty of the Opera working alongside the beauty of a world-class high-fashion runway had everyone in attendance at this sold-out show just begging for more!
Isn't Haute Couture Italy Styling Fantastic!? A tribute to the large Italian population here in Chicago.

We are so proud to see fashion events of this caliber start to surface here in the beautiful city of Chicago. To see the fashion scene raise the bar to meet the needs of such a large and modern city rich in culture and diversity.
One step closer to realizing our dream of making Chicago a prominent world class fashion hub for emerging trends.
---
The show was hosted by Marisa Buchheit, Opera Singer for the American Chamber Opera and Reigning Miss Chicago 2012!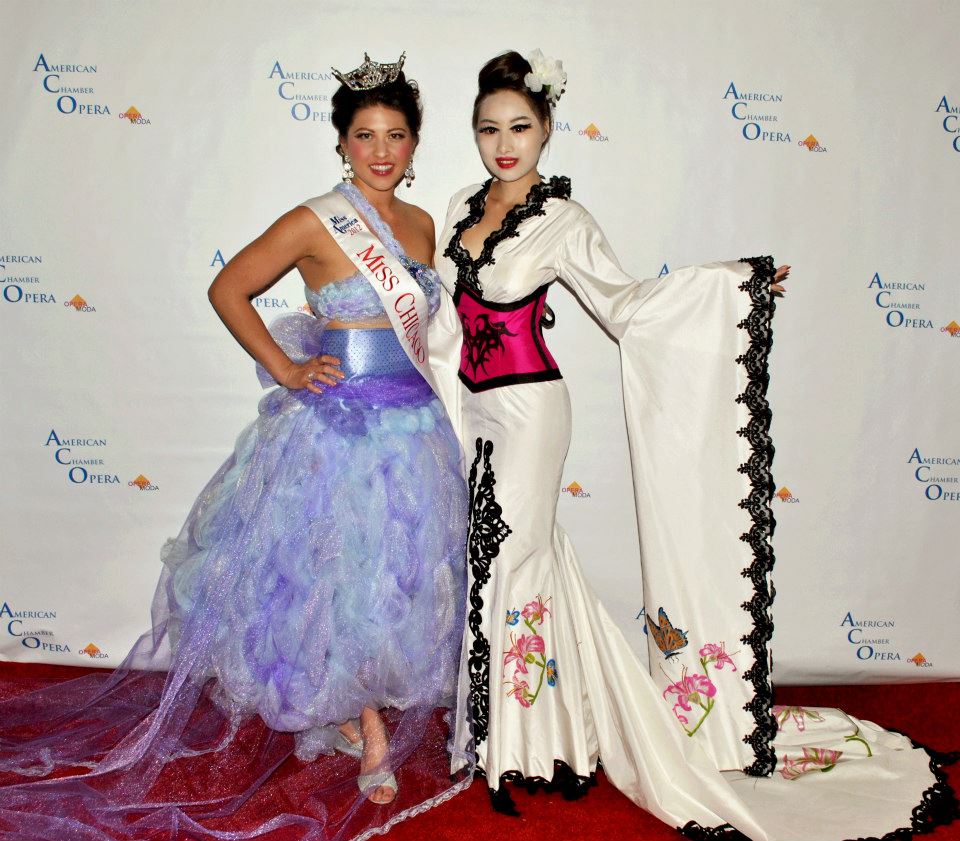 She not only sang her heart out for several live performances for the runway show, but also wore her heart, not on her sleeve as the saying goes, but on the braided tulle strap of her j-na couture tulle and Swarovski gown as she so graciously greeted all in attendance before and after the show.
We also had the honor of doing the couture gowns for several of the show's performers for the haute couture Italy styled event!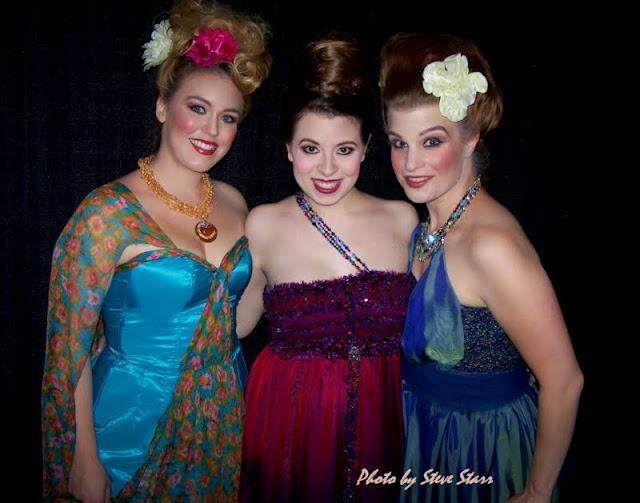 From Right to Left: Mary Lutz and Karrah Cambry in j-na couture Swarovski and silk gowns, then Jessie Lyons seen in a j-na couture torsade.

We see dresses for singers Including Mary Lutz Govertsen, another American Chamber Opera Singer that supported the show. This half-Greek redheaded siren with a charming and comical personality had us make a goddess gown in iridescent silk chiffon in her best colors of sea-foam green with gold and navy accents. The Gown turned out being SO comfortable to preform in since the corset was done in a cashmere hand knit made to stretch.
| | |
| --- | --- |
| | The silk bodice also was attached to three beaming strands of Swarovski Crystals for a gleaming onstage impact and presence. |
---
The next Gown was done for Opera Singer Karrah Marie Cambry , also a proud expecting new mom, (although you couldn't tell by seeing her in her j-na couture empire waist silk gown). Her corset bodice was also done in stretchable hand knit fabric for maximum comfort and to allow for those deep breaths and expanded lung capacity it takes to be a world-class Opera Singer.
| | |
| --- | --- |
| Glistening Swarovski Crystals! | The silk in some light looks bright red and in other light looks navy and red! |
Wow did she amaze us with her booming and beautiful voice in this haute couture Italy styled benefit event!
---
The last couture Garment was made for Tenor Benjamin De Los Monteros, who looked smashing in his GSb Men's Couture Vest with Faux Mongolian Lamb collar and pockets and antique vintage pewter and brass Lion buttons. Did he sing with the voice a Lion or what?
| | |
| --- | --- |
| Women can't resist a man in real compassionate fur. This is a Bamboo and Alpaca blend made to be faux Mongolian Lamb! | Just awe-inspiring! |
Return to the main celeb couture page for more haute couture italy styling.
Return to the Home Page.
See all the beauty, expert tips, and insider secrets of Plus Size Couture.

J-na Couture runway collections and magazine editorials.
---
Press play and then click on the bottom right of the slideshow to enlarge to full screen.
GSb Wearables and Jior Couture Menswear Caleb Garcia Taylor collections.
---
---
To set up a




private runway showing of the




J-na haute couture collections

click here.



Inquiries Contact: cal@j-nacustomgsb.com
Latest Press Release contact: info@j-nacustomgsb.com
815.513.2776
Chicago Based Fashion Designer also serving National and International Clients as well as local in the Gold Coast, Streeterville, River North, the Loop, Linclon Park, Winnetka, Lake Forest, Oak Park, and Highland Park for Couture Fashion Custom Clothier Womenswear, Menswear, and Accessories.
Exclusive Eco-Spa Couture Fashion Smart-Gown Experience and Treatment. Wearables and wearable-tech for a charitable cause.
By appointment only Showrooms available, and at home or business service. Mailing Address 1200 W 35th St Suite #5345
Chicago, IL 60609