Armani Prive haute couture top 2011 couture review.
Armani Prive haute couture has delivered the most dramatic looks ever!
I simply cannot believe how "extra-terrestrial" these designs look! How did Armani Prive achieve these super-metallic fabrics for these space-age metal creations?
Click Here for Top couture review of Armani Prive fall/winter 2011/12!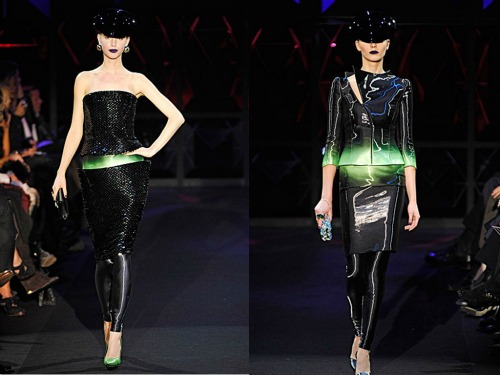 Notice how the fabric gleams like true science-fiction! Remarkable! I love the navy with red silk!
For this amazing design, notice how the cut of the suit jacket with sequins makes a bold, modern statement....and that hat reminds me of the planet Saturn! A nice touch, intentionally done to highlight the futuristic theme!
What is your opinion of Armani Prive 2011 collection? Are you inspired? Tell us! Or have you had the privileged experience of having an Armani couture model made just for you? Express please!
Here we see an interesting and novel construction in true Armani style. Notice how the skirt stands away from the body.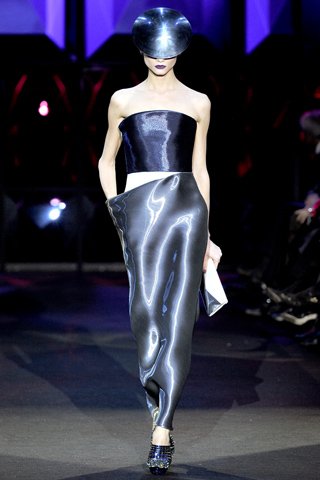 Again we see this season's red, but super-reflective, like silk dipped in liquid metal. I love the watch and look at those "alien hats" he is using for these looks!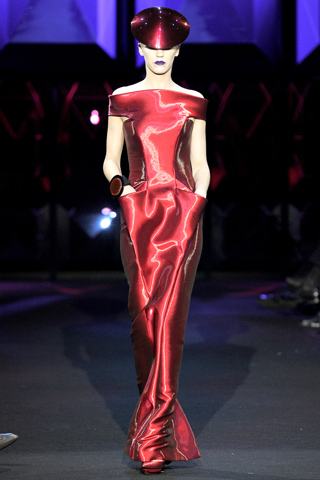 Here is a "chic alien" look I love...the blue fabric cut-away lined in gleaming red silk, is standing away from the body to reveal what looks like shiny blue alien "scales"!
And, lastly for this review, a super dream-like look which, for some reason, reminds me of the movie Tron! Note the fencing mask studded with crystals! I always say that the right accessory is vital!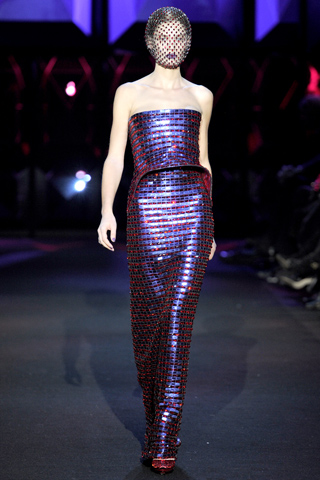 It was reported that Jodi Foster, attending this her first fashion show, exclaimed, "It was wild, theatrical, futuristic, a theater of the exotic." I couldn't agree with her more!
Return to see more Top Haute Couture Fashion Reviews.
Return to the Home Page to see more about why this site is all about empowerment.

Set yourself free for the best in Couture Living! J-na's wild assessment of Couture Evening Wear!
Armani Prive haute couture has shown us the bright future of couture, see the extravagant history that led up to this! Click Here!
J-na Couture runway collections and magazine editorials.
---
Press play and then click on the bottom right of the slideshow to enlarge to full screen.
GSb Wearables and Jior Couture Menswear Caleb Garcia Taylor collections.
---
---
To set up a




private runway showing of the




J-na haute couture collections

click here.



Inquiries Contact: cal@j-nacustomgsb.com
Latest Press Release contact: info@j-nacustomgsb.com
815.513.2776
Chicago Based Fashion Designer also serving National and International Clients as well as local in the Gold Coast, Streeterville, River North, the Loop, Linclon Park, Winnetka, Lake Forest, Oak Park, and Highland Park for Couture Fashion Custom Clothier Womenswear, Menswear, and Accessories.
Exclusive Eco-Spa Couture Fashion Smart-Gown Experience and Treatment. Wearables and wearable-tech for a charitable cause.
By appointment only Showrooms available, and at home or business service. Mailing Address 1200 W 35th St Suite #5345
Chicago, IL 60609