The Adventures continue with Fashions Night Out Chicago and more local culture.

Fashions Night Out Chicago is the yearly event to kick off the fall season of fashion culture. Here in Chicago we are experiencing a surge in local fashion scene and events. People are stepping away from the bland conservative and embracing new innovative fashion concepts.
There is an excitement that is almost tangible marking the rush of up-and-coming designers and the concepts that will redefine our city as a major fashion hub!
With this rush comes a natural shake out process among the would-be designers that will succeed or fail. There comes a point where you have to decide, "Will I do a slightly different version of the dated conservative fashions that sell in this market?" Or, "Will I perhaps delay my gratification moving beyond the simple and aspire to make history?"
The Fashions Night Out Chicago event sponsored by Vogue and the Chicago Fashion Foundation, that was hosted at the Underground Chicago by Marco Foster and really turned out to be a world class event! We could not have asked to see a better showing, the place was packed out , very excited, and happy to be supporting our local scene!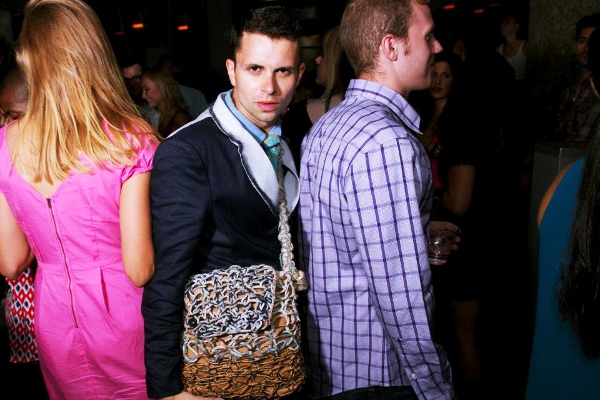 I am really enthused about the potential of the fashion scene here in Chicago! Some very creative people are sharing a lot of energy and passion. This is just the push we need to move past the blase' and into another level of high fashion.
Its just about time for the local fashion and lifestyle magazines to go out on a limb and show the local talent to the world, not just showcasing the editorials with what you can find at Macy's and Nordstroms.

| | |
| --- | --- |
| | The fashion show on the other hand was disappointing, more of the same old boring designs that have come to characterize the local fashion culture with very simple cocktail dresses, skinny colored jeans, T's, and bags that looked like they were bought at the Vegas ASD Show wholesale from China. |
But this problem was about to change, as you can see by the photos that Cal and his Couture Suit and manbag were the most interesting and creative high-fashion look on the scene that night!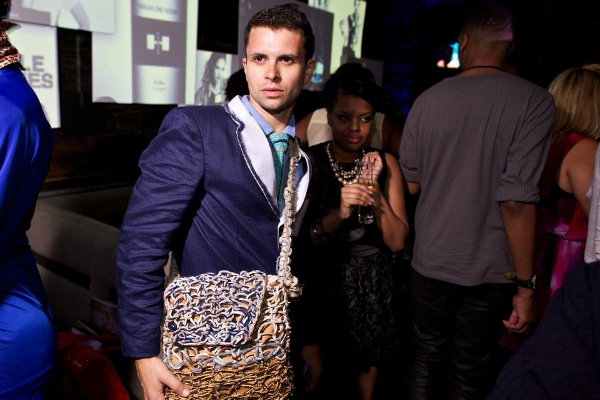 Here I am wearing my Couture summer suit tropical weight fine linen with real Fur trim and silk and fur GSb men's couture tie, with the "manbag."

Every time I wear my couture ties and fur accents I get mauled by hot women petting the irresistible fur on the tie and examining the workmanship of these handmade art ties. This is completely unavoidable and Fashions Night Out Chicago was not the exception!
Here this fashion editor for a magazine that wishes to remain nameless was all over it. "I have never seen anything like this," she exclaimed.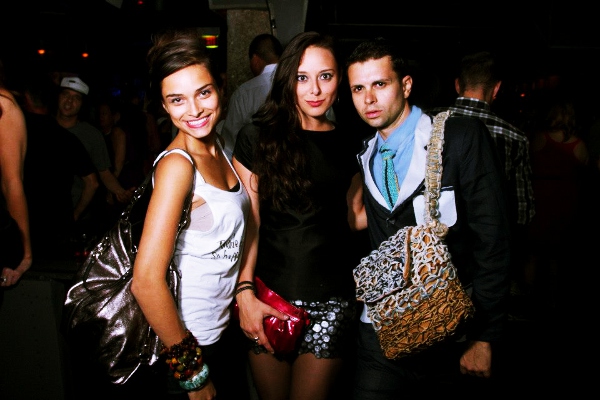 ---
Another local event besides Fashions Night Out Chicago that I enjoyed very much as a great way to say adios to the Chicago summer was the "Fashion in the Streets Fest" featuring local boutiques, designers, bands, of course the SANGRIA I am drinking in the photo, and several fashion shows. A really homegrown Chicago feel, relaxed and friendly atmosphere.
Here are photos of me reserving a good spot for the fashion show front and center!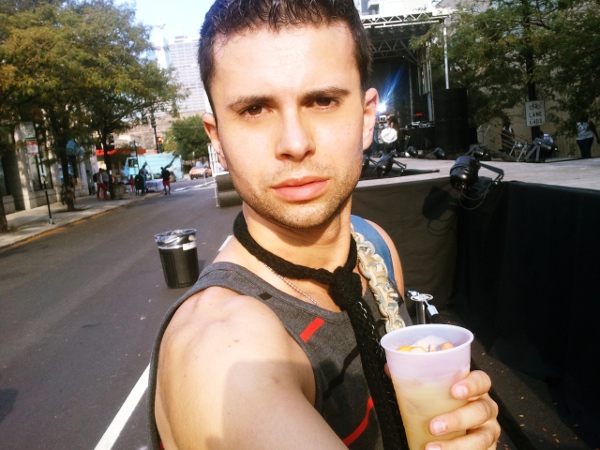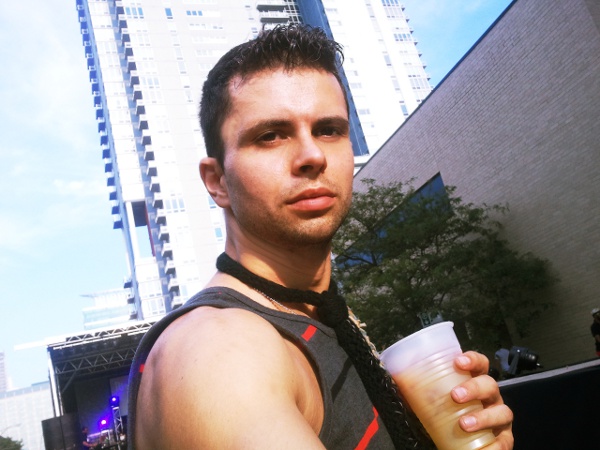 | | |
| --- | --- |
| The bummer part of it was that all summer long there was a drought and then suddenly it started raining like crazy. So the local turnout took a hit but the show went on anyway. A really well organized event by Green Curtain Events. | |
---
"The adventures of Cal and his Manbag hit the Chicago Fashion Scene" would not be without a visit to the new and incredible Trump Tower along the Chicago River. Has to be one of my favorite cityscapes!




In this photo you see how my manbag "really" looks on an average day! Ladies you are the only ones that know how to fill a BAG!

So ended another day and night in: "The adventures of Cal and his Manbag" on the Fashions Night Out Chicago scene!
Click for the latest in handmade men's haute couture scarves
Click here for the best in the men's accessories revolution! Something different and new for a change!
Click here for the latest in GSb couture mens trends and inspirations!
What would your couture manbag be like? Practical and fitting your size specifications, reflecting your personality and best colors and sizes.
The most descriptive submission will get it's own page and sketch featured on the Men's Blog. Tell us why it would be a fit for your personality and style!
Or call me, and let's chat about having it made. Type in your number, google will call you, then connect you to my cell.
J-na Couture runway collections and magazine editorials.
---
Press play and then click on the bottom right of the slideshow to enlarge to full screen.
GSb Wearables and Jior Couture Menswear Caleb Garcia Taylor collections.
---
---
To set up a




private runway showing of the




J-na haute couture collections

click here.



Inquiries Contact: cal@j-nacustomgsb.com
Latest Press Release contact: info@j-nacustomgsb.com
815.513.2776
Chicago Based Fashion Designer also serving National and International Clients as well as local in the Gold Coast, Streeterville, River North, the Loop, Linclon Park, Winnetka, Lake Forest, Oak Park, and Highland Park for Couture Fashion Custom Clothier Womenswear, Menswear, and Accessories.
Exclusive Eco-Spa Couture Fashion Smart-Gown Experience and Treatment. Wearables and wearable-tech for a charitable cause.
By appointment only Showrooms available, and at home or business service. Mailing Address 1200 W 35th St Suite #5345
Chicago, IL 60609