The mens fashion accessories Chicago adventures of:
Cal and his Manbag!
Well the mens fashion accessories Chicago adventures of Cal and his manbag continue from the beach party part 1 at the North Ave Beach House to a stroll through Linclon Park and for a view of the city-scape and a pit-stop to admire an awesome achievement in Chicago architecture, the South Pond Pavilion.
| | |
| --- | --- |
| | The South Pond Pavilion of Chicago to me embodies what mens fashion accessories Chicago should be: |
A totally original frame of the awesome cityscape of Chicago.
Handmade with great thought, craftsmanship, and care.
An Exclusive one-and-only piece of art!

Your men's accesories should "frame" you in a unique way as an awesome individual!
That is why it makes such a fitting background for the GSb men's couture manbag I made for myself with two hands.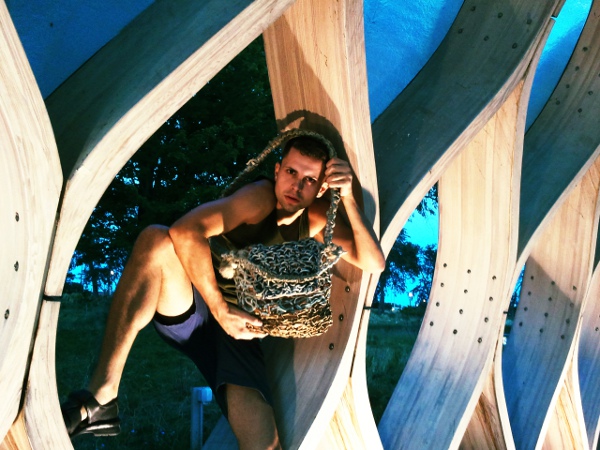 Look at the fine workmanship in architecture put into the curvy spade shapes that make up the totally original "art-bridge". Just Awesome!
In like manner the all original GSb men's couture bag had a lot of thought put into it! People always turn their heads and compliment it's originality. Occasionally after a rigorous screening process I even let them reach out and pet the irresistible 3D mohair fur fibers on such a rugged leather and rope background!
The curved wood of the pavilion is so striking in it's natural color and it is so smooth!
Likewise the color combination is as intriguing as my personality. I am a fan of the nautical scheme in classy navy and white.
I wanted to really tell a story and have an old world nautical appeal, as I am also very rugged and natural. So I used knotted hemp rope and silk reminiscent of a Caribbean pirate ship. I am Puertorican in this way I am getting in touch with my roots!
That way what is rolling out on the mens accessories chiacgo scene is really authentic!

---
---
| | |
| --- | --- |
| | What a view of the awe-inspiring cityscape of the great and architecturally rich city of Chicago, and a shot of the couture manbag debeut on the mens fashion accessories Chicago scene. |
---
| | |
| --- | --- |
| | From there I quickly took out the cologne, comb, and pomade, that I would normally have had to go home for, but thanks to my trusted and stylish couture manbag, I had on me! |
I put my vest over my tank top and added one of my GSb couture fur ties, and ready to roll!

That made for the quick prep so as not to be late to meet girls at Nacional 27 restaurant and club. The finest Latin cuisine in town, with the most variety in drinks from around all of Latin America.
From there I had to keep putting on more cologne, that I had on me thanks to my manbag, as we danced salsa, merengue, bachata, and house music all through the night!
So ended another day and night in: "The adventures of Cal and his Manbag" on the mens fashion accessories Chicago scene!
Click for the latest in handmade men's haute couture scarves
Click here for the best in the men's accessories revolution! Something different and new for a change!
Click here for the latest in GSb couture mens trends and inspirations!
What would your couture manbag be like? Practical fitting your size specifications, reflecting your personality and best colors and sizes.
The most descriptive submission will get it's own page and sketch featured on the Men's Blog. Tell us why it would be a fit for your personality and style!
Or call me, and let's chat about having it made. Type in your number, google will call you, then connect you to my cell.