Quien cometió un error en moda celebridad, y qué podemos aprender de ello?
Aprenda cómo usted misma puede estilizarse con éxito!
Quien ha cometido "El error en moda celebridad"! A riesgo de ser una negativa o crítica, creo que podemos aprender mucho de nuestros famosos súper estrellas que inevitablemente hacen estos "Bloopers"! Estos errores realmente ilustran mucho sobre la moda, y podemos educarnos a nosotros mismos y así evitar errores costosos !


Creo que es justo para equilibrar nuestras críticas con otras fotos favorecedoras de nuestros famosos que buscan romper y adherirse a los consejos de estilo correctos para su tamaño y forma. Así que voy a contrastar lo bueno y lo no tan bueno, y vamos a aprender mucho de cada error en moda celebridad!

Puesto que realmente disfruté su carácter vivaz en la película, imparable "The Help", he elegido Octavia Spencer para nuestros dos primeros ejemplos de un error en moda celebridad , con la esperanza de que será suficiente vivaz para que me perdone!

¿Cuál de estos dos vestidos alarga su silueta?
Cual vestido halaga mejor ?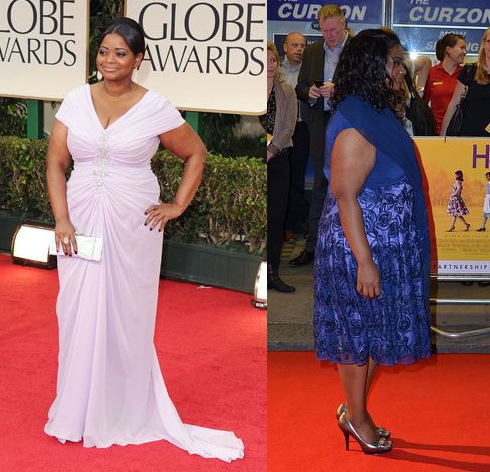 Observe que el vestido pálido de Tadashi Shoji tiene un favorecedor escote en "V" y también un precioso color unificado fluyendo verticalmente de arriba hacia abajo, con lo que adelgaza el aspecto de Octavia.
  J-na reflexión
Nuestro estilo personal en el vestir revela mucho acerca de nuestra personalidad!

¿Que revela tu estilo de ti?
Sin embargo, el vestido corto azul tiene dos patrones contrastantes que dividen a Octavia en la línea media, un error definitivo en moda celebridad!
Además, muchas chicas con curvas que encontramos demasiado recogida y plegado alrededor de las caderas o la cintura visualmente puede ampliar y bajar una persona!
Yo optaría por un fluyendo de una línea de falda con ninguna pliegue o recogida! Un poco interés al hombro también ayudaría!

---

Para los próximos dos ejemplos de Octavia, ¿cuál de estos vestidos halaga más?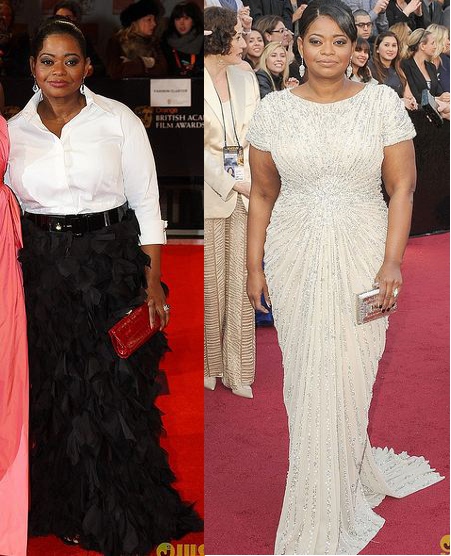 Aunque Octavia escogió una blusa blanca y una falda muy elegante negro, ... por su figura curvilínea, me permito sugerir dos colores en los mismos tonos de "unificar" y alargar y adelgazar.
| | |
| --- | --- |
| | Consulte Estos principios de talla grande estilo puestas en acción en el vestido de j-na couture que hice por María Lutz la renombre cantante de ópera de Chicago a la derecha en un vestido de la seda y cristal swarovski espuma de mar y azul marino. |
  Perspicacia de  Moda!

"Modas desvanecen , ....... estilo es eterno".
-Yves Saint Laurent
Así evitamos "el recortar a la mitad" la figura con demasiado contraste.
Observe cómo esto funciona a favor Ocatvia con el elegante vestido blanco y su drapeado elegante. Se alarga verticalmente Octavia y tiene un "WOW factor" que es oh-tan-halagador!

Regresar a la Couture Talla Plus Secretos de Estilaje página!

Volver a la página Couture Celeb!
Ver otro error en moda celebridad sobre Kate Winslet.
Errores en la moda celebridad
J-na Couture runway collections and magazine editorials.
---
Press play and then click on the bottom right of the slideshow to enlarge to full screen.
GSb Wearables and Jior Couture Menswear Caleb Garcia Taylor collections.
---
---
To set up a




private runway showing of the




J-na haute couture collections

click here.



Inquiries Contact: cal@j-nacustomgsb.com
Latest Press Release contact: info@j-nacustomgsb.com
815.513.2776
Chicago Based Fashion Designer also serving National and International Clients as well as local in the Gold Coast, Streeterville, River North, the Loop, Linclon Park, Winnetka, Lake Forest, Oak Park, and Highland Park for Couture Fashion Custom Clothier Womenswear, Menswear, and Accessories.
Exclusive Eco-Spa Couture Fashion Smart-Gown Experience and Treatment. Wearables and wearable-tech for a charitable cause.
By appointment only Showrooms available, and at home or business service. Mailing Address 1200 W 35th St Suite #5345
Chicago, IL 60609