The final John Paul Gaultier collection. How has his progressive relentlessness changed fashion?

John Paul Gaultier has through the years established himself as a showman when it comes to haute couture runway, as in the greatest showman on earth. He is relentlessly progressive in his approach to fashion, yet he hangs on to many traditional french culture elements like the "French Sailor" for his nauticalese menswear and many traditional silhouettes in his women's wear.
Before we will discuss how John Paul Gaultier has changed fashion business throughout his career, let's see his final collection before his retirement as an official French couturier.
He presented 172 looks in a spectacular way, full of liveliness and with a ton of quirky fabulous humor for which he is known for. It is as if he presented three collections in one like he knew the pandemic was coming!
He brought everybody out of the woodwork for this show from Katelyn Jenner to Coco Rocha with her famous Irish dance prancing and bounding down the runway. The Hadid sisters and many iconic French models, singers, and performers. 
What I love is that he celebrated every body type, age group, and race together to a 90's themed musical extravaganza.  It was indeed extravagant. 
My favorite haute couture outfits were the camouflage full volume dresses and the 70s style outfits in yellows, wheat, and browns. The 3D offset clothing was a very creative way to feature the ability of couture houses to turn out extremely technical sewing work that can only be achieved by hand. 
The exposed structured boning and the two-in-one half-and-half jackets and dresses are so awesome. I am so glad this trend is still going strong. 
The onset of the presentation really highlighted sustainability and showed the brilliant ways that we can up-cycle vintage clothing for our modern world. The neck tie outfits were outstanding. A genius collection through and through. Extremely stimulating to all our senses. 
How has John Paul Gaultier changed fashion over the years?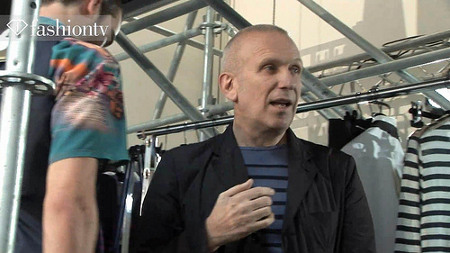 He has this extra-sensory ability to perceive the next big social and political movements and he always pushes the limits of what we think is possible and appropriate to see in fashion. His collections always seem to promote and coincide with the upcoming political agendas and that is one reason why elite people love him. 
I love him because he puts the fun into fashion, an element that too many designers leave out in their unending quest to be taken seriously. However, a word to the wise, be careful that while you are giggling and swooning you may just find yourself adopting his world view. That is if you haven't adopted it already. 
His design point of view has permanently made it's way into the hearts of fashionistas and fashionistos everywhere. 
As a designer, I admire his ability to create silk prints. Simply fabulous prints, and he can use just one print to sculpt an amazing outfit. His couture is by far the most comfortable for wearing in the real world. 
He knows how to design for the plus size client better than most other designers I have seen. He has many quirky and outrageous designs, but many of his looks are at the same time very practical.
He definitely put in his time and did his duty as major a designer to shape peoples thinking and view points in the most aggressive progressive manner above all other Parisian couturiers. For this reason alone he was wildly successful in influencing the masses thinking and concepts of themselves and the world around them. 
I think that he got out right at the right time before the major shift in fashion started to manifest itself at the onset of the COVID pandemic, a shift that he himself played a role in preparing people for my the means of the predictive programming in his fashion designs.
He didn't want to end up like Raf Simons and keel over at 100 years of age with a sewing needle between his fingers. He wants to enjoy his retirement away from the demands of the fashion industry. I don't blame him in the slightest. He is still looking and feeling great and full of life and exuberance. 
John Paul Gaultier 's  POV will forever, well, never say forever unless you are prepared for forever I say. Let me rephrase. His unique POV, levity, and humor will be dearly missed for a long time. I just don't see anyone filling the gap. To try to replace the gift that he contributed to the fashion world is truly like trying to put a square peg into a round hole. It just is not going to go in. Except the gaping hole that John Paul Gaultier left in the fashion wold in his absence is not just a simple shape like a circle, it is uniquely shaped and sculpted like everything this dear man designed throughout his career.  
J-na Couture runway collections and magazine editorials.
---
Press play and then click on the bottom right of the slideshow to enlarge to full screen.
GSb Wearables and Jior Couture Menswear Caleb Garcia Taylor collections.
---
---
To set up a




private runway showing of the




J-na haute couture collections

click here.



Inquiries Contact: cal@j-nacustomgsb.com
Latest Press Release contact: info@j-nacustomgsb.com
815.513.2776
Chicago Based Fashion Designer also serving National and International Clients as well as local in the Gold Coast, Streeterville, River North, the Loop, Linclon Park, Winnetka, Lake Forest, Oak Park, and Highland Park for Couture Fashion Custom Clothier Womenswear, Menswear, and Accessories.
Exclusive Eco-Spa Couture Fashion Smart-Gown Experience and Treatment. Wearables and wearable-tech for a charitable cause.
By appointment only Showrooms available, and at home or business service. Mailing Address 1200 W 35th St Suite #5345
Chicago, IL 60609