El bolso mensajero de hombre conocido como "manbag de Cal" aventuras continúan con una excursión a través de
Starved Rock Park!
| | |
| --- | --- |
| Esta bolso mensajero de hombre está a punto de conseguir algunas millas en él como caminatas por el Parque de estado hambriento de la roca, mi lugar favorito escénico en las afueras de Chicago IL. | |

La historia de este parque es muy interesante, ya que es el sitio de una famosa batalla entre dos prominentes tribus indias americanas, y es el lugar de entierro de la tribu perdador, ya que literalmente fueron rodeados y terminaron muriendose de hambre , de ahí el nombre hambriento de la roca.
| | |
| --- | --- |
| | Otro sitio famoso en este lugar impresionante en el río IL es "salto de amantes", donde dos amantes indios que eran de tribus rivales se saltaron después de darse cuenta de que nunca podrían estar juntos. Sí, ya sé lo que estás pensando, "Eso es probablemente un cuento fantástico formado por una mujer." Probablemente tiene razón usted! |

De todas formas, ¿qué tiene esto que ver con la moda masculina y el tema del estos aventuras de Cal y su bolso de mensajero que con tanto cariño se refería como su "manbag"?

Bueno, la respuesta es simple! Sus modas elegidos deben, como Starved Rock, contar una historia sobre ti! No debe ser la historia aburrida "Hago compras en la tienda departamental como todos los demás."

Sus modas debe contar una historia acerca de ti que es interesante, intrigante, incluso con un toque de romance, si se quiere, orientado a atraer a su pareja deseada.

La historia de que el bolso mensajero de hombre que hice por mí mismo dice a aquellos a mi alrededor que yo soy primeramente UNICO (nadie ha visto nada como este manbag), rigoroso (hecha de cuero y soga de cáñamo), denodado, me encanta el estilo clásico náutico (azul marino y blanco), tengo un notable gusto por lo extravagante (piel y seda), se ha ido verde (hecha a mano con materiales reciclados y naturales), y que yo soy exitoso (el hardware de plata real).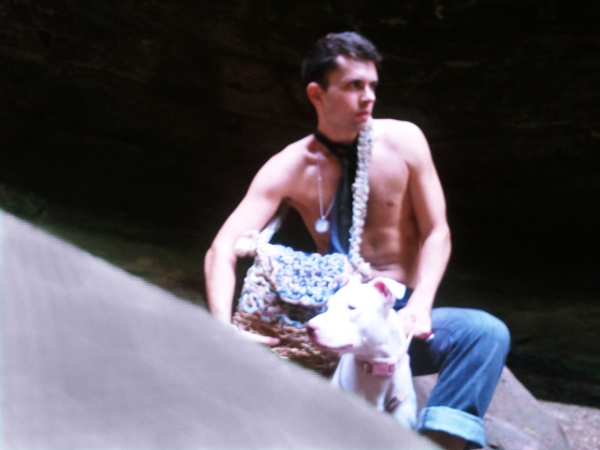 Otra cosa que atrae especialmente a las mujeres, son los detalles de piel auténticos, se estan acariciando el bolso mesajero de hombre en poco tiempo!

¿Cuál sería tu cuento de que tus modas personalizados moda dicen de ti? Te reto a definir el ideal concepto para usted y dígame acerca de ello! También, si lo desea, podemos incluso hablar de hacer un accesorio o prenda que cuenta exactamente esa historia!
Así terminó un día y la noche en "Las aventuras de Cal y sus manbag" por la escena del bolso mensajero de hombre!
Ir a la página de los accesorios de hombres principal!

Ver las últimas tendencias que la revolución de los hombres GSB Couture está creando!
J-na Couture runway collections and magazine editorials.
---
Press play and then click on the bottom right of the slideshow to enlarge to full screen.
GSb Wearables and Jior Couture Menswear Caleb Garcia Taylor collections.
---
---
To set up a




private runway showing of the




J-na haute couture collections

click here.



Inquiries Contact: cal@j-nacustomgsb.com
Latest Press Release contact: info@j-nacustomgsb.com
815.513.2776
Chicago Based Fashion Designer also serving National and International Clients as well as local in the Gold Coast, Streeterville, River North, the Loop, Linclon Park, Winnetka, Lake Forest, Oak Park, and Highland Park for Couture Fashion Custom Clothier Womenswear, Menswear, and Accessories.
Exclusive Eco-Spa Couture Fashion Smart-Gown Experience and Treatment. Wearables and wearable-tech for a charitable cause.
By appointment only Showrooms available, and at home or business service. Mailing Address 1200 W 35th St Suite #5345
Chicago, IL 60609