L'messaggero borsa uomo noto come "manbag di Cal" avventure continua con una escursione attraverso Starved Rock Park!
| | |
| --- | --- |
| Questa messaggero borsa uomo è sul punto di ottenere alcune miglia su di esso e cammina attraverso il Rock State Park Starved, mio luogo preferito nella periferia di Chicago IL scenico. | |
La storia di questo parco è molto interessante in quanto è il luogo di una famosa battaglia tra due importanti tribù degli indiani d'America, ed è il luogo di sepoltura del perdador tribù perché erano circondati e finito letteralmente morendo di fame, da cui il Starved nome rock.
| | |
| --- | --- |
| | Un altro famoso sito in questo posto meraviglioso nel fiume è IL "salto di amanti", dove due amanti indiani delle tribù rivali che erano stati saltati dopo aver realizzato che non avrebbero mai potuto stare insieme. Sì, lo so cosa state pensando: "E 'probabilmente una fiaba fatta da una donna." Probabilmente ragione! |
Comunque, ciò che ha a che fare con la moda maschile e il tema di queste avventure di Cal e la sua borsa messenger così affettuosamente chiamato il suo "manbag"?
Beh, la risposta è semplice! La loro moda sono scelti come Starved Rock, raccontare una storia su di te! La storia non deve essere noioso "Io negozio al grande magazzino come tutti gli altri."

La loro moda dovrebbe raccontare una storia su di te che è interessante, intrigante, anche con un tocco di romanticismo, se si vuole, progettato per attrarre un compagno desiderato.

La storia della messaggero borsa uomo che ho fatto per me stesso dice a quelli intorno a me che io sono solo il primo (nessuno ha visto niente di simile manbag), rigoroso (in pelle e corda di canapa), imperterrito, mi piace Classic nautica (navy e bianco), ho un gusto per l'oltraggiosa (pelle e seta), è andato verde (fatto a mano con materiali naturali e riciclati), e che io sono riuscito (l'hardware in argento reale) .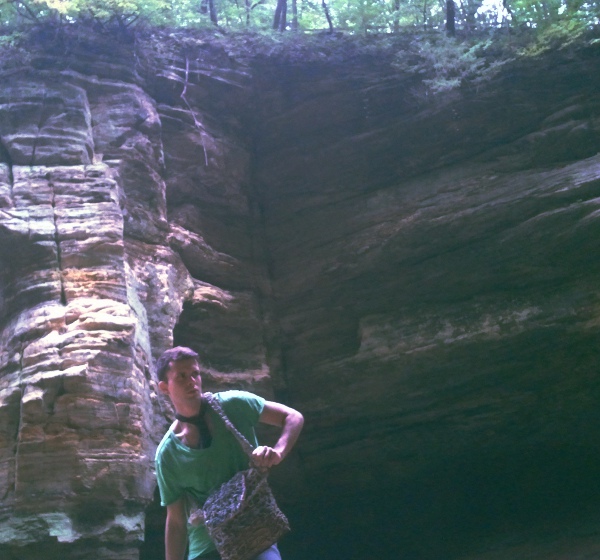 | | |
| --- | --- |
| | l'hardware di il messaggero borsa uomo in argento reale che ho fatto per essere rimovibile per bracciale e collana indossata. |
Un'altra cosa che attrae soprattutto le donne, sono i dettagli in vera pelle, sono accarezzando il sacchetto in pochissimo tempo!

Quale sarebbe la vostra storia della moda personalizzata mode dicono di te? Vi sfido a definire il concetto ideale per voi e mi dica su di esso! Inoltre, se si vuole, si può anche parlare con un accessorio o un indumento che ha esattamente quella storia!
Così finì un giorno e notte in "Le avventure di Cal e la sua manbag" da parte degli uomo accessori Chicago!
Vai agli messaggero borsa uomo pagina principale!

Vedi le ultime tendenze in rivoluzione degli uomini è la creazione di GSB Couture!
J-na Couture runway collections and magazine editorials.
---
Press play and then click on the bottom right of the slideshow to enlarge to full screen.
GSb Wearables and Jior Couture Menswear Caleb Garcia Taylor collections.
---
---
To set up a




private runway showing of the




J-na haute couture collections

click here.



Inquiries Contact: cal@j-nacustomgsb.com
Latest Press Release contact: info@j-nacustomgsb.com
815.513.2776
Chicago Based Fashion Designer also serving National and International Clients as well as local in the Gold Coast, Streeterville, River North, the Loop, Linclon Park, Winnetka, Lake Forest, Oak Park, and Highland Park for Couture Fashion Custom Clothier Womenswear, Menswear, and Accessories.
Exclusive Eco-Spa Couture Fashion Smart-Gown Experience and Treatment. Wearables and wearable-tech for a charitable cause.
By appointment only Showrooms available, and at home or business service. Mailing Address 1200 W 35th St Suite #5345
Chicago, IL 60609