Un diseño de vestido de novia alta costura que es sofisticado, maduro, divertido, mínima, y el futuro por delante con tecnología usable?
Un vestido de novia alta costura es la norma entre los mundanos y los miembros de la alta sociedad. La esencia de este culto de lujo se refleja en todas las divisiones posteriores confeccionadas.
La señora que nos mantiene valor práctico de la Haute Couture sabe que lo que se ve en la pasarela durante la Semana de la Alta Costura es una expresión artística con el objetivo de expandir la mente y el corazón a las capacidades adicionales en el estilo personal y estilo de vida Couture la libertad, y el acabado final de Couture vestido por encargo de a una única cliente es muy diferente de lo que se presenta en la pista.
¿Por qué, el más alto nivel de experiencia y servicio al cliente se encuentra en el proceso de diseño, donde el modisto y diseñador, ayudan al cliente en la búsqueda y el desarrollo de su concepto mucho mejor personal couture estilo de diseño. El vestido por encargo puede tener algunos de los elementos de diseño de la colección de alta costura, pero la importancia principal es siempre en lo que es mejor para el individuo y sus objetivos.
La siguiente expresión artística recuerda lo que un cliente cuya personalidad estilo es madura, minimalista, con un toque de la lujosa textura de pieles y plumas, una mujer que sabe lo que es y quiere ser recordado como tal, y al mismo tiempo es el hacia adelante y el futuro experto en tecnología, que quiere conectar y compartir una pequeña parte de su día especial con sus huéspedes.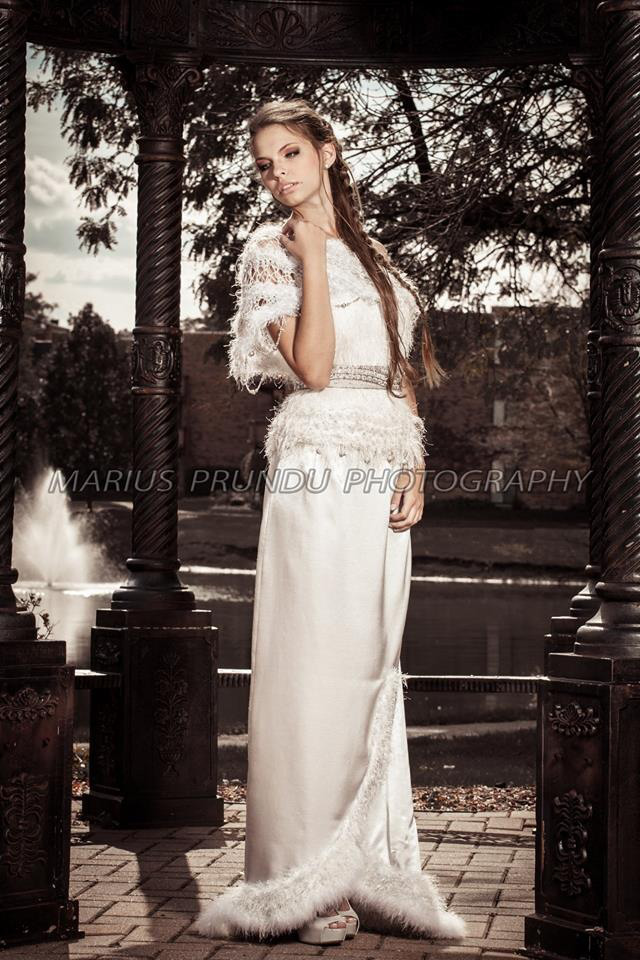 El fondo de estas cualidades es en contraste con el uso de un modelo de aspecto joven, lo que significa que con la abundancia de medios digitales, hay más libertad para las mujeres jóvenes a que adopten opciones de estilo fuera de lo típico para su edad y círculo social.
Esta muestra ya está disponible para su compra, como un poco "usado después de estar en la Semana de la Moda de Nueva York y en varias publicaciones editoriales. Ahora él tiene que encontrar un lugar en la memoria de su matrimonio acariciado y áreas de fotos, asegúrese de que su fotógrafo es j-na couture aprobado!
Su vestido de novia alta Costura.
Este vestido de novia de alta costura está activada NFC, una tecnología práctica que enviará el mensaje a sus círculos sociales que atesoramos el mejor del pasado mientras abraza los avances del futuro. Una manera de conectar realmente con sus visitantes en una creación virtual de recuerdos inolvidables, momentos compartidos, y relaciones.
Lo que queremos decir es que el vestido de novia alta costura es literalmente un mensaje sus invitados. Cuando saludas a tus invitados y están tomando una foto de usted con sus teléfonos inteligentes, que entonces apenas tocan con la parte designada de su alta moda vestido de novia con la parte posterior de su smartphone. ¿Qué sucede entonces? El vestido envía un mensaje preprogramado para sus teléfonos que usted ha elegido de antemano. Muchos de nuestros clientes han creado para dirigir a sus huéspedes a un E-Gracias tarjeta con una foto de la foto del compromiso, que se obtiene de inmediato E-Card. Otros han creado nuestra plataforma digital patentado con una imagen seleccionada, la URL de los eventos de página para la boda, donde los clientes pueden publicar sus fotos y expresiones, Cómo llegar mapeado a la recepción, una carta personal de la novia y el novioque los huéspedes pueden descargar, ect. De hecho su son muchas posibilidades.
Accesorios de moda novia utilizados son también una característica maravillosa de este AW alta costura representación boda-vestido. Cascadas de cristales de Swarovski y la tela de seda hechos a mano de piel sintética, lo que permite que la novia desea modestia y es transpirable, ligero y aireado, también apropiado para un mes en la primavera o una manera animada de estar cómodo en la boda y el lugar de recepción de aire acondicionado con climatizador es muy fresco.
J-na Couture runway collections and magazine editorials.
---
Press play and then click on the bottom right of the slideshow to enlarge to full screen.
GSb Wearables and Jior Couture Menswear Caleb Garcia Taylor collections.
---
---
To set up a




private runway showing of the




J-na haute couture collections

click here.



Inquiries Contact: cal@j-nacustomgsb.com
Latest Press Release contact: info@j-nacustomgsb.com
815.513.2776
Chicago Based Fashion Designer also serving National and International Clients as well as local in the Gold Coast, Streeterville, River North, the Loop, Linclon Park, Winnetka, Lake Forest, Oak Park, and Highland Park for Couture Fashion Custom Clothier Womenswear, Menswear, and Accessories.
Exclusive Eco-Spa Couture Fashion Smart-Gown Experience and Treatment. Wearables and wearable-tech for a charitable cause.
By appointment only Showrooms available, and at home or business service. Mailing Address 1200 W 35th St Suite #5345
Chicago, IL 60609