The Pearl Fashion Accessory!...The Legend LIVES ON!...Thank You.
From royalty to "regular folk", the timeless style and tradition of the pearl fashion accessory will live on forever!
| | |
| --- | --- |
| These "jewels" from the deep blue sea have always held a special place in our hearts....in fact, besides being a traditional and honored heirloom, strings of pearls are by far the favorite wedding choice in jewelry! | |
What demure and traditional lady hasn't worn pearls? In fact, when we have a formal occasion to dress for, it is always a safe bet to choose just the right pearl jewelry accessory!
Call me a snob, but with so many choices and colors in freshwater pearls, and the fact that they are so very economical, why would anyone opt for a cheap, synthetic pearl fashion accessory?
---
I love to mix freshwater pearls in my custom designs, even draping the edges of our "Treasures of the Czars" exquisite silk and mohair wraps and scarves, and even adorning our couture purses!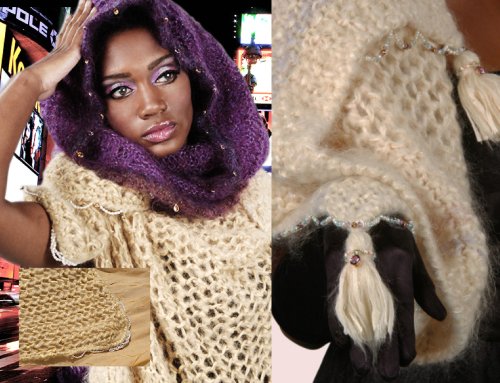 Some of the costlier cultured pearls can be combined with dramatic effect in these designs.
Here at J-na Couture we actually hand-dye our genuine pearls to completely achieve just the right effect in our couture.
---
Here are some examples from our 2011 Fall collection. We go the extra mile to create just the right pearl accessory!
| | |
| --- | --- |
| Here is a torsade of golden, saffron-colored pearls with citrine and carnelian gems that I believe perfectly reflects the warm and spicy taffeta and faux fur gown and fabulous boa-trimmed stole that I designed. | |
---
---
With this beach look from our 2012 Summer collection, the pearl fashion accessories have gotten bigger, bolder and more colorful!
Actually, I must confess that we made 3 separate bangles here to wear together for extra impact!
| | |
| --- | --- |
| This torsade and bangle combo features dyed freshwater pearls with amethysts and Swarovski crystal elements with a huge Paua shell pendant. | |
---
And for the diva that loves rubies..check our latest pearl fashion accessories...nothing fake or cheap about this one ladies!
| | |
| --- | --- |
| The Ruby and Pearl Sterling pendant is suspended by a torsade of rubies, pearls and Swarovski elements, for a total High-voltage look! | |
---
For a neat new design, we created something a bit different....
A pearl accessory that can cross all boundaries!
Golden pearls, Swarovski crystal elements and genuine hematite stone "magnets"...makes for a 6 foot long belt to encircle you twice and dangle, or wrap around your wrist 12 times, (now that is a BIG look!) or use around your neck and drape as long as you like!
How low can you go?
So for the love of pearls,..... please, ladies, let us continue the time-honored tradition, and let us custom-make you an original pearl fashion accessory!
Go back to the homepage.
J-na Couture runway collections and magazine editorials.
---
Press play and then click on the bottom right of the slideshow to enlarge to full screen.
GSb Wearables and Jior Couture Menswear Caleb Garcia Taylor collections.
---
---
To set up a




private runway showing of the




J-na haute couture collections

click here.



Inquiries Contact: cal@j-nacustomgsb.com
Latest Press Release contact: info@j-nacustomgsb.com
815.513.2776
Chicago Based Fashion Designer also serving National and International Clients as well as local in the Gold Coast, Streeterville, River North, the Loop, Linclon Park, Winnetka, Lake Forest, Oak Park, and Highland Park for Couture Fashion Custom Clothier Womenswear, Menswear, and Accessories.
Exclusive Eco-Spa Couture Fashion Smart-Gown Experience and Treatment. Wearables and wearable-tech for a charitable cause.
By appointment only Showrooms available, and at home or business service. Mailing Address 1200 W 35th St Suite #5345
Chicago, IL 60609