Noticias Famosos: Nyle DiMarco, America's Next Top Model en las costuras weareable para Sixtynine Degrees Revista del Reino Unido con una organización benéfica global. Ahora en Dancing With the Stars, no hay nada que Nyle no puede hacer?
Las últimas noticias famosos de la moda italiana VIP: Todo Nyle DiMarco, quien inició su carrera en la comedia de ABC Switched at Birth, luego fue a tomar el mundo de la moda por los cuernos cuando se convirtió en el primer sordo y Last Next Top Model para cerrar la temporada final del programa de ANTM. Él ganó el corazón de los Estados Unidos en el proceso, y ahora está en el escenario mundial de baile del programa americano Bialando con las Estrellas.
Lejos de ver su sordera como una desventaja, se ha demostrado que es su mayor patrimonio, incluso más grande que los penetrantes ojos azules profundos. Hubo algunos momentos de noticias famosos a lo largo de la temporada 22 de ANTM que nos llevó al borde de nuestros asientos mientras empujaba pasando a todos nuestros estereotipos acerca de lo que las personas sordas pueden hacer! Como el modelo y bailar al ritmo de los videos musicales Tyra, caminando la pasarela al ritmo, y el modelo de una sesión de redacción en la noche en la oscuridad de la noche sólo guiado por una antorcha de parpadear. Lo hizo, hizo que pareciera fácil, hay que decir hermosamente fácil! Y 'a cosas más grandes y mejores cosas con el baile con las estrellas y en la misión de mostrar al mundo todo lo que es posible a través de la cultura de los sordos.
Celebrity Fashion NOTICIAS famosos: Nyle Dimarco editorial revista grados Sixtynine para la caridad mundial Jior Couture smartwears.
En este número de grados Sixtynine, una prensa regional prominente y revista on-line, ha modelado para la caridad mundial portátil con Jior (su) Couture impacto local. El uso de su personalizado Couture hombre GSB smartwears ropa Jior Couture-corbatas inteligente y pulsera inteligente que es una versión de lujo de la Mi band, pero menos hacia los seguidores de fitness y especialmente orientados hacia la comunicación.
Photography: Virginia Hodges
Hair and Makeup: Toné Jackson
Photo Shoot Assistant and Marketing Specialist Rashima Sampson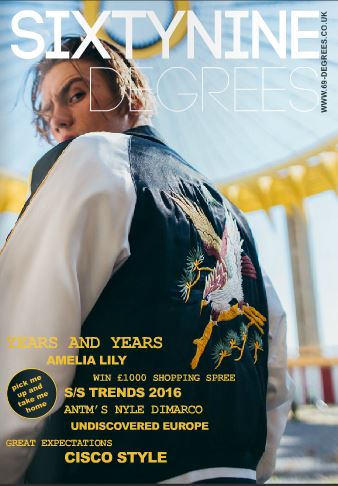 El uso de la tecnologia teléfonos inteligentes legibles de weareable tocar y compartir función, Nyle en noticias famosos puede usar la plataforma completa portavoz virtual para realizar sus presentaciones formales, difundir su mensaje de marca, y compartir sus últimas actividades, el lo personal y los actualizaciones de los medios sociales. Nyle también puede utilizar la función de tocar y pagar ahora llevaba añadido en forma segura y discreta pagar por las cosas allí donde se acepta tocar y de pagar. Pero en serio, Nyle en realidad no tiene que pagar por nada de todos modos, es tan atractivo que es probable que obtiene todo gratis donde quiera que vaya.
En VIP Celebrity Noticias famosos de última hora italiana, usted puede tener el "look swag" de Nyle. Visita nuestra tienda en línea weareable y obtener su pulsera Couture Jior (tu), corbata y brazalete.
Comunicar y promover a sí mismo como un jefe en nuestra sociedad virtual, y sabe que con cada compra weareable, usted está apoyando una madre en América Latina, lo que le permite hacer su trabajo artesanal en casa mientras cuida de sus hijos. También patrocinamos un artista local, también puede dar el voto de fe a un artista local que conoces. Capacitamos a creativos con la misma plataforma portavoz virtual, de modo que puedan hacer conexiones duraderas, mientras que promociónan su trabajo en nuestra empresa virtual.
También estamos de recaudación de fondos para establecer una nueva centro de formación en México para la instrucion de la artesanía, así como a recibir un pago para la madre en formación mientras aprende esta forma de arte hecha a mano que nos altamente valoramos como diseñadores de moda y queremos preservarlo a su debido dignidad. Usted puede donar directamente desde aquí y recibir una deducción de impuestos.
Regrese a la pagina principal.

J-na Couture runway collections and magazine editorials.
---
Press play and then click on the bottom right of the slideshow to enlarge to full screen.
GSb Wearables and Jior Couture Menswear Caleb Garcia Taylor collections.
---
---
To set up a




private runway showing of the




J-na haute couture collections

click here.



Inquiries Contact: cal@j-nacustomgsb.com
Latest Press Release contact: info@j-nacustomgsb.com
815.513.2776
Chicago Based Fashion Designer also serving National and International Clients as well as local in the Gold Coast, Streeterville, River North, the Loop, Linclon Park, Winnetka, Lake Forest, Oak Park, and Highland Park for Couture Fashion Custom Clothier Womenswear, Menswear, and Accessories.
Exclusive Eco-Spa Couture Fashion Smart-Gown Experience and Treatment. Wearables and wearable-tech for a charitable cause.
By appointment only Showrooms available, and at home or business service. Mailing Address 1200 W 35th St Suite #5345
Chicago, IL 60609