Per la moda menswear LFWM, gli uomini sono tutto e poi qualcosa "extra"!
Come sono passate oltre che il filiale mondiale di bespoke su misura a questo tipo di innovazione dell'alta moda?
La moda menswear Street Style London Fashion Week Men che ha davvero stimolato la nostra immaginazione e ha stimolato a voler saperne di più su queste  persone fantastiche.
La cosa che mi colpisce di più di questa piattaforma è che Londra proviene dal luogo più tradizionale di raffinatezza su misura bespoke, dove c'è una regola legata letteralmente a quasi ogni filo sottile che compone un abito. Non so nemmeno se possa essere attribuito a una cosa in particolare, ma da qualche parte nel corso dell'ultima parte del secolo 20 ° è emersa una fiorente sottocultura dell'alta moda che ce alcun riguardo o attaccamento col il divertente " libro delle regole per il bespoke. "
Se dovessi scegliere un movimento che contribuisse alla proliferazione della creatività e delle possibilità in moda menswear, sarebbe stata la cultura musicale rock and roll britannica ad essere l'protagonista. Ora Londra è la mecca del lusso high-end all'avanguardia dell'alta moda.
Lo street style London Fashion Week Men's e stato rivelati ancora più progressisti ogni anno, anche se la creatività vista a Milano è anche senza eguali, pero è una storia completamente diversa. L'intera atmosfera è diversa in la moda menswear....

Cal ama fondersi su misura con l'innovazione di alta moda come un nativo di Londra.
I'abito reversibile 2-in-1 dal titolo,
"Riesci a vedere la foresta tra gli alberi?"
Quale lato di questa giacca ti piace di più?
Vota come uno critico della settimana della moda menswear di Londra.
# 1 lato esterno rivolto verso l'esterno.
# 2 lato interno rivolto verso l'esterno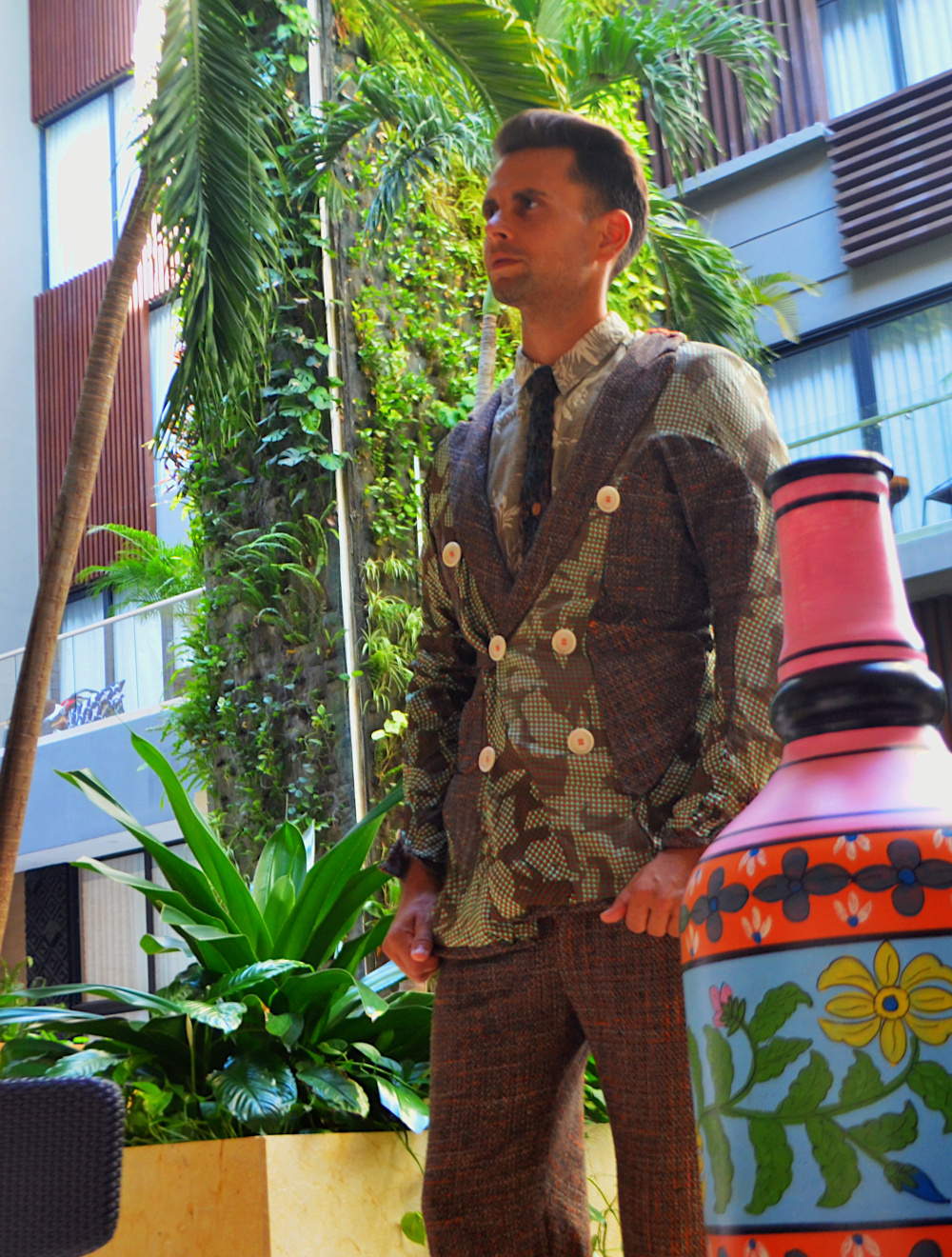 Abito su misura in lana e seta con taglio creativo e interessanti caratteristiche di design con fodera reversibile indossata all'interno verso fuori tramite i wearable GSb.
# 1 Retro con design forestale e spalle senza cuciture.
# 2 Parte interno posteriore rivolto verso fuori con design della foresta e spalle senza cuciture.
Chiama alcuni nuovi benefattori.
Prossimi progetti che hanno bisogno di appogio:
Stabilire un centro di formazione sostenibile e fornire un deposito di materiale per le mamme artigianale che lavorano da casa in Tulum Messico.
Stabilire le nostre etichette di moda a Milano.
Stabilire le nostre etichette di moda a Dubai.
Avete proprietà, risorse, mezzi o servizi che potete donare o prestare per un scambio sicome un trade?
Cal sta regalando nuovi benefattori con un pacchetto annuale di abbigiamento guardaroba su misura gratuito con un valore corrispondente alle risorse donate o prestite.
Questo pacchetto include:
Abbigliamento su misura fatto a mano, servizi di styling, servizi di sartoria e servizi di personal shopping.

Contattare Cal all'indirizzo cal@j-nacustomgsb.com per informazioni ulteriori.
J-na Couture runway collections and magazine editorials.
---
Press play and then click on the bottom right of the slideshow to enlarge to full screen.
GSb Wearables and Jior Couture Menswear Caleb Garcia Taylor collections.
---
---
To set up a




private runway showing of the




J-na haute couture collections

click here.



Inquiries Contact: cal@j-nacustomgsb.com
Latest Press Release contact: info@j-nacustomgsb.com
815.513.2776
Chicago Based Fashion Designer also serving National and International Clients as well as local in the Gold Coast, Streeterville, River North, the Loop, Linclon Park, Winnetka, Lake Forest, Oak Park, and Highland Park for Couture Fashion Custom Clothier Womenswear, Menswear, and Accessories.
Exclusive Eco-Spa Couture Fashion Smart-Gown Experience and Treatment. Wearables and wearable-tech for a charitable cause.
By appointment only Showrooms available, and at home or business service. Mailing Address 1200 W 35th St Suite #5345
Chicago, IL 60609