La moda trendy editorial publicado en la revista Cloud Orchid con la artista Misa Art.
El moda trendy editorial del arte fotografía que se titula: El arte de la alta costura. 
La línea entre el arte y la alta costura es inexistente, los dos son una expresión de las emociones del individuo y autoconcepto. La persona que tiene el valor de definirse a sí mismo y expresar su mejor concepto de alta costura, pasa adelante desde la búsqueda de una visión personal, para convertirse en el visionario que empodera a los demás a ser lo mejor posible, para ser ellos mismos!
"Mi mamá sobrevivió a un incendio que amenazaba su vida durante sus primeros años, ella tenía que decidir si quería dejar las cicatriz de la desfiguración reclamar no sólo la mitad de su cuerpo, pero su mente y alma. Ella optó por redefinir a sí misma y expresar su verdadero yo interior a través de la alta costura ", dice Cal a su hijo y co-diseñador. (Una expresión dulce DE MI HIJO CAL.)
Haga clic a cualquier moda trendy editorial foto para engrandecerla.



www.misa-artwork.com

Misa Verbeek [misa.art @ gmail.com]

Misa ART:

Yo nací para ser un artista. Empecé a pintar cuando tenía 4 años de edad. La primera vez que pintaba era con el Presidente de la República Checa. Vine a los EE.UU. a la edad de 11 años sola y yo abri una galería de arte en Chicago.

Que Poco después, comencé a tener shows todo alrededor de los Estados Unidos.

Llegué a mi propio estilo de la firma que se mezcla varios géneros artísticos en una armonía dichosa.

Mi trabajo atraviesa todas las fronteras y los límites para crear una expresión de espíritu y belleza que todas las audiencias pueden relacionarse. Para crear el arte es la única manera que yo seser viva. Me gustaría crear suficiente como para ser capaz de apoyar a organizaciones de caridad para niños alrededor el mundo ... y lo haré.




www.misa-artwork.com




Misa Verbeek [misa.art @ gmail.com]

El equipo para esta The Art of Couture Editorail incluyen: 

Annette Kerstin Fotografía    annette.patko @ gmail.com 




MUA : 

Justin Boltz justin.boltz @ yahoo.com                     MM # 2678800 

Stephanie Quiroz [squiroz283@ymail.com] 

Modelos:

Marisa Buchheit  marisabuchheit@yahoo.com              Srta. Chicago 2012                       Señorita Corazón IL 2013             Cantante de ópera 

Lola Aderibole [virgosimone@gmail.com] 

Zinnie zizi sosofly@gmail.com 

Joanna Ok (ASIAA Ok) 

Timoteo C Martin   tmartinglobal@gmail.com

Lucia Pňačeková luciapnacekova@gmail.com
Immagine 1: Marisa Buchheit, signorina Chicago 2012 e Miss Cuore di IL 2013 espresso che la sua migliore concetto di j-na couture incarna la nobiltà della città che rappresenta, regalità del sogno personale compuiti, e la responsabilità di esprimere i suoi ideali nel suo unico modo. La Fama Cantante d'opera e la figura pubblica è visto in un Swarovski Mini-wrap, maglia a mano corpetto con abbellimenti di cristallo, e foderato con gonna di pizzo.
Haga clic a cualquier moda trendy editorial foto para engrandecerla.
Imagen 2 y 3: la pintura del artista internacional Misa Verbeek en pátina, moliendo, y soplado incendiando a una hoja de cobre gigante grabado para siempre la silueta de Marisa en j-na couture como un homenaje al arte de la Alta Costura.
La dignidad y la actitud pueden expresarse en arte para vestir a través de una variedad de medios de lujo más adecuadas para el estilo individual como tal.
Aquí vemos modelo Zizi en un terciopelo de seda y un vestido de cristal Swarovski j-na couture destacando la vitalidad y, a menudo oculta rara belleza del pavo real.
Para ver un pavo real es un privilegio, y para ver el pavo real abre su cortejo majestuoso e irrelevante es una experiencia que cambia la vida.
El Mejor concepto de couture de cada persona es tan diferente como el contorno de su silueta física, la variedad de su personalidad, y la mezcla de influencias en su origen cultural. Joanna Ok en un conjunto couture j-na, incluyendo una mini-wrap j-na adornado con cristales de Swarovski, un corsé texturizada de encaje y una falda de tubo de cuerpo entero.
Haga clic a cualquier moda trendy editorial foto para engrandecerla.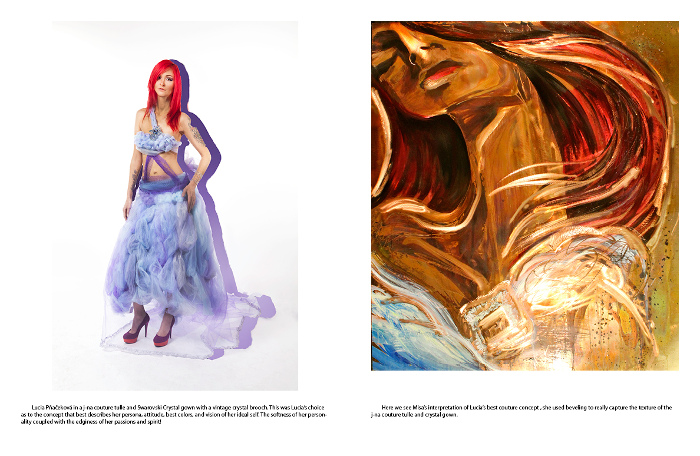 Lucia Pňačeková en una couture de tul j-na y Swarovski Crystal bata con un broche vintage de cristal. Esta fue la elección de Lucía en cuanto al concepto que mejor describe su personalidad, actitud, mejores colores, y la visión de su yo ideal. La suavidad de su personalidad junto con el nerviosismo de sus pasiones y el espíritu!
Artista Misa Verbek siempre está moliendo, la tinción de pátina y blowtorching la silueta hermosa y única de Lucía en un tul couture j-na vestido con cristal. Un testimonio de la mirada de cada individuo único, complexión, la personalidad y la visión de su concepto couture ideal.
Vea el moda trendy editorial VERDE de GSb Men's Couture, es inspirante para el movimiento ECO-Coutrue.
Volver a la pagina principal.
J-na Couture runway collections and magazine editorials.
---
Press play and then click on the bottom right of the slideshow to enlarge to full screen.
GSb Wearables and Jior Couture Menswear Caleb Garcia Taylor collections.
---
---
To set up a




private runway showing of the




J-na haute couture collections

click here.



Inquiries Contact: cal@j-nacustomgsb.com
Latest Press Release contact: info@j-nacustomgsb.com
815.513.2776
Chicago Based Fashion Designer also serving National and International Clients as well as local in the Gold Coast, Streeterville, River North, the Loop, Linclon Park, Winnetka, Lake Forest, Oak Park, and Highland Park for Couture Fashion Custom Clothier Womenswear, Menswear, and Accessories.
Exclusive Eco-Spa Couture Fashion Smart-Gown Experience and Treatment. Wearables and wearable-tech for a charitable cause.
By appointment only Showrooms available, and at home or business service. Mailing Address 1200 W 35th St Suite #5345
Chicago, IL 60609