La moda ispirato da celebrita:
Cosa fare e cosa non fare per i formati più.
La moda ispirato da celebrita, sempre ho immaginato che ogni Diva celebrità ha il suo stylist personale, che possono o non possono inserendo scelta quotidiana di alta moda. Tuttavia, dovrebbe essere ovvio che anche le superstar ricevere consigli male a volte! Sogniamo di moda ispirato da celebrità, e milioni di persone stanno seguendo le tendenze delle élite. Pertanto, credo che la cosa migliore è rendersi conto che anche le celebrità possono avere una brutta giornata, e li amiamo ancora di più per questo!
Siamo in grado di imparare e beneficiare di due celebrità nel campo della preparazione di taglie forti, Mo'Nique e Jennifer Hudson. Qui ci sono due abiti diversi che illustrano i nostri consigli e trucchi del mondo della moda ispirato da celebrità!
In primo luogo vediamo questo elegante abito rosa pallido lato a fianco con un vestito d'oro che scorre incantevole. Lei è raggiante in entrambi. Ma quel vestito fa il suo sguardo è più alto e più maestoso? Cosa rende il vostro abito silhouette appare più snella e migliore? Cosa ne pensi? (Non è divertente per arrivare a provare le superstar della moda?)
Inoltre, mi avrebbe messo altezza un po 'più in updo, con forse qualche Gioielli J-na capelli, aggiungendo gli interessi anche di più! (Non è strano che Nicole Kidman sembra beneficiare di questa consigli moda ispirato degli celebrità in questa foto?) Giusto per dimostrare che non importa quanto sia grande siamo .... i trucchi del settore funziona davvero!
Di indossare Plus Size Regola # 1:
Visivamente sottile allungato tenendo gli occhi e lo spostamento verso l'alto e verso il basso.
Nota: la linea verticale creato allungando il vestito rosa, alzando gli occhi al viso e la schiena ai piedi, dando l'illusione di una maggiore altezza. Gli strass sulle maniche brevi aggiunge anche l'impatto visivo di vestiti più di formato, di nuovo gli occhi atraendose up! V-scollature sono anche molto lusinghiero e aiutare il movimento verticale degli occhi. Amo abiti progettazione con impatto e interesse per la spalla e orlo giù troppo!
Tuttavia, anche se l'abito oro è drapey lusinghiero in morbido, aspetto non troppo stretto, (dobbiamo completare tale!), Mo'Nique Se gli stilisti potuto aggiungere un po 'di interesse per la spalla (come un fiore di seta grande o tutti una tracolla, ... o .... un J-na Couture Swarovski spalla Wrap), l'occhio è disegnato verso l'alto con un movimento verticale, dando la statura Mo'Nique più bella e d'impatto.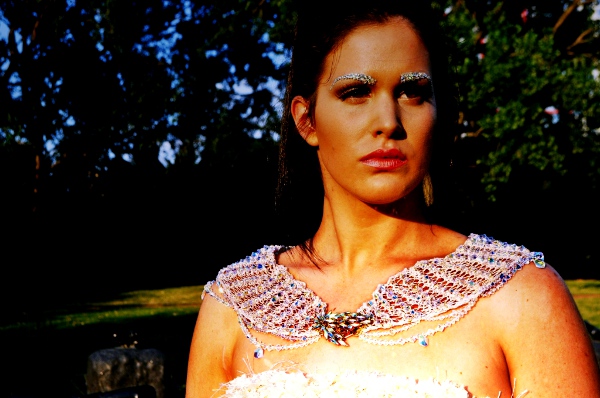 ---
Plus size abito consigli per Jennifer Hudson ...... e il resto di noi! Ecco due foto della nostra amata Jennifer.

Inoltre, vedere i suggerimenti di moda ispirato da celebrita # 's 2-4 nella pagina seguente!
J-na Couture runway collections and magazine editorials.
---
Press play and then click on the bottom right of the slideshow to enlarge to full screen.
GSb Wearables and Jior Couture Menswear Caleb Garcia Taylor collections.
---
---
To set up a




private runway showing of the




J-na haute couture collections

click here.



Inquiries Contact: cal@j-nacustomgsb.com
Latest Press Release contact: info@j-nacustomgsb.com
815.513.2776
Chicago Based Fashion Designer also serving National and International Clients as well as local in the Gold Coast, Streeterville, River North, the Loop, Linclon Park, Winnetka, Lake Forest, Oak Park, and Highland Park for Couture Fashion Custom Clothier Womenswear, Menswear, and Accessories.
Exclusive Eco-Spa Couture Fashion Smart-Gown Experience and Treatment. Wearables and wearable-tech for a charitable cause.
By appointment only Showrooms available, and at home or business service. Mailing Address 1200 W 35th St Suite #5345
Chicago, IL 60609