The trending high end designer fashion outfit through this pandemic period is all about silk loungewear!
The high end designer fashion outfit that everybody is buying now is silk loungewear. That is right! It is all about fancy high fashion pajamas with a disco substantial collar that people can throw a coat on over and go out for tea in the garden in, or run an errand before coming back home to lounge around some more. 
Comfort is king and queen and reigns supreme in this new home-centric lifestyle we have all adopted. The 'new normal' has turned us all into home bodies. We want to feel as comfortable as possible and still look fabulous enough to hop onto a zoom conference or go live from our social media stream.
Gone are the days when we could getaway with lounging in our favorite hoodie and sweatpants. Now our home has turned into our place of virtual business with our social life centered around our living space. We invite more people than ever into our homes virtually more often than we ever did physically.  

With all of our free time we have been making Tic Toc videos and going live on Facebook and Instagram. The need to look effortlessly amazing while lounging around in comfort has skyrocketed. 
How do we meet this need? Well, as you can see my son Cal is wasting no time creating his favorite high end designer fashion outfit for lounging in luxury. 
We are designing silk bamboo eco vegan jumpers and separates. 
This jumper is the ultimate convenience and comfort in a high end designer outfit. The best of both worlds combining comfort and convenience with the latest trends. It makes looking and feeling awesome so easy.  
This high end designer fashion outfit is great for late autumn, early winter, and spring.

 Even in colder weather we can throw a coat or jacket on over it and hop into the car and take off to drive around looking at the scenery.
Since our online shopping dependency has risen so high we rarely need to do any actual errands.
Our convenient new lifestyle has brought everything to our doorsteps maintaining social distance there is little need to even step out of the car. 

Look at the hardware built into the belt of this jumper, so substantial! The collar is substantial and elevates the look from pajamas to loungewear.  The up-and-down trimmed out lines are so flattering to the figure and make him look taller even bringing an element of sportiness to the high end designer fashion outfit. 
The fit is so comfortable and effortless it is better than lounging naked b/c the feel of the silk bamboo is so pleasurable. 
It really elevates the mood of the home life experience and dignifies the ambiance while still feeling relaxed and low key. 
Cal used green in this case because it is a great neutral color that matches everything. The mix of prints and accents are very well done on this design that we are adapting for men and women alike from full-length separates and jumpers to short jumpers as seen in this look. 
Cal is having fun producing many different varieties of prints and colors for this high end designer fashion outfit. given the huge variety of silks available where he is producing and shipping out from currently in Istanbul, Turkey.
This location makes it possible to reach and ship to clients in all the major markets and brings down our average price point for this type of custom work considerably since the cost of making is much lower than that of Chicago, IL USA where we are based out of. 
See the high end designer fashion outfit trending now.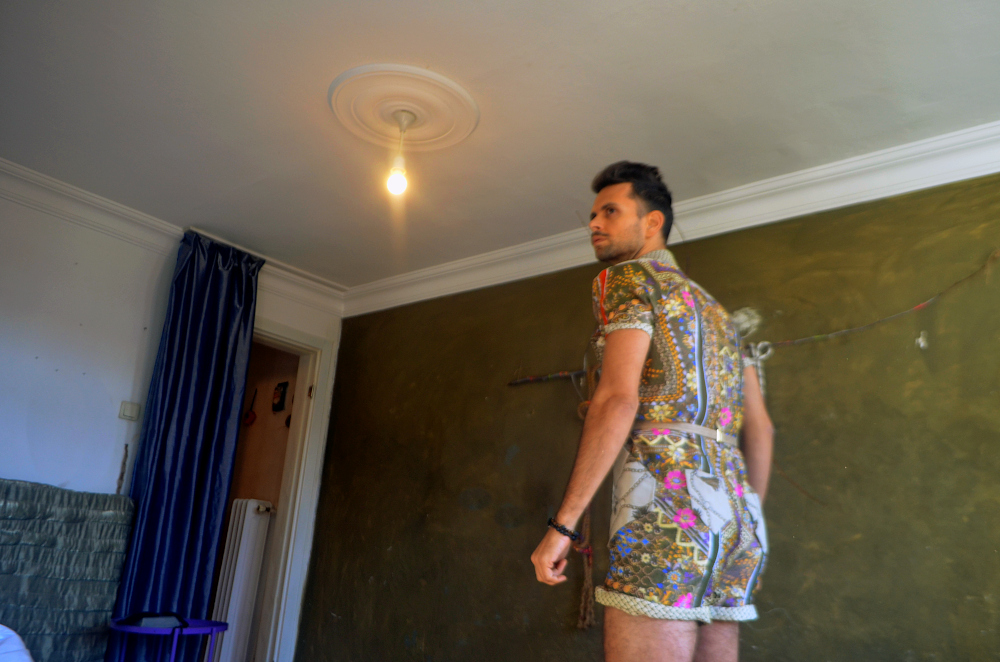 What is everyone thinking of the trending high end designer fashion outfit? Leave all valued comments below. Or- better yet, set up a time with Cal for us to chat on zoom about trending fashion through this pandemic period. 
J-na Couture runway collections and magazine editorials.
---
Press play and then click on the bottom right of the slideshow to enlarge to full screen.
GSb Wearables and Jior Couture Menswear Caleb Garcia Taylor collections.
---
---
To set up a




private runway showing of the




J-na haute couture collections

click here.



Inquiries Contact: cal@j-nacustomgsb.com
Latest Press Release contact: info@j-nacustomgsb.com
815.513.2776
Chicago Based Fashion Designer also serving National and International Clients as well as local in the Gold Coast, Streeterville, River North, the Loop, Linclon Park, Winnetka, Lake Forest, Oak Park, and Highland Park for Couture Fashion Custom Clothier Womenswear, Menswear, and Accessories.
Exclusive Eco-Spa Couture Fashion Smart-Gown Experience and Treatment. Wearables and wearable-tech for a charitable cause.
By appointment only Showrooms available, and at home or business service. Mailing Address 1200 W 35th St Suite #5345
Chicago, IL 60609