"Just give me my haute couture clothes," she said. 
She wants her haute couture clothes and she doesn't want to go through two or three fittings for them. Fittings are overrated. No matter the happy ending, they are always the inevitable platform of a lot of negative emotions pouring out. What if we can do away with them all-together? In the spirit of done right the first time, this is what technology is now doing for us.
The haute couture clothes experience should be the highest level of customer service provided. So why do we as couturiers insist on 2-3 fittings, since these regimes are so inconvenient for our clients, and near impossible for our long distance clients? 
Well, so many of us are in love with tradition, however painful it may be. They just don't allow themselves to consider all of the thrilling possibilities that new technology opens up for us! 
Thanks to technologies such as 3d Printing, designing haute couture clothes just got a whole lot easier, but only if we as couturiers let it be so. 
We here at J-na Couture Wearables have always embraced change and technology as a means to bring more options and better serve our clients. That is why we first started our wearable technology initiative by discreetly incorporating it into our designs. 
Now see how much better it gets thanks to 3d Printing.
Haute couture clothes with no fittings? Well, we like to call them "Remote Fittings" because our client no longer needs to show up for them!
Thanks to 3d printing all of this is way easier, faster, and  more efficient. See this flow chart for a diagram.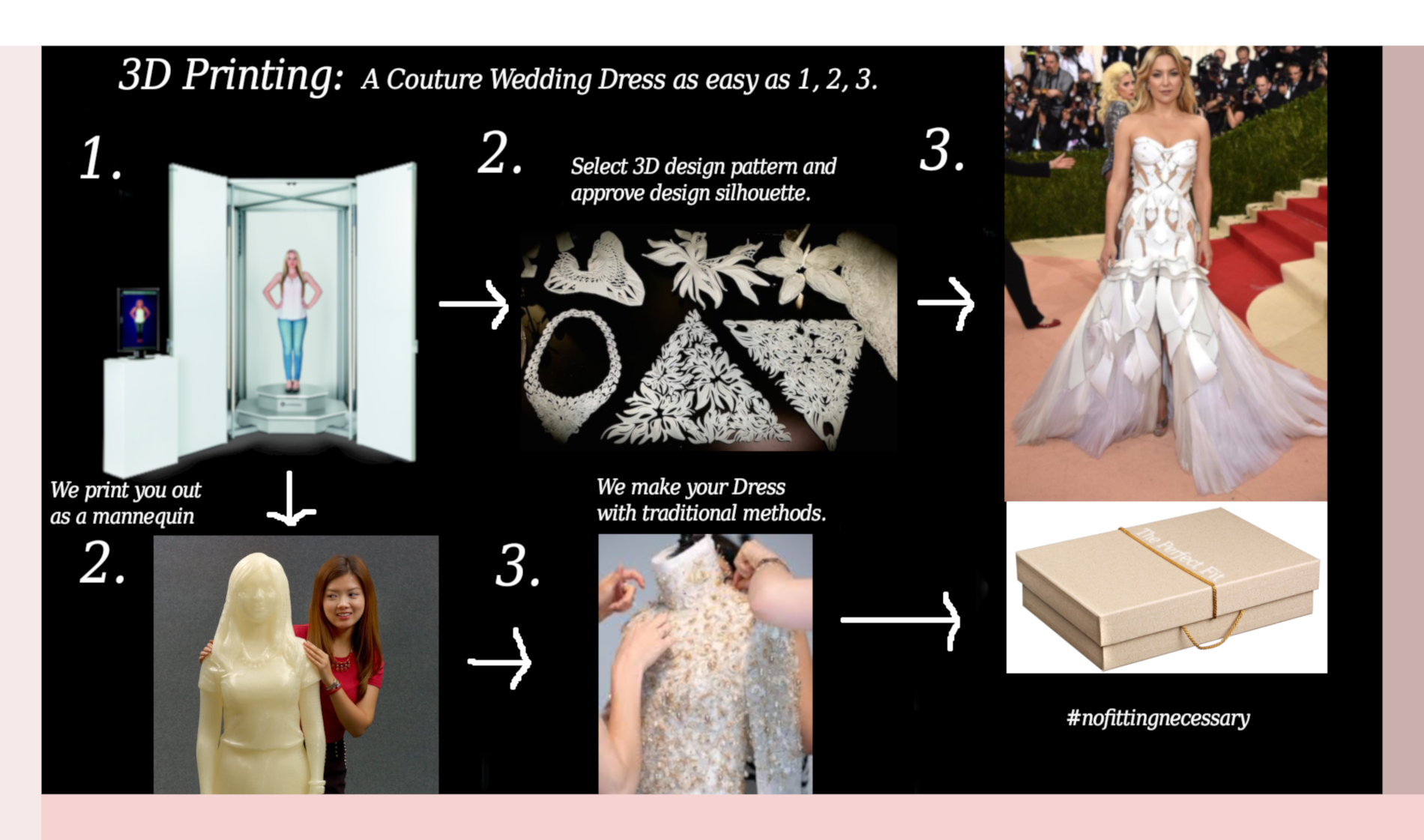 Get the picture? 
We now just have our client send us their 3d printed doppelganger and go to work on it after having a remote meet and greet design meeting via skype. Our client doesn't have to meet us in person to get their measurements taken, he or she doesn't ever come in for a fitting.
If he or she wants to see how the garments look and fit on thier bodies, we dress their 3d replica doppelganger up and we show them on skype, this is what we call the remote fitting.
If the client doesn't want to see the garments on before they get shipped out, we skip the remote fitting and just send the garments out. They arrive finished and fitting perfectly.
Finally, we bring you ladies and gentlemen, haute couture clothes #nofittingnecessary!
We have been able to take on more new international haute couture clients this way from markets like London, Qatar, Dubai, Singapore, and Hong Kong.
It has also saved a lot of time and money for our European Clients since they don't have to fly into the states. Many of them would see us when they have a trip already planned to America, but now they can just focus on their other business and pleasure without having to take a day for a fitting. 
This also enables us to offer our clients sizable discounts on their haute couture clothes. Gone are the days where couturiers had to maintain an atelier in the heart of the fashion and shopping district. These spaces are always the priciest to maintain. Now we just use our studio space in the industrial and art districts to produce our clothes. We closed down our high priced ateliers and are opting to pass the savings onto our clients, who always appreciate added savings on top of the added inconvenience.   
This really opens up some flexibility for us the couturiers as well. Now we can readily work remote. Enjoy some travel and extended vacations for once! My son and business partner Cal has been traveling extensively for the last 9 months. The Chicago winter last year of minus 35 degrees below Celsius finally has gotten the better of him. 
However, he continues to produce and meet client demands. In fact now he is sourcing new textile suppliers in Istanbul to service our European, Middle Eastern, and Asian clients. 
Are you in one of these markets? See below for a unique and thrilling possibility!
Benefactor Call. Trade for a free haute couture seasonal wardrobe. 
Cal is trading a free seasonal wardrobe for up to one year to new benefactors that are willing to help him expand into the European, Middle Eastern, and Asian Markets. Included are personal shopping, tailoring, and styling services. The whole deal!
Wouldn't it be nice to have a free Haute Couture Wardrobe made up for you in advance for each new season's color, style, and personal trends?
What would it take to qualify as one of Cal's benefactors?
It may be easier than one could imagine?
Set up a quick meet and greet with myself or Cal and find out the particulars.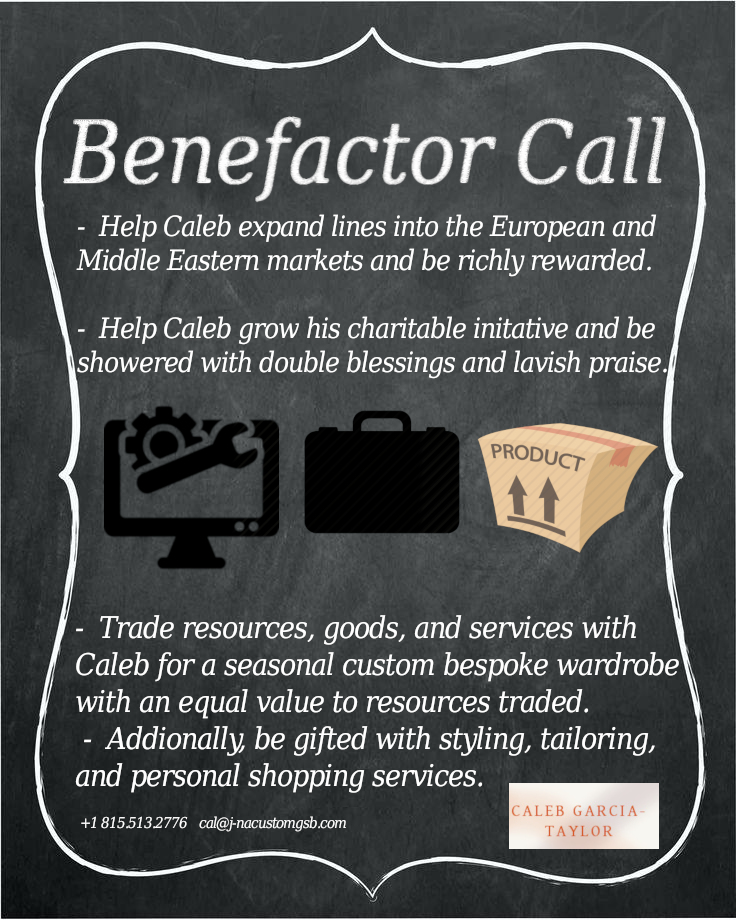 J-na Couture runway collections and magazine editorials.
---
Press play and then click on the bottom right of the slideshow to enlarge to full screen.
GSb Wearables and Jior Couture Menswear Caleb Garcia Taylor collections.
---
---
To set up a




private runway showing of the




J-na haute couture collections

click here.



Inquiries Contact: cal@j-nacustomgsb.com
Latest Press Release contact: info@j-nacustomgsb.com
815.513.2776
Chicago Based Fashion Designer also serving National and International Clients as well as local in the Gold Coast, Streeterville, River North, the Loop, Linclon Park, Winnetka, Lake Forest, Oak Park, and Highland Park for Couture Fashion Custom Clothier Womenswear, Menswear, and Accessories.
Exclusive Eco-Spa Couture Fashion Smart-Gown Experience and Treatment. Wearables and wearable-tech for a charitable cause.
By appointment only Showrooms available, and at home or business service. Mailing Address 1200 W 35th St Suite #5345
Chicago, IL 60609