Haute Couture Italia Opera incontra il produzione :
Fashion of the Opera
Haute Couture Italia Opera e lo stile "Fashion of the Opera" parata beneficio della Scuola di Musica di Merit. E 'stata solo la produzione più stravagante della settimana della moda di Chicago, potrebbe avere la stessa facilità sono state prodotte a Milano, il meglio della moda combinata con prestazioni d'opera dal vivo della tradizione italiana al moderno hip-hop fusione.

La combinazione era affascinante, la bellezza dell'opera con la bellezza di una moda di classe mondiale passerella, avevano tutti partecipato a questo spettacolo ricco e l'accattonaggio per di più!

Siamo molto orgogliosi di vedere gli eventi moda di questo calibro comienzando ad emergere qui nella bella città di Chicago. Per vedere la scena della moda alzare il livello per soddisfare le esigenze di una grande città moderna così ricca di cultura e diversità.

Un ulteriore passo verso la realizzazione del nostro sogno di fare Chicago un importante hub per le tendenze della moda globale.

---
Lo spettacolo è stato ospitato da Marisa Buchheit, cantante d'opera per la American Chamber Opera e il campione in carica di Miss Chicago 2012.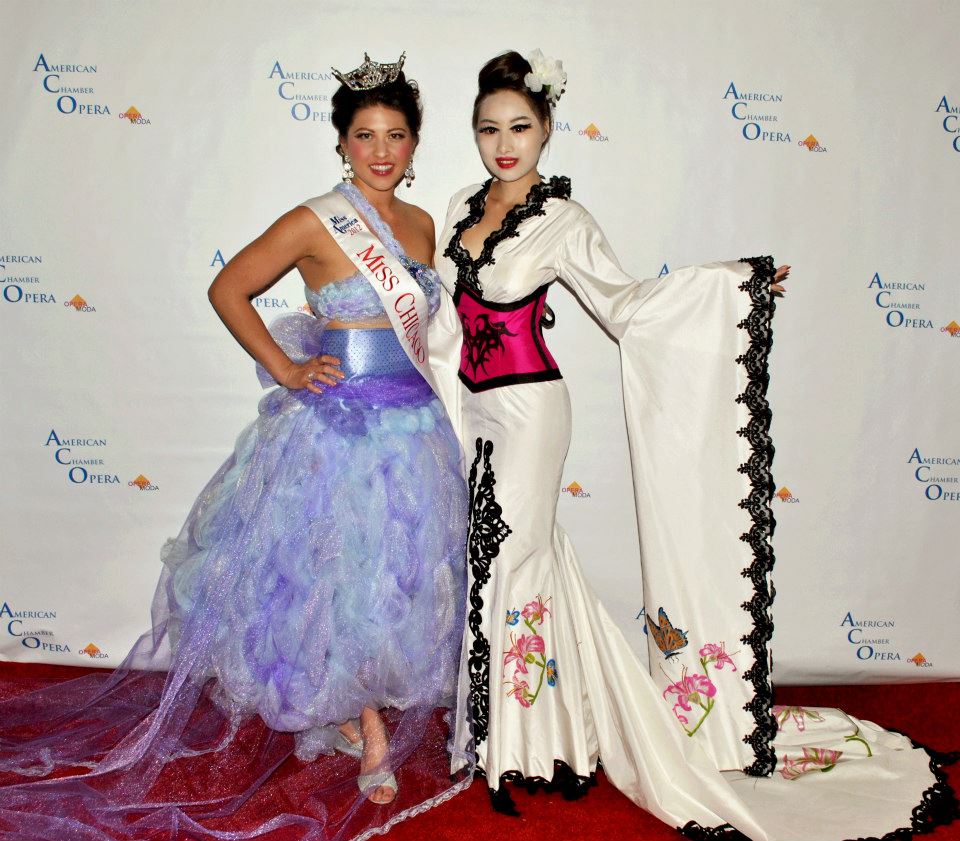 Lei non solo ha cantato il suo cuore per diverse performance live per la sfilata, ma ha avuto anche il cuore, non il manga come si suol dire, ma Tulle cintura intrecciata di j-na couture abito couture tulle e Swarovski mentre lei modo da gentilmente ha salutato tutti i partecipanti prima e dopo lo spettacolo.

Abbiamo anche avuto l'onore di fare abiti couture per molti degli animatori delli stile haute couture Italia.
Da sinistra a destra: Maria Lutz e Karrah Cambry in j-na moda Swarovski couture abiti di seta, poi Jessie Lione visto in un torsade j-na couture.
Inclusa Maria Lutz Govertsen, un altro americano Chamber cantante d'opera, che sostiene il programma. Questo guidato rosso mezzo greco sirena con una personalità affascinante e fare un fumetto in chiffon di seta cangiante abito stile dea nel loro colori di accenti schiuma di mare verde di oro e marina. L'abito si rivelò essere il più confortevole per preformato in corsetto che è stato tessuto a mano cashmere fatto per allungare.

| | |
| --- | --- |
| | Il corpetto di seta è anche associate alle tre linee radianti cristalli Swarovski per un effetto scintillante per la vostra presenza piattaforma. |
---
L'abito successivo è stato fatto per Cantante d'opera Karrah Marie Cambry, che è anche una mamma orgogliosa di attesa (anche se non si poteva vedere con il tuo abito couture preavviso j-na vita couture di seta all'impero). Il suo corsetto era estensibile anche a mano a maglia per il massimo comfort e consentire che la respiri profondi e la capacità polmonare esteso bisogno di essere una classe di cantante d'opera del mondo.

| | |
| --- | --- |
| Scintillante cristalli Swarovski! | Seta in certa luce sembra luminoso luce rossa un altro aspetto di blu e rosso! |
Wow come lei ci ha sorpreso con la sua voce forte e bella per questo opera della stile haute couture Italia!
---
L'ultimo capo di alta moda è fatta per tenore Benjamin De Los Monteros, che pareva così bello in maglia Couture Uomo GSB una con tasche pavimentate e in pelle Agnello della Mongolia Faux e bottoni d'epoca in peltro figure antiche leone di bronzo. Sai cantare come un leone o cosa?
| | |
| --- | --- |
| Le donne non possono resistere a un uomo in vera pelliccia compassionevole. Si tratta di una miscela di bambù e Alpaca fatto per essere finto agnello mongolo! | Semplicemente sensazionale! |
Torna alla pagina principale per più stile celebrità haute couture Italia.

Ritorna alla pagina principale.

Visualizza la bellezza, consulenze di esperti e segreti di informazioni privilegiate plus size.
J-na Couture runway collections and magazine editorials.
---
Press play and then click on the bottom right of the slideshow to enlarge to full screen.
GSb Wearables and Jior Couture Menswear Caleb Garcia Taylor collections.
---
---
To set up a




private runway showing of the




J-na haute couture collections

click here.



Inquiries Contact: cal@j-nacustomgsb.com
Latest Press Release contact: info@j-nacustomgsb.com
815.513.2776
Chicago Based Fashion Designer also serving National and International Clients as well as local in the Gold Coast, Streeterville, River North, the Loop, Linclon Park, Winnetka, Lake Forest, Oak Park, and Highland Park for Couture Fashion Custom Clothier Womenswear, Menswear, and Accessories.
Exclusive Eco-Spa Couture Fashion Smart-Gown Experience and Treatment. Wearables and wearable-tech for a charitable cause.
By appointment only Showrooms available, and at home or business service. Mailing Address 1200 W 35th St Suite #5345
Chicago, IL 60609