Un disegno Haute Couture Abito Nozze che è sofisticato, maturo, divertente, minimal, e il futuro avanti con 
Tecnologia 
Indossabile?
IL Haute Couture Abito Nozze è lo standard tra i mondani ei membri della alta società. L'essenza di questo culto lusso si riflette in tutte le successive scissioni ready-made.
La signora che ci tiene al valore pratico della Haute Couture sa che ciò che si vede sulla pista durante la Haute Couture Week è una espressione artistica con lo scopo di espandere la mente e il cuore alle possibilità aggiunte in stile personale e lo stile di vita Couture Libertà, e il l'abito Couture finito finale commissionato da un singolo cliente è molto diverso da quello che viene presentato sulla pista.
Perché, il più alto livello di esperienza del cliente e del servizio si trova nel processo di progettazione, dove il couturier e stilista, assistanno il cliente nel trovare e sviluppare il loro concetto molto meglio di design in stile couture personale. L'abito personalizzato può avere alcuni degli elementi di design della collezione haute couture, ma l'importanza primaria è sempre su ciò che è meglio per l'individuo e le sue finalità.
La seguente espressione artistica ricorda ciò che un cliente il cui stile di personalità è matura, minimalista, con un gusto per la trama lussureggiante di pellicce e piume, una donna che sa chi è e vuole essere ricordato come tale, e allo stesso tempo è il futuro avanti e esperto di tecnologia, che vuole collegare e condividere una piccola parte della sua giornata speciale con i suoi graditi ospiti.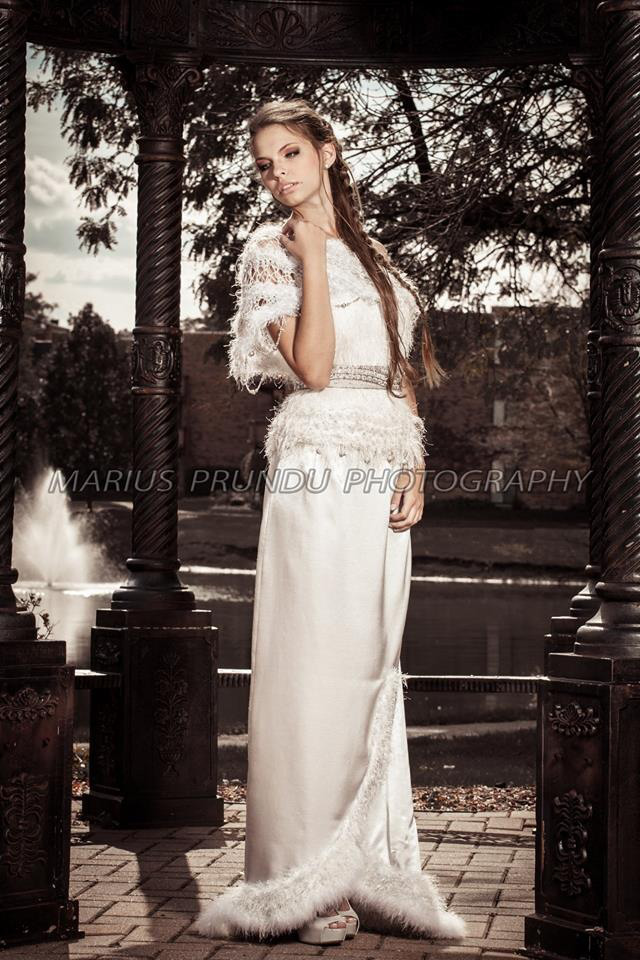 La sostanza di queste qualità è in contrasto con l'uso di una giovane in cerca modello, il che significa che con l'abbondanza di media digitali, c'è più libertà per le giovani donne ad abbracciare opzioni di stile al di fuori della tipica per la loro età e la cerchia sociale.
Questo campione è ora disponibile per l'acquisto, come un po 'usato dopo essere stato a New York Fashion Week e in diverse pubblicazioni editoriali. Ora ha bisogno di trovare un posto nel vostro matrimonio cari ricordi e foto ambiti, assicuratevi che il vostro fotografo è j-na couture approvato! Il Suo haute Couture Abito Nozze!
Questo  haute couture abito nozze è NFC abilitato, una tecnologia pratica che invierà il messaggio ai vostri circoli sociali che si ci tesori dei meglio dei tempi passati, mentre abbracciate i progressi del futuro. Un modo per collegare veramente con i vostri ospiti a livello virtuale creazione di ricordi duraturi, momenti condivisi, e le relazioni.
Quello che vogliamo dire è che l'abito fa letteralmente un messaggio ai vostri ospiti. Quando salutate i vostri ospiti come si stanno prendendo una foto di voi con i loro telefoni intelligenti, che poi basta con toccare la parte designata del vostro abito da sposa di alta moda con la parte posteriore del loro smartphone. Cosa succede allora? L'abito invia un messaggio pre-programmato per i loro telefoni che avete scelto in anticipo. Molti dei nostri clienti hanno impostato fino a dirigere i loro ospiti per una E-Grazie cardare con una foto dal vostro impegno fotografico, ottengono immediatamente la E-Card. Altri hanno creato la nostra piattaforma digitale brevettato con una foto prescelta, l'URL della pagina eventi per il matrimonio in cui l'ospite può postare le loro foto e le espressioni, Direzioni mappate alla reception, una lettera personale da gli sposi gli ospiti possono scaricare , ect. In realtà loro sono molte possibilità.
Gli accessori di moda sposa utilizzati sono anche una caratteristica meravigliosa di questo AI haute couture rappresentazione abito-nozze . Cascate di Swarovski Cristalli e faux fur seta fatti a mano in tessuto, permettendo la sposa la modestia desiderato ed è traspirante, leggero e arioso, anche appropriato per un mese vivace in primavera o un modo per rimanere confortevole dove il matrimonio e la ricezione luogo aria condizionata clima controllo è molto cool.
J-na Couture runway collections and magazine editorials.
---
Press play and then click on the bottom right of the slideshow to enlarge to full screen.
GSb Wearables and Jior Couture Menswear Caleb Garcia Taylor collections.
---
---
To set up a




private runway showing of the




J-na haute couture collections

click here.



Inquiries Contact: cal@j-nacustomgsb.com
Latest Press Release contact: info@j-nacustomgsb.com
815.513.2776
Chicago Based Fashion Designer also serving National and International Clients as well as local in the Gold Coast, Streeterville, River North, the Loop, Linclon Park, Winnetka, Lake Forest, Oak Park, and Highland Park for Couture Fashion Custom Clothier Womenswear, Menswear, and Accessories.
Exclusive Eco-Spa Couture Fashion Smart-Gown Experience and Treatment. Wearables and wearable-tech for a charitable cause.
By appointment only Showrooms available, and at home or business service. Mailing Address 1200 W 35th St Suite #5345
Chicago, IL 60609