Los mejores 3 estilos de moda de celebridad para hombre. Aprender de Nyle Dimarco.
Mi hijo Cal tiene los mejores estilos de moda para ti hombre, después de haber estilado y diseñado varias celebridades. Nyle Dimarco se ha convertido en el ícono de la última moda masculina.

Cal ha trabajado con Nyle y usará algunas de las últimas tendencias y estilos de moda de Nyle para dar a los lectores algunos consejos profesionales exclusivos.

# 1 La impresa (uso no convencional) ¡Grande en los estilos de moda para los celebridades!

Esta impresión es sutil pero súper chic, porque está bordada en la tela. El color requiere la permanencia principal.

La mezcla de estampados y textura con otros estampados y modelos aparentemente contrastantes también es uno de los mejores consejos de estilos de moda para las celebridades. Un ejemplo de unas piezas que hemos hecho por Nyle. 

Mira el último chaqueta y chándal de Cal! La mezcla entre el estampado a cuadros negro y naranja grecorromano y el denim pitón dorado es un VITAL. ¡También es reversible!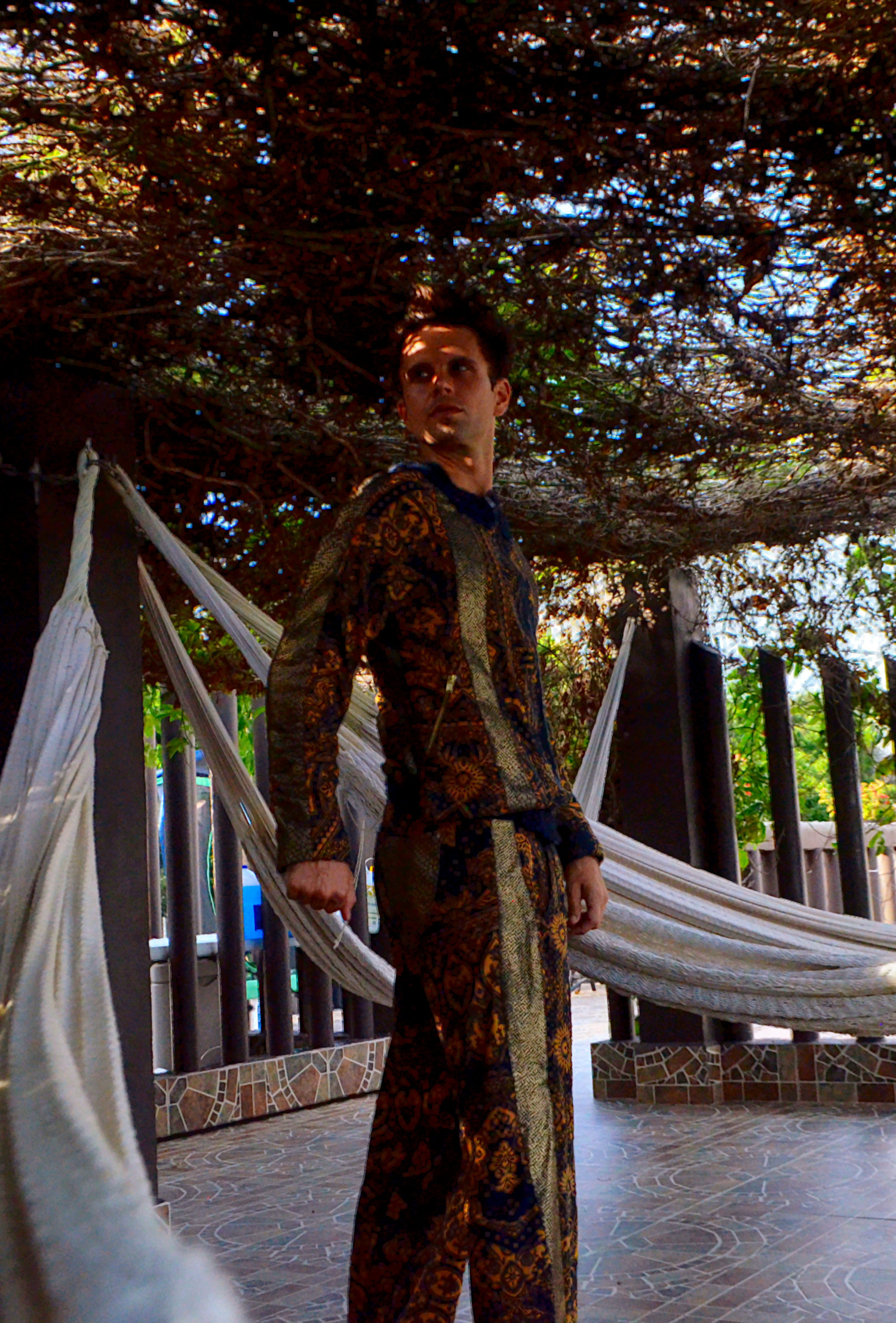 Incluso los pantalones impresos están en aumento en los consejos de estilos de moda para hombres famosos.

Sugerencia n. 2 Además del ajuste, inserte uno o dos elementos de diseño únicos.

El ajuste en este vestido es fantástico, pero lo que realmente hace que este editorial sea notable es el cinturón, el cinturón de "karate" en estilo asiático para GQ Tailandia.

Cuando trabaje con un diseñador o un diseñador, o mire a su alrededor, asegúrese de que el elemento de diseño sea adecuado para la ocasión o el tema.

Los mejores elementos de diseño provienen de conocernos a nosotros mismos, nuestros antecedentes, nuestras raíces culturales o étnicas. Por lo tanto, es fácil encontrar un elemento de diseño único que sea moderno o adecuado para el propósito de la apariencia en estilos de moda.

Surgerencia n. 3 Textura.
La textura también califica como un elemento del diseño único # 1. Pero la mayoría de los hombres se quedan lejos de la textura porque es fácil de hacerlo demasiado, pero la textura realizada correctamente dice, a la medida, estilos de moda, estilo único, incluso alta costura. ¡Dice rico!

Esta es la session de fotos de Elements Mag, diseñada y hecha por Cal para Nyle. El suéter de gran tamaño cosido tiene una textura fuerte, pero está debajo del chaleco, una gran manera de usar una textura de alta moda es debajo en capas, por lo que no es todo el espectáculo y es minimizado.

¿Ves este hermoso esmoquin? Los estilos de moda, el corte y el ajuste son fundamentales, pero el tejido de seda texturado trae esta apariencia al reino de lo icónico. Consejos de moda para celebridades en su mejor momento!

J-na Couture runway collections and magazine editorials.
---
Press play and then click on the bottom right of the slideshow to enlarge to full screen.
GSb Wearables and Jior Couture Menswear Caleb Garcia Taylor collections.
---
---
To set up a




private runway showing of the




J-na haute couture collections

click here.



Inquiries Contact: cal@j-nacustomgsb.com
Latest Press Release contact: info@j-nacustomgsb.com
815.513.2776
Chicago Based Fashion Designer also serving National and International Clients as well as local in the Gold Coast, Streeterville, River North, the Loop, Linclon Park, Winnetka, Lake Forest, Oak Park, and Highland Park for Couture Fashion Custom Clothier Womenswear, Menswear, and Accessories.
Exclusive Eco-Spa Couture Fashion Smart-Gown Experience and Treatment. Wearables and wearable-tech for a charitable cause.
By appointment only Showrooms available, and at home or business service. Mailing Address 1200 W 35th St Suite #5345
Chicago, IL 60609