Quali errori della moda celebrita ha commesso, e che cosa possiamo imparare da esso?
Imparare come voi stessa è possibile stile con successo!
"El errori della moda celebrita"! Con il rischio di un negativo o critico, penso che possiamo imparare molto dai nostri famosi super-stelle che inevitabilmente commettono ""El errori della moda celebrita"! Questi "Bloopers" davvero illustrare molto di moda, e siamo in grado di educare noi stessi e di evitare costosi errori!

Penso che sia giusto per equilibrare le nostre critiche con altre foto lusinghieri dei nostri personaggi famosi che cercano di rompere e unirsi ai consigli di stile corretti per la misura e la forma.
Così mi metterà a confronto il bene e il non così buono, e noi imparare molto dagli errori di moda ogni celebrità!

Dal momento che mi è piaciuto molto il suo personaggio nel film di vivace, inarrestabile "The Help", Octavia Spencer hanno scelto per le nostre prime due esempi di errori della moda celebrita, sperando che sia abbastanza vivace di perdonarmi!

Quale di questi due abiti allunga la silhouette?
Quale abito lusinga meglio?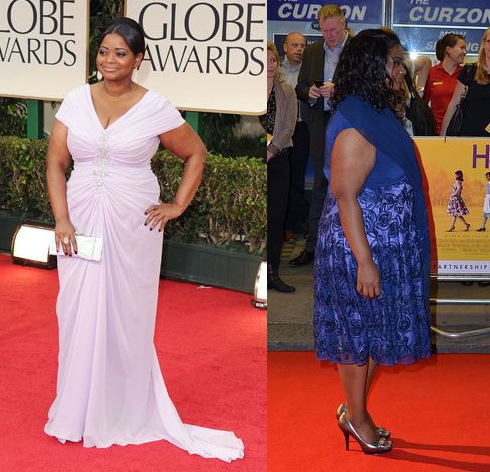 Si noti che il pallido Tadashi Shoji vestito ha un lusinghiero scollo a "V" e di un bel colore unificato che scorre verticalmente dall'alto verso il basso, con quelle che sembrano Octavia dimagrante.
  J-na riflessione
Il nostro stile personale di vestire rivela molto della nostra personalità!

Quello che rivelano il tuo stile?
Tuttavia, il vestito blu corto ha due modelli contrastanti che dividono Ottavia sulla linea mediana, un errore di preciso nella moda celebrità!
Inoltre, molte ragazze che trovano la raccolta troppo curve e ripiegate intorno ai fianchi o in vita può visivamente allargare e abbassare una persona! Io opterei per una gonna che scorre una linea senza pieghevole o collezione!
Un poco interesse alla spalla anche aiutare!



---
Per i prossimi due esempi di Ottavia, che di questi abiti pianeggianti più?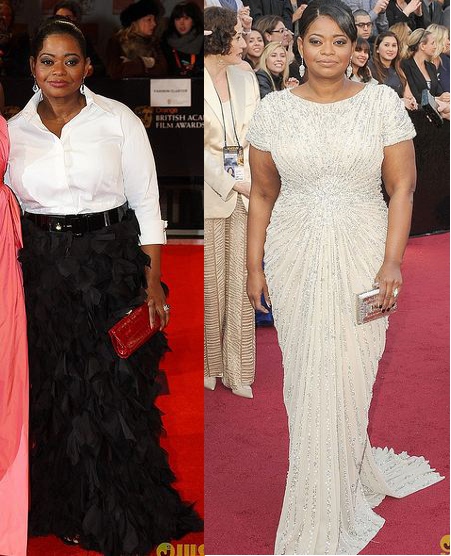 Anche se Octavia ha scelto una camicia bianca e una gonna nera elegante, ... per la sua figura sinuosa, vorrei suggerire due colori nelle stesse tonalità di "unificare" e allungare e sottile.
| | |
| --- | --- |
| | Vedi Questi principi stile più dimensioni messe in atto in veste di j-na couture che ha fatto per il cantante lirico di fama provenienti da Chicago Maria Lutz a destra in un abito di seta e Swarovski Crystal spuma di mare e la marina. |
Intuito della Mode

"Dissolvenza mode,....... lo stile è eterno ".
-Yves Saint Laurent
Quindi evitare di "tagliare a metà" figura con un contrasto troppo. Si noti come questo funziona a favore Ocatvia con elegante abito bianco e drappeggio elegante.
Octavia viene allungata verticalmente ed ha un "fattore wow" che è oh-così-lusinghiera.

Ritorna alla home page!

Torna alla Couture Celeb!

Guarda altri errori di moda celebrita su Kate Winslet.
Errori nel moda di celbrita
J-na Couture runway collections and magazine editorials.
---
Press play and then click on the bottom right of the slideshow to enlarge to full screen.
GSb Wearables and Jior Couture Menswear Caleb Garcia Taylor collections.
---
---
To set up a




private runway showing of the




J-na haute couture collections

click here.



Inquiries Contact: cal@j-nacustomgsb.com
Latest Press Release contact: info@j-nacustomgsb.com
815.513.2776
Chicago Based Fashion Designer also serving National and International Clients as well as local in the Gold Coast, Streeterville, River North, the Loop, Linclon Park, Winnetka, Lake Forest, Oak Park, and Highland Park for Couture Fashion Custom Clothier Womenswear, Menswear, and Accessories.
Exclusive Eco-Spa Couture Fashion Smart-Gown Experience and Treatment. Wearables and wearable-tech for a charitable cause.
By appointment only Showrooms available, and at home or business service. Mailing Address 1200 W 35th St Suite #5345
Chicago, IL 60609