La editorial Nueva York eco-couture: Nuevo gobierno!
Ok, tuvimos que hacer una editorial Nueva York eco-couture becuase editorial porque hay pocos lugares en la escala de impresionante que vence a Nueva York en el verano!
Un capital que _ la moda _ debe tener más énfasis en la moda verde y sostenible, por lo que sabíamos que teníamos que hacer una editorial declaración  en él.
Este editorial Nueva York es en Brooklyn, y es muy inspirador para mí como un lugar de nacimiento de muchos conceptos que han cambiado el mundo, tuve una visión al ver esta comisaría abandonada, de lo que este mundo sería en un sistema diferente. Donde todo el mundo pone un énfasis en la formación de su conciencia a los principios eternos y asume la responsabilidad de un futuro sostenible.
Esta foto es el narrador en un guía de turismo de la historia, mirando hacia atrás en nuestro futuro.
Aquí estoy representando a la vanguardia de este cambio, la ropa hecha a mano de fibras no naturales crueldad representan el espíritu de la empresa responsable.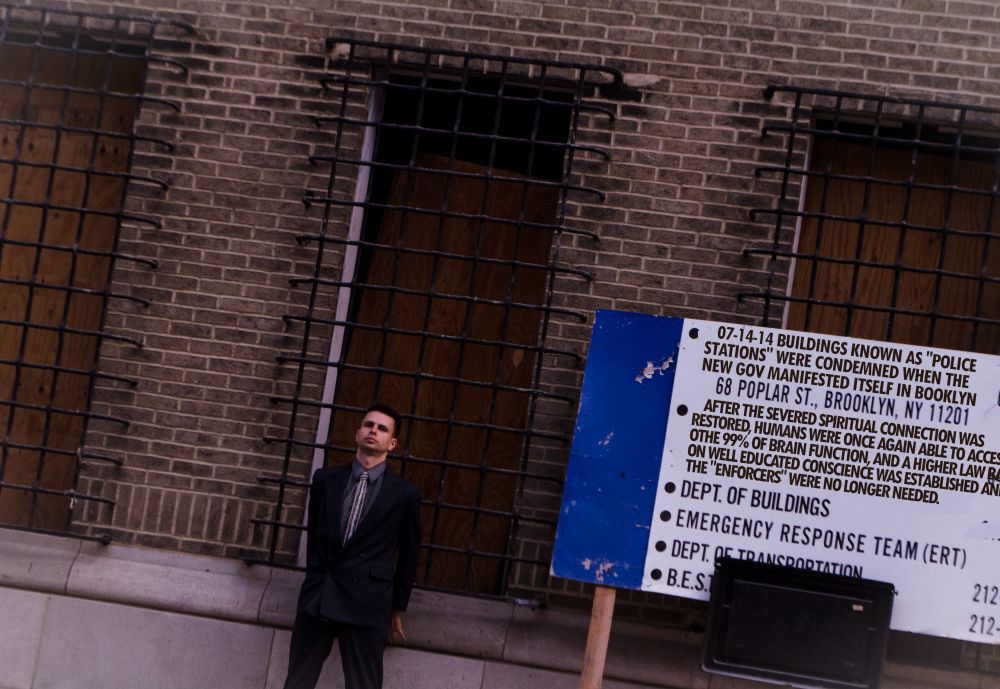 Estos siguiente serie de fotos representan la lucha por liberarse de la autoridad del sistema actual.
| | |
| --- | --- |
| La camisa eco-couture teñido anudado hecho a mano del batik de algodón reciclado tiene el lema de encargo, "En rehabilitación ready-made". Esta expresión representa la conversión de una mentalidad de producción masiva de baja función cerebral a la libertad de la alta costura vida resonsable por diseno! | |
Esta foto que hice en el metro de Washington Heights, incluyo esto en la editorial para representar a cada uno de nuestro viaje individual para alcanzar la libertad de alta costura viviendo fuera de la apariencia que refleja la libertad dentro!




Mi viaje ha sido largo y duro, liberadora y estimulante!
Este tiro es el éxito! Una vez que ha llegado al otro lado y alcanzado couture vida! La brecha entre la autoridad del mundo confeccionado es enorme, y que vuelve a determinar nunca seras a ser un seguidor sin rostro de la moda!
Espero que nuestra editorial Nueva York eco-couture  le ha inspirado en su viaje de desarrollo de alta costura!

¿Qué puedes compartir acerca de su viaje y lo que ha aprendido que se puede capacitar a otros para ser líderes!

Haga clic en el enlace de arriba y también ver las opciones de empoderamiento que se pueden personalizar en línea.
J-na Couture runway collections and magazine editorials.
---
Press play and then click on the bottom right of the slideshow to enlarge to full screen.
GSb Wearables and Jior Couture Menswear Caleb Garcia Taylor collections.
---
---
To set up a




private runway showing of the




J-na haute couture collections

click here.



Inquiries Contact: cal@j-nacustomgsb.com
Latest Press Release contact: info@j-nacustomgsb.com
815.513.2776
Chicago Based Fashion Designer also serving National and International Clients as well as local in the Gold Coast, Streeterville, River North, the Loop, Linclon Park, Winnetka, Lake Forest, Oak Park, and Highland Park for Couture Fashion Custom Clothier Womenswear, Menswear, and Accessories.
Exclusive Eco-Spa Couture Fashion Smart-Gown Experience and Treatment. Wearables and wearable-tech for a charitable cause.
By appointment only Showrooms available, and at home or business service. Mailing Address 1200 W 35th St Suite #5345
Chicago, IL 60609