Quali celebrità moda tendenza si vede anno dopo anno sul tappeto rosso e della pista?
Quali celebrità moda tendenza ha lasciato il segno permanente sulla fibra della nostra vita? Beh, nel caso in cui si sta perplessi, a breve, fino al punto, e la risposta è dritto in avanti:
I TRE Elementi Essenziale! Couture Stylegram BASIC!
Pelliccia, piume, e Fringe!
A quanto pare nessun collezione è completa senza questi elementi! Prendiamo ad esempio Alexander McQueen SS16! Che una fusione di elementi di design. Come designer, questo è un concetto che mi piace introdurre nella mia collezione!

Come designer di moda Couture perché dovremmo limitarci a un concetto per la raccolta, nel tentativo di avere un impatto. Il più che si vede, più si vede che possiamo fare per voi. il che significa che le più opzioni in stile personale si deve esprimere se stessi. Come si dice in italiano, "Punto e BASTA," o in inglese "pura e semplice", o qualcosa del genere!

 Celebrità moda tendenza che ha il "Soggiorno Power" per essere eternamente favoloso, come si è visto in j-na couture, meno la tessuto puro trasparente, naturalmente! IL 3 elementi esenziale!
Questo è un divertente foto sul pista di modello Stacy Castro, che aveva i capelli per fare questo sguardo feroce famelico prendere vita in immagini vivide sulla pista! Non ha l'aspetto di cigno grazioso o bellissimo uccello con quella faccia! Boho Chic è un modo meraviglioso per incorporare la  moda celebrità tendenza altrimenti ritenuto da J-na il 3 elementi! 
Questa è la zingara urbana, un Chicago personalità locali, che influenza sta rapidamente guadagnando nella città degli Angeli ! Vedi le frange in questi pantaloncini. Tale elemento di divertimento, e fatto in un modo che è  così OHHSOO tappeto rosso degno! Si tratta di un abito Trattamento Eco-Spa che inizia come un Trattamento di benessere, e il trattamento Spa continua a trattare la pelle quando si indossa il vestito, grazie al sostenibili Old World Couture Metodi, combinati con tecnologia indossabile, e Vegan Tessuti! Unisciti alla Movemment! Vogliamo sentire da voi la mia regina!

Erin McDougald- "Il Flapper Girl"
Si tratta di un artista favoloso su Chicago Jazz Scene Erin McDougald, il nostro ardente irlandese principessa, con la voce sensuale di un iconico americano stellato,....   

.....e la divertente personalità eccentrica di un abitante di Chicago per bilanciare il fatto che il suo talento è Divino e empio allo stesso tempo!

Tesoro! Quando si è in città, è semplice necessario richiedere il "Girl Flapper", come il suo nome d'arte è notato, per un concerto! O semplicemente lei deve volala fuori alla tua città!

Una condizione, però, è necessario insistere sul fatto che si esibisce in j-na couture naturalmente! Vedendola esibirsi nella tendenza di moda di celebrità del 3 Elementi rende l'esperienza ancora più magico, contemporaneo, senza tempo, e memorabile!

Bonus Round! Sei pronto!
Un altro Celebrità moda tendenza che sarà sempre rilevante!
Per prendere le dichiarazioni di firma di attrici di Hollywood e Iconic firmatari, e li re-inventare a modo tuo!

Abbiamo appena fatto un editoriale su questo che è stato descritto in Haute Couture Chicago Magazine sparo Protagonisti Erin McDougald come Elizabeth Taylor, Modello Jessica Shalbetter come Audrey Hepburn, anche il modello Leanne come Diana Ross, e anche una apparizione a sorpresa da "Sofia Lauren!"

Mia cara bambina questa era Veramente molto divertente! Questo è ciò che rende questo Celebrity Fashion Trend così seducente!

Infatti Erin ha fatto un intero Presentazione Musicale  interpretato se stessa in quanto ciascuno dei attrici iconici rappresentati! La Celebrità moda tendenza!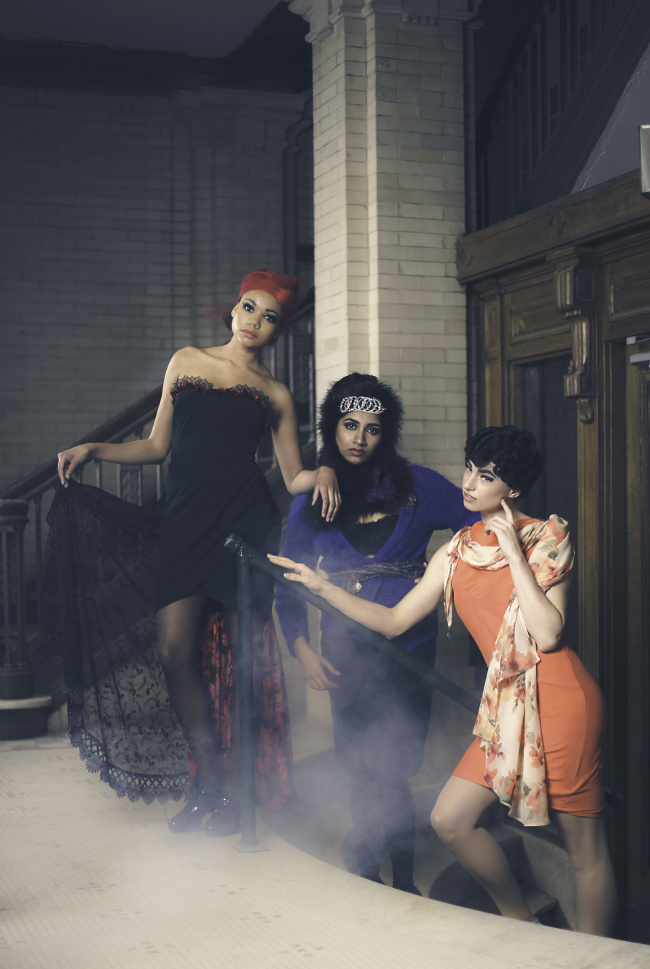 J-na Couture runway collections and magazine editorials.
---
Press play and then click on the bottom right of the slideshow to enlarge to full screen.
GSb Wearables and Jior Couture Menswear Caleb Garcia Taylor collections.
---
---
To set up a




private runway showing of the




J-na haute couture collections

click here.



Inquiries Contact: cal@j-nacustomgsb.com
Latest Press Release contact: info@j-nacustomgsb.com
815.513.2776
Chicago Based Fashion Designer also serving National and International Clients as well as local in the Gold Coast, Streeterville, River North, the Loop, Linclon Park, Winnetka, Lake Forest, Oak Park, and Highland Park for Couture Fashion Custom Clothier Womenswear, Menswear, and Accessories.
Exclusive Eco-Spa Couture Fashion Smart-Gown Experience and Treatment. Wearables and wearable-tech for a charitable cause.
By appointment only Showrooms available, and at home or business service. Mailing Address 1200 W 35th St Suite #5345
Chicago, IL 60609