The Verde editoriale AI 2013 mens giacca e cravatta couture dal titolo:
"Una spia camuffata Verde non lascia marchio sulla futuro."
 Verde Editoriale della moda è stato ispirato da un viaggio al Festival Verdi qui nella mia città di Chicago! Siamo tutti così appassionati l'arte della moda che raramente ci soffermiamo a pensare in grande impronta GIGANTE che l'industria della moda ready-made sta lasciando su misura attivamente nel nostro futuro.
Le statistiche sono agghiaccianti e scioccante quando si tratta di inquinamento e detriti che le fabbriche e macelli fanno a produrre tanto abbigliamento ready-made ogni stagione, per non parlare l'anno! Quindi, cosa succede a tutti quei vestiti una volta che la stagione si conclude? Dai un'occhiata a queste statistiche che ho visto in fiera. Che paura ci me da!
Questo è un sacco di rifiuti.
Questa moda Verde Editoriale  ha lo scopo di far riflettere e adottare una mentalità couture invece di pensare come un seguace che consumano ready-made approccio di Massa.
Questi sono brevemente alcune ragioni per cui a mano couture personalizzato è meglio per il pianeta e la moda sostenibile, che lascia poco o nessuna traccia nel nostro futuro:
Abbigliamento Couture è fatto a mano con pochissime risorse naturali per produrre.
Abiti Couture personalizzate sono unici e non prodotti di massa.
Equipaggiata sono più costosi e quindi sono apprezzatto di più e scartati di meno.
Entry level Couture come j-na couture e GSB uomini sono accessibili per la classe medio-alta.
Couture, su misura per adattarsi alla personalità, i colori migliori, il miglior concetto e lo stile della persona e sono di natura eterna in modo che non va di moda, e non solo fare affidamento sulle tendenze di passaggio .
Abbigliamento Couture è fatta a mano con materiali naturali, spesso rendendo duraturo lusso durevole e di alta qualità, l'uso a lungo.
Abbigliamento su misura sono responsabilizzare l'individuo e le persone intorno a loro di essere se stessi e di essere leader, piuttosto che i seguaci di ready-made.
Allora el Verde Editoriale (clicca sulla foto per vedere in grande):
"Una spia camuffata Verde non lascia marchio sulla futuro."
Fatto Da Designer / Modello / Fotografo / Stylist / attivista: Yours Truly Cal G! Dimmi cosa ne pensi ok?
Couture gsb uomo abiti ECO-Couture AI 2013 ..
Suit Eco-Couture con cravatta a mano fibre naturali tessute in pace con la natura. Tutto ciò che è nei dettagli che dicono personalizzato e parlare la vostra personalità e ciò che sei. Dai un'occhiata a queste ingombranti bottoni di legno nere che assomigliano in pelle.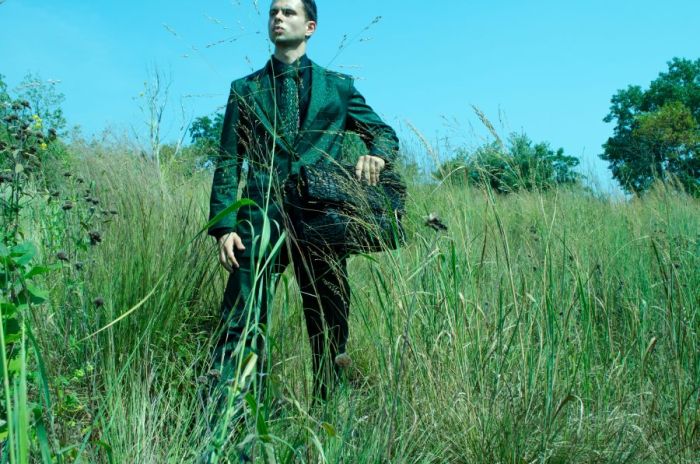 Vedete la nuova ediroriale con titulo: Nuovo Governo! Queste si ti rendera libere!
I disegni fatti a mano di un artista disegnatore appartengono tra disegni infallable e perfetta del nostro Creatore è l'ultimo garante del futuro del nostro pianeta e si impegna a liberare il nostro pianeta da quelli che deliberatamente distrugge.
La cravatta di cuoio fatti a mano pietosa ha la consistenza e colori che appartengono a una foresta!
E vede la borsa uomo fatti a mani q puo essere personalizatti per durare lungno tempo e dare a uno una guarda unico seguendo il suo personalita.
The Green Editoriale evidenzia abiti eco-fashion che mettono di natura personale tra la foresta, ho avuto un momento divertente facendo finta che ero un albero nobilmente degno della natura.
Questo è dove il potere di mangiare vegan organico Dieta Raw eco-sostenibile combinato con eco-fashion, .... mi ha dato la superpotenza per trascinare 4 barche per la costa che sono state inquinando l'ambiente!
Ora per la funzione ristretta e raffinata di Green Fashion editoriale, questo ci porta al South Shore Centro Gardens di Chicago.




Quando vediamo Couture Suit sostenibilità perché è reversibile! Meno ingombro e maggiore uso! Ideale per i viaggi e la seta naturale può essere stampato con il disegno immagine personalizzata e rivela così naturalmente dal sole! Stampa solare!




Seta può anche essere verniciato in un design colore personalizzato con tinto a mano. Tutto Eco-fashion!

Questa giacca di seta reversibile significa foresta e forti fibre di seta si intende la longevità del pianeta nelle mani dei responsabili della Eco-Couture Libertà vita.
Vede alro Verde Editoriale tiulato: Ritrovi a ti stessi  nella nebbia..... L'arancione è il mio colore preferito, ciò che è tuo? 
J-na Couture runway collections and magazine editorials.
---
Press play and then click on the bottom right of the slideshow to enlarge to full screen.
GSb Wearables and Jior Couture Menswear Caleb Garcia Taylor collections.
---
---
To set up a




private runway showing of the




J-na haute couture collections

click here.



Inquiries Contact: cal@j-nacustomgsb.com
Latest Press Release contact: info@j-nacustomgsb.com
815.513.2776
Chicago Based Fashion Designer also serving National and International Clients as well as local in the Gold Coast, Streeterville, River North, the Loop, Linclon Park, Winnetka, Lake Forest, Oak Park, and Highland Park for Couture Fashion Custom Clothier Womenswear, Menswear, and Accessories.
Exclusive Eco-Spa Couture Fashion Smart-Gown Experience and Treatment. Wearables and wearable-tech for a charitable cause.
By appointment only Showrooms available, and at home or business service. Mailing Address 1200 W 35th St Suite #5345
Chicago, IL 60609