Ciao xoxo


Cal is gifting a years worth of custom, bespoke, or couture clothes to new benefactors.
Yes, you are in fact seeing this correctly, that is right, Cal is gifting a year's worth of clothing to each new benefactor he takes on. Custom clothing, bespoke, and couture packages including styling services, tailoring, and personal shopping. Packages correspond to the value of donated resources and services by each new benefactor.
Cal is gifting packages to benefactors that help out with one of three main objectives for 2019:
1. Support our Jior Couture wearables charitable initiative for training and employing more Latin American based work-from-home artisan moms.
2. Expand our lines into the European Markets with specific points of interest.
3. Expand our lines into Dubai and Abu Dhabi.
If you are in a position to become an official benefactor by donating resources or services for any of these objectives we would like to chat with you. Reach out to us an let's explore some fabulous possibilities.
New custom couture accessory and sample sale shopping experience! Now a bitcoin shop!
---
That is RIGHT! We have converted to bitcoin and Crypto Currency! WOOOHOOO!Now as well as fully customizing each accessory to your preferences and made-to-measure, our clients can also choose their currency of choice when checking out!Bitcoin preferred, but as a slightly less desirable option we still accept fiat currency like the Federal Reserve Note (aka the so called "dollar.")As well as the Euro, Pound ect.Try it out! Bit Coin Custom Accessory Shop and SAMPLE SALE!

New Wearables Platform Feature added to Artisan Mom Made Wearables Sets!
Now the bracelets come in Volcanic Stone, which is porous.We now gift a bottle of Eden's Garden "Fearless" essential oil with each new custom set!The oil is a musky rugged woodsy aroma that is infused into the Volcanic Rock. The result? The rock diffuses the aroma all day or night long so that everyone in the vicinity including you, feels confident and trusting! We call this Mother Nature's Tech HACK!This adds an event to our sequence of events for the man or woman on the prowl either networking or seduction. Click on the link and see Cal's story of the Man on the Prowl, which is so very cute and funny, but entirely filed tested for 100% accuracy in results. New Wearables Set Link.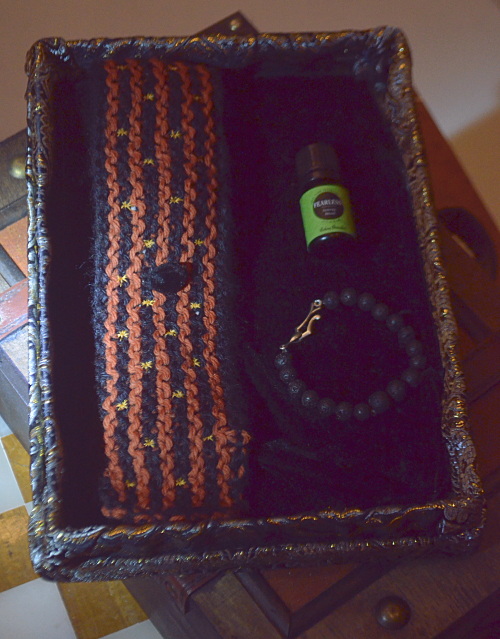 ---
He is also having fun with polka dots. Our lovely artisan moms in Mexico are so adaptable in keeping up with new design techniques, taking care of their families and making money knitting the ties and assembling the wearable hardware. When Cal gets the sets into our studios, he programs the wearable gadgets and sends it off to our clients, who go for the full 007 experience!
LASTLY.....REAL FAST
Stay Subscribed to our RSS FEED as we make the domain name switch. All you have to do is click once, so as to not miss out on any fresh new content in couture living! RSS FEED Subscribe We are soooo excited to share with you! Pay it Forward and Pass on this newsletter to others in the Fashion Empowerment Lifestyle!

With Warmest Wishes,J-na and Cal The Mother and Son team of fashion designers.