Ciao



A big Ciao and XOXOXO from J-na and Cal, taking every chance to soak in the sunshine from this long anticipated Spring Summer Season! That is what I love about couture knitwear is that I can take it outside and get my vitamin D fix while sitting in my HUGE Organic Garden! It does get a little hot though especially when I am working on a Fall Winter wool piece, but I feel that all that sun and love positive earth vibration comes through the fibers, in turn my models and clients can share this same glorious feeling!

We are thrilled to be part of the Art/Couture movement as a Mother/Son design duo!

Cal is putting his finishing touches on his men's urban collection or Art 90's inspired eco-jeans and rocker couture henleys with LED panels ~they are original, beyond bright, and oh-so-touchable in a 3-D sensual way!

I am refining our bridal gowns and bridal line with some power-Diva touches and surprisingly textured yet feminine lines. I cannot wait to dive into our Spring Summer '15 collection...~so many new ideas are just bouncing around in my head!

Here is a shot of myself and Cal on one of our summer runway Charity Shows for the American Diabetes Association. That was the only reason we agreed to do a night show at a Night Club, it is usually not the fashion culture we encourage, the show producer was also very flattering lol!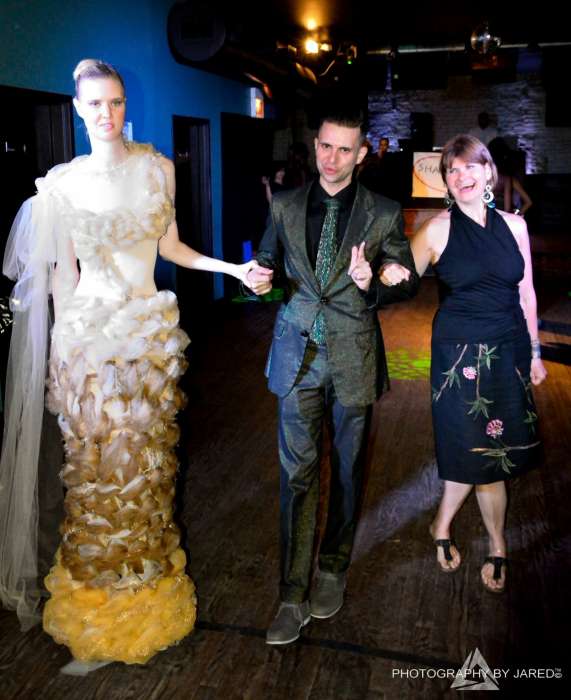 ---
Today's Essential TIP: The Color-Draping Part 2!
Last newsletter we talked about the importance of a color draping in determining your best in personal couture style.

Again focusing on the colors that you not only love, but fill your face with life and vibrancy you put them on. When you focus on what is you, that never goes out of style, because you are a timeless masterpiece that should be celebrated eternally!

If you do want to be trendy through, you can also pick out the colors of the season that are closest to your colors as determined by the color draping.

Here is the promised video tutorial as you can see how we incorporate the color draping into our photo shoots working with models, make-up, and you can see how to do this yourself.

Even better though is to let us, and until the end of July you can request an at-no-cost or obligation color draping via live webcam or out of one of our studio locations. Color Draping Tutorial


Practical Summer Styling Tip:
Styling Tip for today:

Choose separates to layer with a light jacket or sweater to wear in air conditioning, or any Windy City breezes. Yesterday here in the Chi it was in the upper 50's! It felt SOOO Chilly! My favorite casual look is really comfy jeans in a neutral color with a yummy-colored top and jacket with an attitude! Breaking out the sandals and going with the newest runway shoe trend......flats everywhere! Comfort is now in style!
---
Couture Empowerment Editorials
Here are some LOVELY photos that came of the Chicago Couture Fashion Week main event we headlined at the Stunning Alhambra Palace, a local treasure in Chicago that is the exact replica of the Palace in Spain.

We had to reschedule the Min Event here after the Nasty People at the Walforf Astoria canceled our event in May the night before the production. Apparently they did not like the look of the American Heritage Youth Foundation kids, as they would have been present at the actual hotel for the Apprenticeship program teaching inner city kids the arts. Then the hotel had the nerve to bomb our social media invited saying that the event was never hosted at their venue, when Christy the show producer has the contract and deposit. Of course she is seeking legal remedies. I rarely report on anything negative, but this was very much a racial issue and I thought that here we were SO past this type of thing. I really want Chicago Natives Oprah or Michelle Obama to get wind of this injustice, so please pass this piece along if you know them or have a contact that knows them. Christy actually went to Chicago University with Michelle and is trying to reach out to her now.

The Photos turned out FAB! This SS 14 look in cashmere, silk, and dripping in Swarovski Crystals was a big hit on the runway.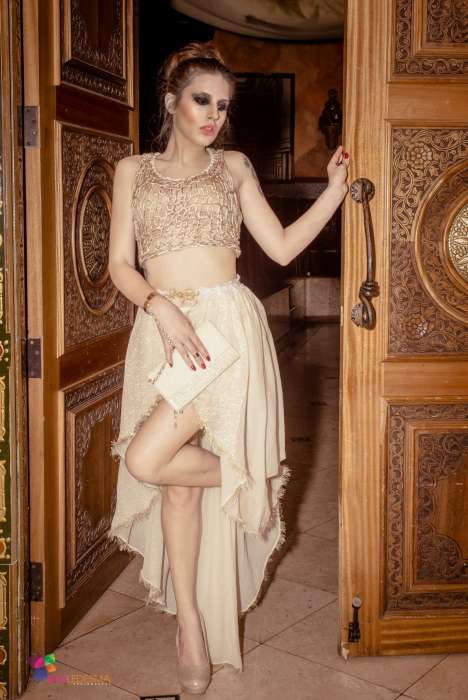 Non-GMO Fashion Gala Announcement!
Here is an important event that we are hosting that is very close to my heart! The Proliferation of GMO foods in the American Diet is wrecking havoc on the Fashion and Modeling industries. We invite you to this Special summit where this and other issues will be addressed, but more importantly, we will be celebrating choices and education! Come early and get photos of you purchasing your organic produce on the red carpet and then prep for the GALA at the Salon and Spa here at the building. Then enjoy all that this thrilling fashion Gala and summit has to offer.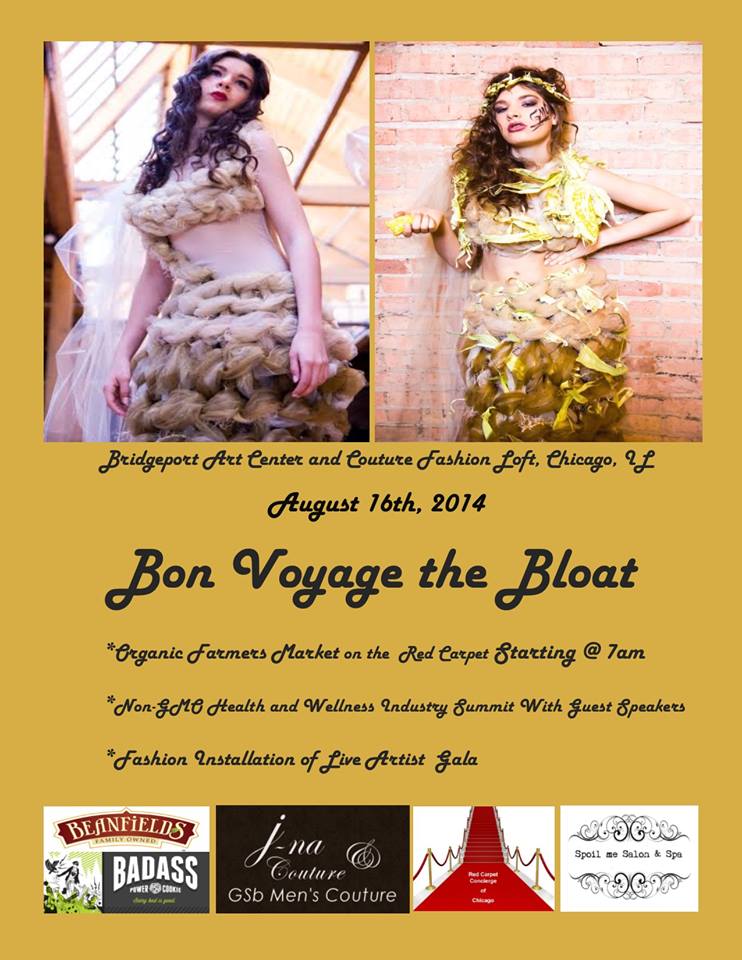 Non-GMO Gala Link
---
See us on the runway next at:



Chicago Couture Fashion Week in October. The remaining of our Fall Runway Shows will be private and in Europe.




---


Announcement: Spring Accessories are now available for made-to-measure couture customization in the online j-na couture house.

Now with new functionality that allows us to design to your personality even without holding a face-to-face design meeting.

Click Here for women's couture accessories..

Click Here for Men's Couture Accessories!
We are soooo excited to share with you!

Cal and I will be sharing more tips and wisdom next month! I hope you have a productive and rewarding January!

With Warmest Wishes,

Yours in Empowerment and Personal Style,

J-na and Cal Garcia